Breaking in my new running shoes
This is a warning: About two months ago, my husband bought me a video camera. It's kind of funny because one of my favorite things about working as a journalist was shooting video.
I also once loved talking to people.
All that kind of died when I started experiencing the extreme anxiety I had last October. And you know what? Tuesday was the first day I took out my pen and paper and interviewed someone since October. For this blog. So I figured the next step would be taking out the video camera my husband bought me in January and shooting video.
Of myself.
This seemed like a good idea at the time, an hour ago. I'm not so sure now.
But I present to you, me. I sound like a Valley Girl (which is OK, because I'm technically from a valley) and talk faster than I should. I also don't make a lot of sense on the first take. Or maybe at all.
There will be more of these. Especially now since I got the Firewire connection cord I was missing for my new Mac, which, by the way, is NOT the computer behind me in this video. It was shot in my home office. All my race medals and bibs are there.
Don't laugh too hard. I'm sure my mom will appreciate it.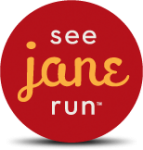 Run with me!
Save 25 percent all See Jane Run races, including the June 21 San Francisco Bay Area run, by using the code SJRAMB243. Use the code to also save 10 percent on online store discounts at seejanerun.com.