Believing in the run
It's been some time since I went for a run in Mountain House. A really long time. Between other obligations, school ending and work being crazy, I haven't been able to venture out there much for a nice run.
I've missed it for some time.
So when Jennie asked if I wanted to head out there for a run I was really excited. Today has been a really nice day in the valley, but as we got further into the day it started to get a little windy. Then a lot.
It was windy at my house when I left. Mountain House sits right along the Altamont, a part of the Diablo Range that separates the valley from the Bay Area. So if it's windy in Stockton (where I work), it's even windier in Tracy. And then it's even crazier in Stockton. I shot some video of today's crazy wind.
The little fountain at the main park, where we meet, was blowing every which way. It as crazy.
I sent a text to Jennie: "Crazy headwinds!"
And I knew we were in for it, which meant that by the time we hit the backside of the community, we were being hammered by the wind. We talk a lot when we run, which means we were kind of yelling at each other throughout part of the run where the wind was really hammering us.
Our "warm-up" miles for two and three were both over 12 minutes. Our best mile was 10:23.
More crazy wind for your viewing pleasure.
But we kept putting one foot in front of the other. Moving along. Into mile four. Then five. And, finally as the  wind came back to hitting us again, we got to six and I turned off  the Garmin.
A good run. By definition? Not so much, but by my standards, yes.
In six days I run my second marathon: 26.2 miles of insanity.
The marathon is a distance that runners are taught, rightly so, to respect. It's a distance that's not easy by any standard. And it's one that some people, myself included, struggle with. My first marathon was a 5:20:41.
I've trained harder since then. I've run more. I've had two longer-type runs in this  training cycle. (One of them was the Big Sur 21-miler, hills and all.) I'm also on track to hit 100 miles for May, including an 18-miler a couple weeks ago.
I'm ready. I'm also hesitant.
The run is long. It's also hard. But I feel better going into this race than California International Marathon in December.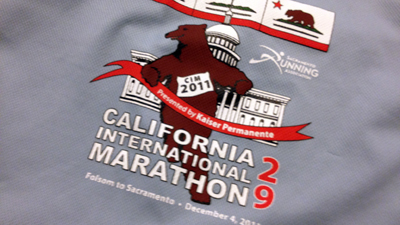 Then I had only done a 15 and a 20 miler. I also didn't average nearly as many miles as now. I feel like a stronger runner.
Does that mean PR marathon magic next weekend? I can't say.
A couple years ago Nike had a campaign with a simple slogan: "Believe in the run."
I had to say I give marathon training a "let go and let it ride" approach, but the three weeks before the day of a marathon if you haven't busted your butt in training runs and made yourself a suffering mess along the way, there isn't much you can do at that point.
I have. More eight milers than 10, yes. But more longer runs too.
More focus on recovery. More focus on building strength. And, since I had to give up swimming a couple months ago, more focus on putting one foot in front of the other.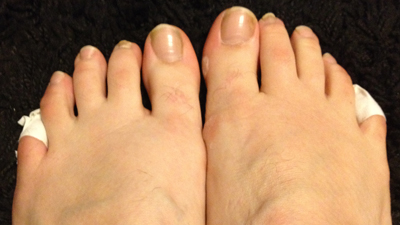 My ugly feet, yes. And the wrapped baby toes. I'm still getting used to my new running shoes. They wear my feet a little differently than the Nike Equalons.
It's now time to believe in the run. The run I've prepared for. The one I've come close to in training.
Today's six-mile taper run was without Gu. With little water. I survived. I didn't push too hard, but I made it work.
It's just time to work on relaxing now, until Saturday when I wake up early in the morning and head to San Diego. Then wake up earlier the next morning for a 6:15 a.m. start (though my wave will likely start much later.)
So my mantra, worth repeating, for the week starts now.
Believe in the run.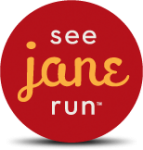 Run with me!
Save 25 percent all See Jane Run races, including the June 21 San Francisco Bay Area run, by using the code SJRAMB243. Use the code to also save 10 percent on online store discounts at seejanerun.com.