A SLO marathon: Part II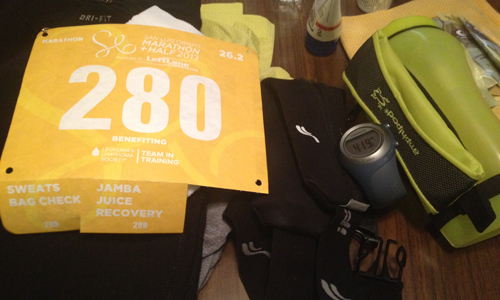 So, I'm serious when I say that I think the very comfortable bed at the Days Inn on Main Street in Morro Bay was beyond comfortable. I felt like I literally sank into the bed and it just cuddled me all night. It made for a very good night's sleep.
My alarm clock went off at 4 a.m. I had planned to leave Morro Bay at 4:45 a.m. with my husband. So I went about getting ready, mainly putting in my contacts and grabbing up all my stuff. I had decided I would wear a long-sleeve Brooks "Run Happy" shirt for the race, even though I knew I likely wouldn't need it after the first half.
Right on time, my husband and I were out the hotel room door and headed through downtown Morro Bay to the freeway. In less than 20 minutes, he was dropping me off at the designated zone. Scratch that, he dropped me off further up the street from the designated zone.
The starting line was at San Luis Obispo High School. The parking lot was clean. It was cool, but not freezing. And there was pretty of light.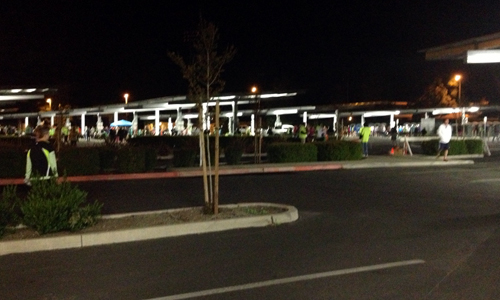 My photos are a little blurry because I was a little jittery. The beautiful thing about this photo is that there were a ton of portable toilets behind me. And, because on my anxiety problems, I was able to just kind of hang out in a very, very clean one until about five minutes before the start.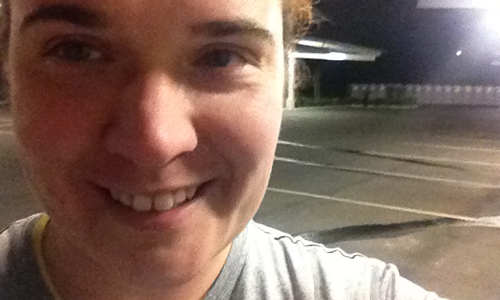 See all those portable toilets? That's what a runner likes to see.
At about 5:40 a.m. the announcer started corralling the marathoners, all 600 or so of us, to the start line. I initially thought the start was right in front of where all the half marathoners were sitting, near the multitude of other portable toilets. In fact, it was at the beginning of a neighborhood.
I'll admit it: I immediately felt bad for the neighbors. Wow. They had to hear this guy yelling over and over again. We only had to listen for like 20 more minutes. Yikes. (Neighbors later complained about the noise on Facebook.)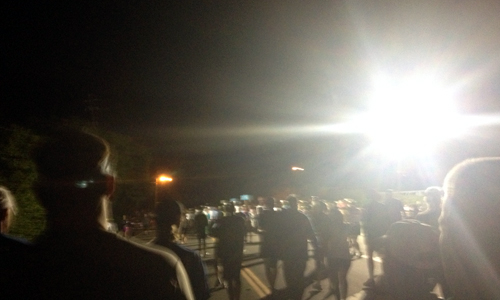 That's the view as we made our way to the start. It was pretty dark. For a minute, I was kind of worried about the light. Some runners had headlamps. Headlamps. For a day marathon.
Crap. All I could think of was how my doctor just recently told me that it I fell on my arm again within the next six months, I could potentially break it again. I don't want to re-break my arm. Please don't let me re-break my arm.
We queued up pretty quickly. I didn't even know where the pace groups where. I wasn't exactly looking for one, but still. It was dark when we started at 5:59 a.m.
Mile 1: 10:13 — I was actually on pace to hit a 9:30 mile when I realized I was going out way too fast. Slow down girl. You have 25 more miles of this.
Mile 2: 10:29 — This mile was a combination of downhill and uphill. Maintaining. But I'm starting to actually get warm here. Ugh. Great. I didn't want to stop and take off my long-sleeve shirt just yet.
Mile 3: 10:41 — More uphills, including the biggest initial climb that gets us out of downtown and starts on the path toward Edna Valley. I start to loosen up a little bit here. My calves feel good. My head feels good.
Mile 4: 11:31 — Continuing that uphill battle right here. Legs are finally starting to wake up and realize that we're running. And we're going to run far.
Mile 5: 9:44 — Wheeeee! Downhill. All downhill. Later on, I realized I probably shouldn't have taken off like this, just because I think it kind of destroyed my legs later on.
Mile 6: 11:22 — The hills are rolling now. This is still the half marathon course. But I've only been passed by one half marathoner so far. Good sign? I don't know. I'm pacing pretty well right now.
Mile 7: 11:52 — The good news is that I'm coming in under 12 on the hills, whereas once upon a time that WAS my pace.
Mile 8: 11:00 — I start to realize that these hills are much more serious than I thought. The elevation changes are drastic, but I'm actually not really feeling all that horrible quite yet.
Mile 9: 11:24 — I decided that I was starting to get a little tired, but I really, really wanted to have all my miles up to 10 under 12-minutes. I kept thinking it would be AWESOME to finish with an average time under 12 minutes.
Mile 10: 11:13 — Score! Under two hours! I'm still feeling good here.
Mile 11: 11:37 — Still going strong. We're heading into the marathon out and back. I'm so ready to start heading back. For some reason heading back just seems like a mental break. Once I start heading back, that means it's over soon, yes? And…suddenly I had to go to the bathroom.
Mile 12: 12:22 — I'm actually not ashamed of this mile, considering that I had to stop and go to the bathroom. I see two portable toilets on the side right near the turnaround. Out loud I say: "Please, please, please be open!" I was honestly surprised when one was. Quick in and out! I love small races.
Mile 13: 13:01 — Then I had that mile that killed me a little. I was doing so well, making progress, then suddenly it was like the wind got knocked out of me. I had a hard time picking it back up.
Mile 14: 11:33 — Back at it, saving myself a little. And downhills.
Mile 15: 11:35 — I know the hills are coming up, especially a big one, so I try to conserve.
Mile 16: 12:15 — That big uphill. I walked it. I was tired. But I kept going. Part of me didn't want to start running again.
Mile 17: 12:38
Mile 18: 11:57
Mile 19: 13:17 — My problematic left IT band was starting to really, really bother me. Too many rolling hills, too much pounding in general. This was the point where I realized I was still doing pretty well in terms of time. OK, I need to slow it down. I need to take some time to walk. Slow walking. I was slogging. If that's even a word.
Mile 20: 13:28 — Beating myself up a little and still slogging. SLOGGGGG. UGHHHHH.
Mile 21: 12:19 — I decided to start picking it up again. I wanted to start mile 26 in under the five-hour mark. I really, really wanted it.
Mile 22: 12:16 — But I'm not going fast. I can't run as fast as I want. My IT bands, both now, hurt. This was, unfortunately, the less scenic part of the run. We headed back into the downtown area. There were far less people here, but the traffic was coming back too.
Mile 23: 13:36 — More slogging, but I wasn't even sorry now. I was doing OK. I was coming in under the 5:20 mark that was my previous PR. I knew it would be OK now.
Mile 24: 12:26 — Getting back into the downhill area. If you look at the elevations, it looks as if the last six miles are downhill. They aren't. Not even close. More hills. A walk bridge that goes up only to come back down. I'm exhausted.
Mile 25: 13:50 — So exhausted that even when I need to fill up my water, I kind of come to a dead stop instead of continuing to run. I'm excited when I see this later because I only had five miles in the 13 range. I was excited about that. And it was because my legs weren't exactly properly trained to run a full marathon. The longest I had run was 15 miles. I'll take it.
Mile 26: 12:07 — Pushing it into the end. I'm ready to be done running. I see my husband standing alongside the fence area. "I'm coming in under what I thought!" I yell at him. He has a huge smile on his face. I can tell he's proud. Really proud.
Mile .3: 2:43 — And then, finally, I cross the finish line. I hurt, but not nearly as bad as I did when I finished the monsoon known as California International Marathon 2012. I was elated.
Chip time: 5:12:21
That's eight minutes, 20 seconds off my PR from CIM 2011.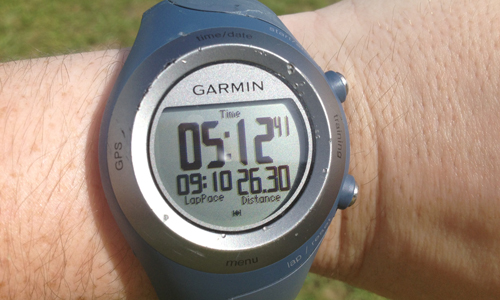 I was so happy, I cried. And people were concerned, which I think is amazing and funny at the same time. I made my way back out to my husband after grabbing a small Jamba Juice, which I really didn't want to drink.
In fact, I didn't really want to eat or drink anything. I just wanted to hug my husband. I just wanted to cry. I did. A lot.
A woman walked by me and said: "Oh, honey, you did good!"
I think she thought I was sad. I wasn't sad.
"I just wanted to make you proud," I said to Thomas. He gave me this really sad look and told me I make him proud all the time. I didn't need to run a faster marathon to do it. Truth be told, all my husband asks is that I don't give up. And I make every effort when I run to not give up.
On Sunday, I didn't give up. And I finally got my 5:15 finish. I did even better than my 5:15 projected finish.
I was so extremely happy to have my 5:12:21 finish.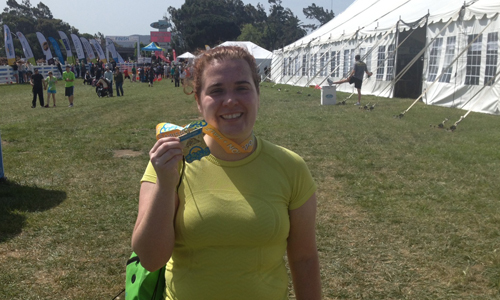 I love this photo my husband took of me. You can see the finish line to the left of me. You can see the pink sign for the Madonna Inn, kind of, behind me. And then there's the expo tent with a guy stretching out right next to it.
I've learned a lot about myself in the past couple months as it pertains to running. I've realized that something was truly, incredibly wrong with me. That all that training I was doing that I felt was all for nothing was not working because I had a physical issue that was really holding me back. I was in pain. I was having issues each run. My stomach issues were reaching a real peak late last year as I was going through a bunch of other crap.
Pain was holding my passion back. Now I'm moving forward without it. And I'm realizing I'm a better runner than I thought I was.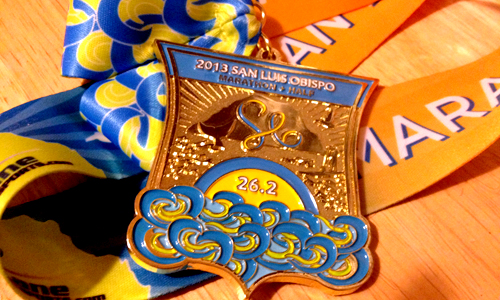 After lunch at the Applebee's with my husband's uncle, we started on our nearly four hour ride home. The good news is that I was sore, but it was an amazing kind of sore. It was a sore than comes with the realization that after nearly a year, I had finally broken my previous PR. And I had fun doing it. I felt amazing, even with a cranky IT band, all 26 miles of it.
It was good. I'm not a religious person, but I felt as if all of — the run, the experience, the positive vibes, my husband smiling at the finish — was telling me that everything was going to be alright.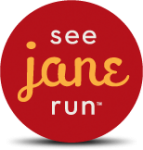 Run with me!
Save 25 percent all See Jane Run races, including the June 21 San Francisco Bay Area run, by using the code SJRAMB243. Use the code to also save 10 percent on online store discounts at seejanerun.com.