A SLO marathon: Part I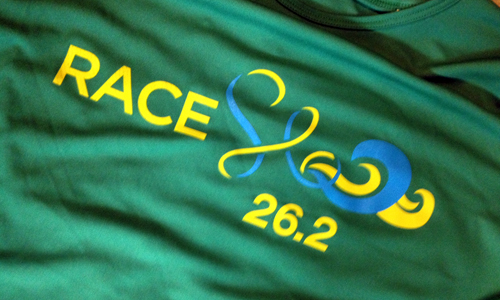 I realized when I was printing out my confirmation for the San Luis Obispo Marathon that I registered on Jan. 1 at 2 p.m. By 7 p.m. that night, I was laying in a hospital bed curled over begging the emergency room staff to give me something for that pain.
When they finally did, the marathon I had just signed up for was the farthest thing from my mind. I was pumped full of Dilaudid and sent home. A week later, I was back in the hospital being rolled into an operating room having my gallbladder removed.
Ominous beginnings, right?
Good thing the San Luis Obispo Marathon didn't turn out anywhere near bad. It was actually an amazing, pleasant experience. I had fun. I felt good. It turned out to be a great weekend, actually.
My husband and I left home at around 11 a.m. I completely forgot how long the drive down to the San Luis Obispo area was, a total of about four hours with a pit stop for lunch. The drive was relatively uneventful. In fact, we hit very little traffic on the way down, likely due to our late start.
By 3:30 p.m. we were driving down into central San Luis Obispo on Highway 101, passing right by the tented expo at the Madonna Inn.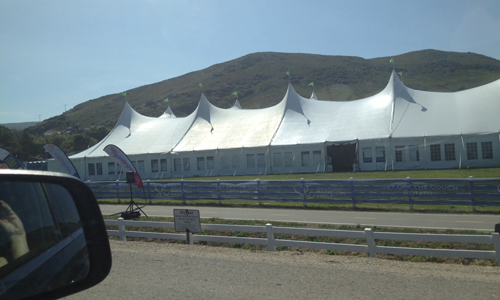 I should explain why I decided I wanted to run this race.
One of the issues I've had lately is with running really large races. Nothing spikes my anxiety more than being around a huge group of people. So I've been avoiding large marathons. I'm lucky that California International Marathon only has about 8,000 people. I was slightly hyperventilating at the beginning of CIM. The fear was masked by the rain, thankfully.
I read that the SLO Marathon had a cap of 1,200 marathon runners. The half marathoners were capped at 4,000.
I hate to say this, because it's a great race, but I knew that the races wouldn't sell out. The event is only in it's second year. I heard about it from another runner's blog, but otherwise there was very little Internet chatter about the marathon. I signed up when I did in order to avoid rising prices, though it still wasn't cheap.
On Sunday, only 672 people ran the marathon. It started at 6 a.m. It was still dark. By the time I was hitting mile three, the half marathon was starting. Most of my time on the course, I only saw one or two of the fastest half marathoners. Small. Nice.
Plus, I love the SLO area. My husband and I went on our first vacation together in Morro Bay. We went back for years before our lives became too busy (note, we need to go back more now).
I ignored the elevation chart. I just wanted to run somewhere beautiful.
And it was beautiful when we arrived at the expo. It was also easy in and easy out to get my race packet. The only people lined up for the marathon were two misplaced half marathoners. It took me about five minutes from start to finish to get my race packet and number, which was assigned the day of. The race organizers then wrote my shirt size on the bib tag for me to claim my shirt.
I initially signed up for a medium. On race day, my husband went and exchanged it for a large. It was way too tight across the chest. But it was a beautiful green color, very similar to my CIM one (see above).
We made our way through the expo, which actually didn't seem all that big. I found the race gear booth and admit that I went a little crazy. I've been so good at not buying anything running related lately. But I always consider marathons different. I don't do a ton of them, definitely not as many as the half marathons I do. So I bought myself a nice jacket, my first nice race-related jacket.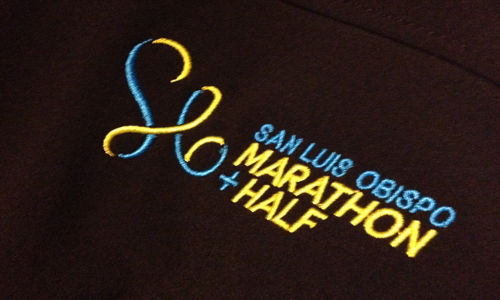 The nice logo was embroidered on the front. It's a nice jacket, with a fleece lining and no hood. It's kind of a windbreaker material, but it's really, really warm.
So I splurged a little. The back of the jacket also had a basic logo on it, but simplistic design that I loved enough that I was sold pretty quickly on the jacket.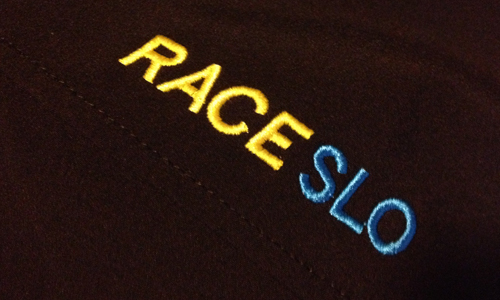 I also bought a hefty water bottle. I'm already using it. Like I said, I haven't been buying any running items lately, so I figured this would be my gift to myself for running the marathon. Incentive is always a plus, especially with 26.2 miles ahead.
We didn't stay at the expo long. The area is too nice to stay inland. And we were staying in Morro Bay, which was only 20 minutes away. I had told my husband I would have preferred to stay in SLO, but I'm glad we stayed on the coast.
We actually headed out to the peninsula area and went exploring for a little while before dinner.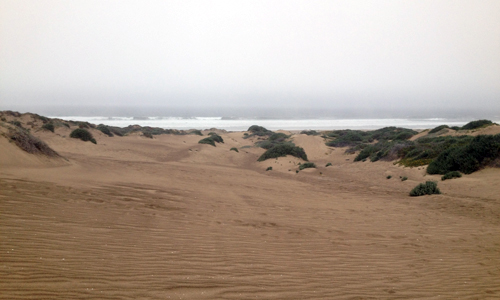 You'll notice the difference in atmosphere here. It was nice and sunny inland. Last year the marathon was run on a relatively foggy day. This year it was beautiful the entire time. The coast, though, was layered in fog. We went for a quick jaunt along the peninsula, but I didn't want to spend too much time on my feet.
I did get to take in some ocean calm.
It helped to soothe my nerves, though, a little before my run. We ate at an Italian place overlooking the ocean before heading back to the hotel. I settled in for bed early, at about 10 p.m. Why? My iPhone alarm was set for 4 a.m. The marathon started at 6 a.m.
And you know what? I slept really, really well. The bed was super comfortable, comparable to my bed at home.
I felt like this whole marathon lead up was different than the three times before. I felt as if I was much more calm. I wasn't cranky. The anxious nerves were being kept at bay as well. I was taking it moment by moment.
I'd like to think that's what led me to PR success the next day.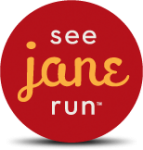 Run with me!
Save 25 percent all See Jane Run races, including the June 21 San Francisco Bay Area run, by using the code SJRAMB243. Use the code to also save 10 percent on online store discounts at seejanerun.com.