A hard-fought diet battle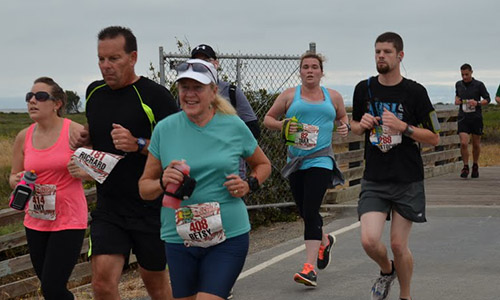 Over the past four weeks my stomach has waged a relentless war against me. Everything I eat has made me sick. Every run I went on suffered from it. Every training decision I made was marred by the fact that I couldn't fuel properly.
And now, as the problems seem to be receding, I'm having to make some difficult decisions about the marathon I'm supposed to be running in less than a month. The likelihood is that now I can't. I won't be able to get in my long runs. I don't have enough energy to do so with a very limited diet either.
I'm losing the war.
When my gallbladder was removed in emergency surgery, I was told, repeatedly, that my diet had to change. I HAD to cut out certain foods and drinks. There was no way around it.
But over a seven-month period, my bad habits creeped back into what was once a very clean diet.
Those bad habits include an very dependent relationship on Diet Coke. And a love of the occasional cupcake. Then there's a horrible habit of overeating.
Over summer, when I was working from home more, my diet became worse and worse. I was still running 100 miles a month, but I was also eating a lot of burrito bowls. Then I was drinking a lot of diet soda.
In July, I realized that I had packed on some pounds. My time for the Summer Breeze Half Marathon wasn't bad at 2:19, but I was tired the entire run. It was definitely not my 2:16 half time from June. I was sluggish. But I also just wanted to stop running again, half way through 13.1 and give up.
By mid-August, I was having digestion issues that were causing to me call and cancel my runs with Sam and Jennie. The two had started running early in the morning three days a week. I could, maybe, get my stomach under control one day of the three to run with them.
My diet was all out of sorts.
I reverted to treadmill running where I had control over my situation a little better. By situation I meant that if I had to go to the bathroom immediately, I would be able to quickly. I know that's TMI, but quick trips to the bathroom have become commonplace.
So two weeks ago, I did something drastic: I severely cut my diet. I removed nearly everything that was making me sick, or that I thought was, and added everything back one by one, slowly.
It meant that for about four days, all I ate was toast with an almond-butter spread from A Loving Spoon.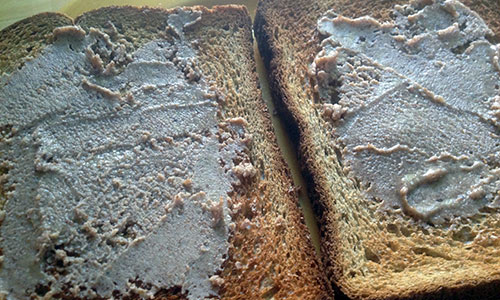 Seriously, two slices of wheat toast with a little almond butter (which is made locally in Mountain House with all-natural ingredients), was the only thing I could stomach for about three days.
In a week, I lost four pounds.
This past week, I started adding fruits (which were really, really hard on my stomach) back in moderation. Bananas first. Then apples. No peaches yet. My one experience with pineapples this week left me feeling a little queasy, so I won't be trying that again for another couple weeks.
I've had chicken, but red-meat hasn't been good to me either.
I'm also eating significantly less, cutting my portions by more than half.
So far, my stomach has felt A LOT better. I haven't had as many issues with rushed bathroom trips (this is a good thing since school started back up and half of the women's rooms in my building have been torn down). Yesterday, I finally got through a six-mile run without trouble.
It took two weeks. I know my stomach is nowhere near "healed." I know I did a lot of damage to it with a summer of eating bad stuff.
And these weeks where it hurt more to run than it should have mean that I'm likely going to switch to the half marathon at for the Half Moon Bay International Marathon. I know I could probably slog (slow+jog) through 26.2 miles, but I'm starting to feel like it may not be worth it.
What would my motivation be if I knew I wouldn't be at my top performing shape? Just to finish another one? To tell people I ran a marathon that weekend? It just doesn't seem worth it.
Plus, I have two more half marathons the following weekends that I want to run. I don't want to injure myself on Sept. 29 and NOT be able to run the other races, particularly the Rock 'n' Roll San Jose Half Marathon, which will be my "Grand Slam" Heavy Medal finish (and my last for this year).
Perspective is telling me there will be more marathons. Experience is telling me I'm not ready for this one.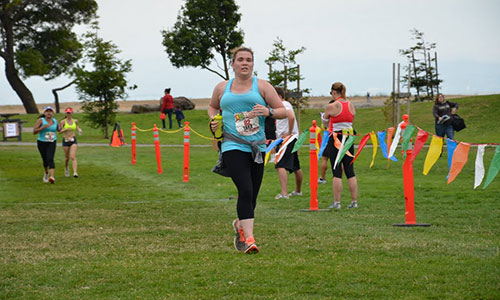 All I know is I'm tired of looking like I did above, struggling, at the end of a race.
So instead of gunning for a PR in the full at Half Moon Bay, I'm going to work on getting through my next couple races while trying to work through these ongoing stomach issues. I feel like it's going to be a hard-fought battle … which I'm hopefully now getting the upper hand in.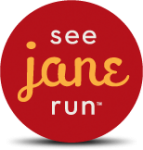 Run with me!
Save 25 percent all See Jane Run races, including the June 21 San Francisco Bay Area run, by using the code SJRAMB243. Use the code to also save 10 percent on online store discounts at seejanerun.com.