The rub down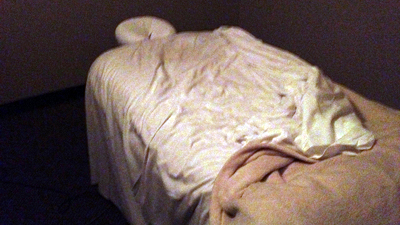 Total creeper photo, right?
I think I should put a caption on it that says "the scene of the crime" or something like that.
In truth, only good came from my visit to my massage therapist today. Usually only good comes from a visit, but today was notable.
I bought a membership about five months ago into our local corporate massage place. I figured if worse came to worse, I'd get a new therapist every time. So if I didn't like one, there was always next time, right?
For the first few times, that theory actually worked in my favor. One therapist was too quiet. (I'm sorry, I like to gab when I'm relaxing.) One was too hard. I seriously had bruises on me from that visit. The other just wasn't right. I was starting to feel like Goldilocks and the Three Massage Therapists.
Then I got Alyssa. Not only is she totally punk rock and easy to relate too, she's also damn good at what she does. No kidding. I've never had a massage therapist so keen on making my legs feel like they can run forever. She's a miracle worker, no kidding.
Today I came in with that nagging glute pain. She asked if it was bothering my back. Nope. So she went to work on me with me turned face up first. She really gets down into my stress areas, specifically my left shoulder. That's where EVERY SINGLE BIT OF STRESS EVER hides. I swear. It's likely because I have some nerve damage back there.
Then she started working and stretching my legs. I immediately felt a tinge of pain in the area I felt it in while running earlier this week. I felt like moaning out loud…then it stopped.
Alyssa kept working it, moving my leg to treat all my muscles. I've also been having some hip pain, usually from overworking out, and that, too, just disappeared. When I got to my car, I wasn't even slightly upset about the $60+ it was going to take to fill my tank to get to work tonight.
Now I feel light. I feel like I want to jump on the treadmill and just go for a run.
I'm waiting until Saturday though. I have a 5.5-mile race on Sunday, so I'm doing my long run on Saturday. Since 5.5 miles is typically around what I run on weeknights, I figure I don't need the rest. (Maybe that will come back and haunt me later? We'll see.)
All I know is that I feel so much better since my rub down. And sorry for the creepy stalker photo…the rooms are dark and I don't like posting without photos…so there you go.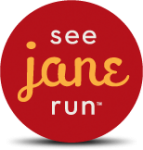 Run with me!
Save 25 percent all See Jane Run races, including the June 21 San Francisco Bay Area run, by using the code SJRAMB243. Use the code to also save 10 percent on online store discounts at seejanerun.com.