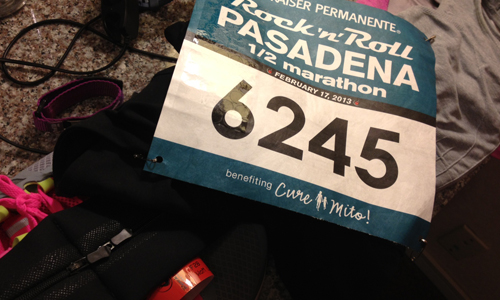 I left off my last post eluding to what a night Sam and I had. Last year, I kept getting woken up by some annoying children in a room above us. When I booked this year's hotel, I didn't want to stay at that place again. It had paper-thin walls. I didn't know when I booked this year's hotel that it was, essentially, right across the street.
We went to bed around 10 p.m. because we had to wake up at 4:30 a.m.
Yes, that early. I felt like I was running the first half of the San Francisco Marathon all over again. Way to early. But we were told to get to the Rose Bowl by 5:15 a.m. even though the race didn't start until 7:30 a.m.
We were tired. I figured we'd go to sleep pretty fast. That didn't happen. We kept hearing screaming downstairs, people basically yelling things like "woo!" and other crap. I'm not kidding with the "woo!" it was so annoying. I think both of us literally got only four hours of sleep by the time our alarms went off.
We rolled out of bed and were rather efficient in getting up and out early. Our drive was less than five miles. We were there, trekking down the hill into the Rose Bowl parking lots before most other cars did.
Our reward for getting there so early? An awesome parking spot.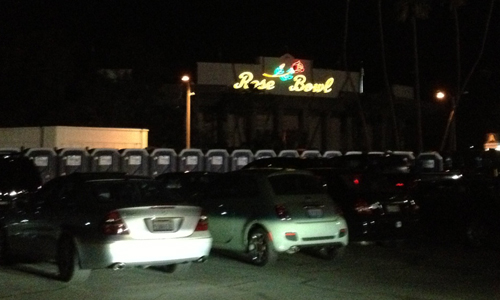 We were literally less than 100 yards from the starting corrals. Plus we were right across from a row of portable toilets. (Is it weird that I thought this was a pretty sight? The Rose Bowl sign in the background and all the portable toilets.)
It was a nice enough spot that we stayed in the car for about an hour. We kept the heater running and just kind of hung out as everyone walked by. At about 6:30 a.m. we decided it was time to check out the pre-race snacks and head to the portable toilets were knew were clean.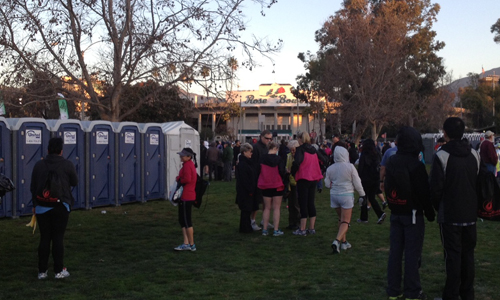 It wasn't as crazy as last year, when I swear there weren't as many porto-potties. But the morning was really, really cold.
I opted not to wear a long-sleeve shirt because I knew I'd end up taking if off. So I was freezing cold walking around. I was jumping up and down and even slightly running in order to get warm again.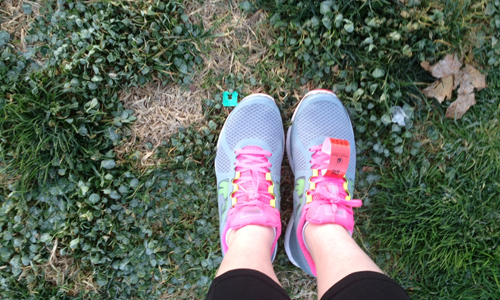 The ground was still frozen when Sam and I headed to check out the banana booth. Bagels were also being handed out. I grabbed a small water. Sam took a banana, which she only ate half of.
As she was folding it up, a woman walked by and said: "Oh…save that for later, after you start the run!" We both kind of looked at each other and wondered where Sam was supposed to "save it for later."
She figured out a way, tucked into the new water belt she bought at the expo the day before.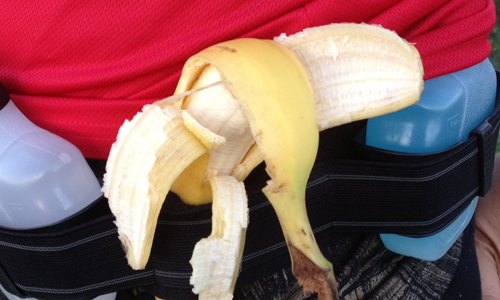 We were sure it would fall out though, so she just threw the rest of it away. (Sorry people who think that's wasteful.)
By the time we finished going to the bathroom and getting fueled up, which included my pre-race Vanilla Bean Gu, it was time to hit the corral. We both worked our way over to corral six, which was the 2:20 corral. When I signed up I had no idea I'd be having my gallbladder removed only five weeks before.
The day was going decent so far.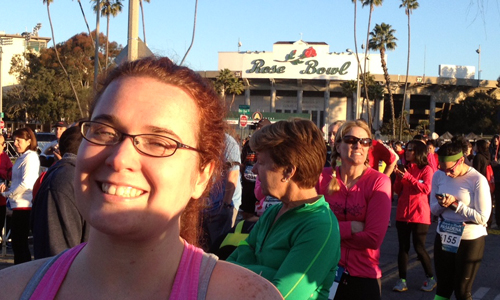 After the National Anthem and some other talk, the start line began moving exactly at 7:30 a.m. It was then I realized I had to go to the bathroom again. I'm not even kidding. The anxiety had gotten to me as it had previously. And I had nowhere to go but out of the shoot, since the corrals were being released every two minutes.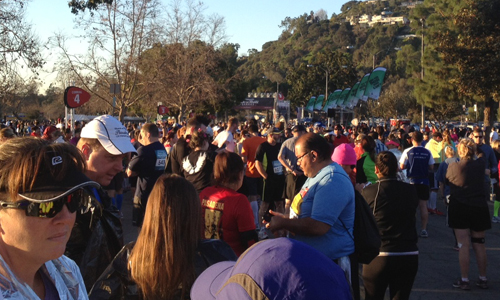 That's how far back we were initially. We'd be up there within minutes. Not enough time for me to go. So I decided to start the race and figure it out on the way, meaning I'd find another blue-wonder porto-potty along the run.
And that's how I started the run.
Mile 1: 10:13 — Starting out strong and didn't feel like I was going this fast. Maybe it was because I had to go to the bathroom, but I kind of kept going. I jammed up the first hill, which I thought was a bit of a monster last year. We hit a mile at about the top of the hill.
Mile 2: 11:42 — I actually didn't slow down my mile pace here. I found a bathroom. I actually commandeered it, only the second time I've ever done so. I didn't feel bad about it this time either. There were two rows of bathrooms, four on the front, hour on the back. There was also a portable toilet set up for persons with disability. No one was in the toilets on the back. So I grabbed one. It probably added about a minute or so onto my time, but I had to go. And I got a toilet without waiting. Score.
Mile 3: 11:19 — The largest hill here. I ran up it most the way, slowing down a little to stay consistent.
Mile 4: 10:28 — The start of another downhill. Still feeling good.
Mile 5: 10:24 — Getting consistent now. No issues. Not feeling tired. Downed another Vanilla Bean Gu right here.
Mile 6: 10:33 — Starting to really see the time I was running. I wondered if I should keep pushing it, or if I should pull back a little. This was also the start of the later out and backs that then take runners back to the main street.
Mile 7: 11:27 — Decided to pull back a little. I start getting a twitch in my ITB band on my right side. I wondered if that would be the end of the good run.
Mile 8: 11:04 — Still feeling really good despite some more hills. Not too bad.
Mile 9: 12:21 — The worst of the hills. I slowed down a little bit. A huge hill. I walked up the last little bit to the top. I was starting to get tired. I downed another Gu. I was really in need of water.
Mile 10: 11:08 — This mile was mostly downhill, but I was trying to be conservative in my approach. I didn't want my leg to give up on me like it did last year in mile 10 of this run.
Mile 11: —12:30 — Then I hit the WALL. I rarely hit the wall in half marathons these days. But I hit it hard here. I could see the finish line as we started around the Rose Bowl and adjacent golf course. This is also where I started to experience a little bit of the dizzy spells I've been having since the surgery, just generally feeling off center.
Mile 12: 13:04 — Which let to me running into a woman en route to finishing this mile. I actually didn't really run into her as much as body checking her. I was so embarrassed. I nearly took her out with me. I had a moment where I nearly collapsed. She grabbed my arm and asked: "Are you OK?" I put myself back together and explained I had surgery weeks before and still wasn't feeling very stable on long runs. "Should you even be running?" she asked, surprised. "I'm at mile 11, so I'm doing OK."
Then I ran off. So if you are the lady who was concerned about the slightly drunk-looking runner in mile 12, I'm sorry. I wasn't drunk. I just run off centered lately and tend to veer toward the right side. Forgive me. I felt bad long after that.
Mile 13: 10:14 — And then I found something in me that I'd lost for about a year. I found a will to continue, despite the pain and slight confusion. I was so "on." I kept saying: "Run, Tara, just run." And I ran. And I passed the 2:30 pacers. And suddenly it wasn't about "just finishing" anymore. It was about getting in under my time from last year.
Mile .21: 2:04 (9:51 pace) — I high-tailed it up the hill and ran down the shoot and looked at my time. I managed to cut off 20 minutes from my time last year. That's huge.
Official time: 2:28:21
Garmin time: 2:28:36
And my first thought: What the hell just happened?
I walked through the finishers corral, picked up all the fun drinks and snacks and made my way back to the closely-parked car. I figured I'd get a bag so that Sam and I had a place to put everything when she finished.
I called my husband. I told him about the run.
Then I went and sat down by the "G" marker, for other reason than that's just where I wanted to sit.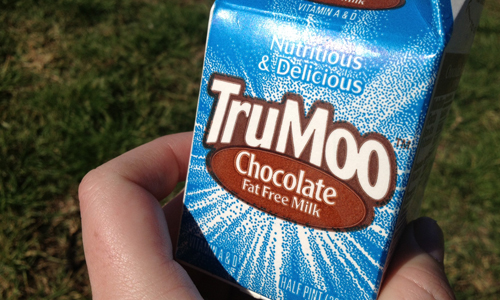 That's where I drank my fat free chocolate milk and pondered how in five weeks I'd got from being in a hospital bed to running one of the best half marathons of my life.
And because it was one of the best half marathons of my life, I broke my self-imposed rule about buying running clothes, with my husband's blessing of course.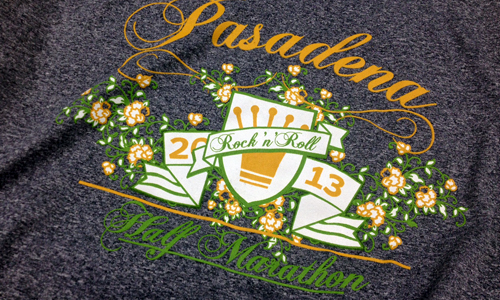 So what happened in those five weeks. A lot. Everything. I went from self-loathing to being confident. I also realized that I had it in me all along. Somewhere in the ridiculous journey of the past five months, I've realized that I'm stronger than I think. And I'm better at running than I gave myself credit for.
Pasadena wasn't supposed to be my "A" race, but I'm comfortable kind of letting it be for a minute. Oakland was my new "A" race even though it's only two weeks before I run a marathon in April. Sometimes we surprised ourselves with just how much we want something.
I wanted this race. I needed this race to prove that after all the work-related crap, I was just as strong, if not stronger, than I was before it all happened. My friend Jennie tells me bad things happen for a reason. She believe my reason is to prepare me for something better. Nowhere did I feel that more than sitting under the "G" sign in Pasadena after finishing a half marathon I had no business running five weeks after having an organ removed.
But it felt amazing.
To top it off, Sam and I checked out the Far East Movement playing at the end of the run.
I'm not a huge fan, but they put on a pretty good show. We got back to our hotel by the noon hour where we quickly showered than jumped back into my car to head back to Northern California.
I wasn't expecting it to go as well as it did, if only because last year was a disaster and the scars from the surgery are still bright red and fresh. But Pasadena turned into a redeeming run for me. Now it's time to train for the flatter, faster Oakland.