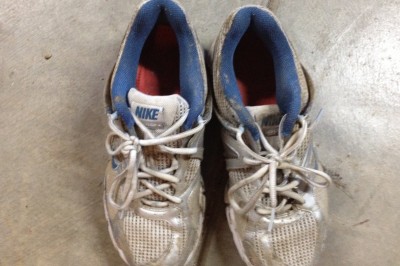 Do you know how many times I've Googled "what to wear to a mud run?" this week? It's not even funny how many. I did it at school. At work during my Weight Watchers lunch break. At home in the evening. Even this morning.
You know what I found? Little to nothing. Lots of reviews. Nothing tell me what I should wear outside of "not something you love because it will likely be stained." Well, yes. I figured as much.
The shoes, above, were easy.
That specific pair of Nike Equalon's have been sitting in my garage for more than a year. I wore them during the Brazen Mount Diablo 10K in March 2011 because it was a wet, rainy day, which kind of turned it into a mud run in itself. I actually lost one of the shoes in a ravine and had to chase after it for a good while.
I had phased this pair out four weeks before. The week after I was running my first half marathon. So they were essentially "retired" when I last wore them. And they are still covered in mud. Perfect, I figure. No problem on the shoes. (Though I do need to track down some innersoles for them since I don't want to wear my nice ones.)
But what else?
I asked my running club this week. I was told a sports bra and "booty shorts." Ha. I couldn't pull that look off it I tried on one of my skinniest days. I did enjoy the conversation that ensued on Facebook with the club, though.
I started going through my clothes last week and suddenly realized I faced a challenge: I had nothing to wear.
Why? Because here's the point in which I sound pretentious. I have nice running clothes. After the first 10 months I ran in cotton, I decided to invest in some seriously nice clothes. Now my cheapest pair of capris is a $55 pair of Nike Relay pants. My most expensive? Lululemon Run: In the Sun capris.
So I stopped by Target (I love Target. I hate how you can walk in there for one thing and leave with 10, but I love the low prices and good quality) and picked up some new, inexpensive clothes, which can be used again if I can get the mud out.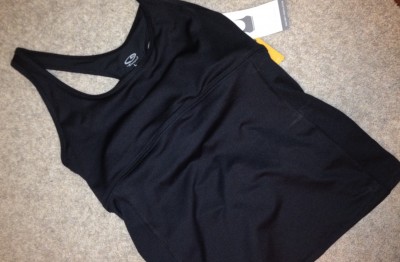 A new Champion shirt for $15. I'm 100 percent sure I can wear this again too because it's black and the material is slicker than most shirts. I don't think it was absorb any of the mud/dirt.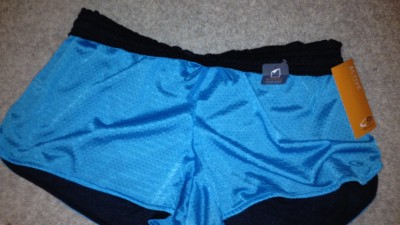 And some colorful shorts. These were a steal for $10. I wanted something, anything with color. The best part is these are reversible. So the blue will likely get destroyed, but the black side will be good for gardening and other housework I usually do now in my Nike running shorts. So, really, I can wear both of these things again for the money.
I'm wearing a pair of my Nike socks too, but only because they have holes in the big toes and I'm about ready to throw them away. Too bad too, because they are still good, but I can't exactly fix the hole. I tried on another pair and the seam just rubbed my toes the wrong way.
I actually decided to wear a pair of compression shorts underneath the blue shorts too. I'm hoping it prevents mud from getting up in places I don't want it.
Even better, this week I got a new special edition of Runner's World Magazine.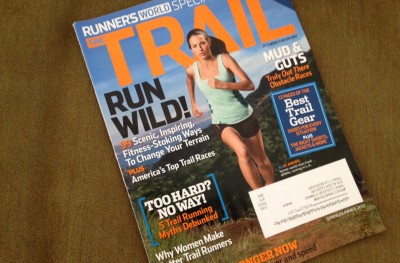 And, if you look closely, you can see why I was more than a little excited.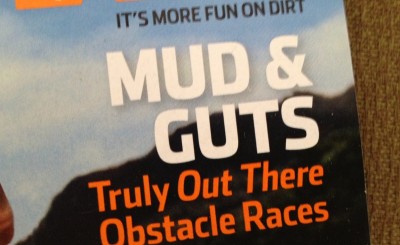 The magazine had a really good article about how mud runs are growing in popularity. Want proof? The one I'm running in today launches 300 runners every 15 minutes from 9 a.m. to 4 p.m. My way isn't until 2:15 p.m., which is why I'm sitting at home writing a blog post instead of out running. I did do four easy on the treadmill this morning just to warm my legs up.
And I figured it would be OK to run because this afternoon is more endurance, slow run and fun than it is a real run. (Is that bad to say? Mud runs aren't runs? I don't know yet. I haven't done one. This is my first today.)
I finally had a chance to read it and loved the little primer on mud runs and how to prepare.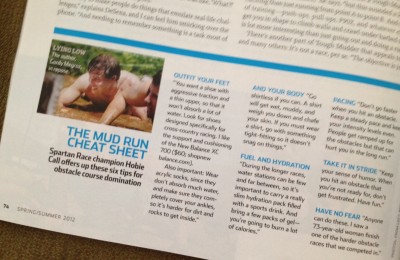 This has basically answered many of the questions I've had about what to expect and what the experience will be like. This is why I love Runner's World. I swear, the magazine is great for both experienced and new runners. And it seems to answer my questions before I even know I have them.
So what else am I taking to the mud run? Nothing. Maybe some cash, but otherwise absolutely nothing. Not even my phone. (I literally just got a new phone two days ago because my Android X decided to finally cut out on me. What did I get? An iPhone 4S. I'm a big girl now, really.)
Because the mud run is midday for me, I decided just to throw on my clothes after my four mile run and shower this morning.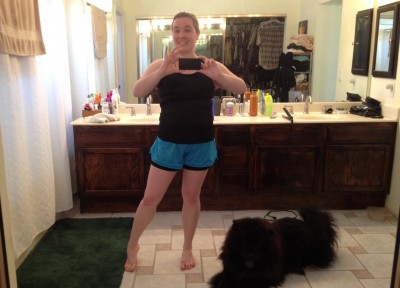 Look! I have bathroom vanity doors again! To be fair, I've always had them. I finally decided to finish them. Half hearted, because they didn't turn out as well as I want, but still. And that's my dog Beau. He likes to photobomb. It's how he rolls. Even better, this photo doesn't show the tire in my abdomen I've been carrying around for the past couple months.
I'm also planning on wearing contacts and slathering on the sun screen.
My husband asked me why I was wearing black, particularly because for the first time this season it's supposed to hit 90 degrees in the valley. I wouldn't be so upset about the heat if we had actually had a winter. We didn't, for real. I had about 10 days where I had to wear my Nike thermal compression shirts underneath my clothes, but that's it.
We didn't even have a lot of rain until a couple weeks ago. So summer temperatures this early? Not cool.
I'm hoping the mud isn't too warm today.
But I'm outfitted for this run. Am I ready? Maybe not.
I mentioned that last night and was told that I'm making other people nervous. But really, I don't know what to expect. Besides mud. I expect mud. But what else? Can I really climb a wall? Can I handle the monkey bars? Will my thumb continue to be a problem?
I only have a couple hours before I find out. The clock is ticking…