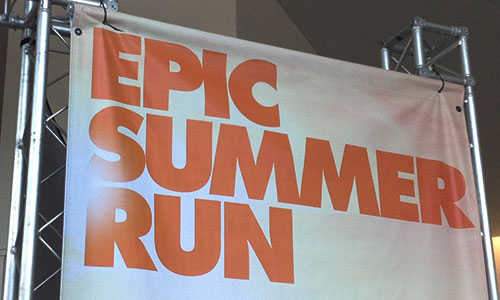 Since many of the Rock 'n' Roll runs have very similar expos, I figured I won't recap the entire experience. Instead, I figured I'd put together a photo post of the highlights of my hour-plus inside the expo.
My husband dropped my running buddy Sam and I off right when we got into San Diego, after a long eight-hour drive (which included a stop for lunch in Mission Viejo. He decided to take a ride down to, nearly, the California/Mexico border, thereby letting Sam and I spend as much time as we wanted to at the expo.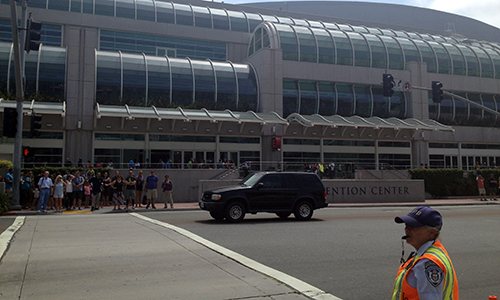 The Convention Center, as always, was packed. There were more people than could fit inside the crosswalk area streaming out of the expo. There were only two and a half hours left of it…so the expo was kind of winding down.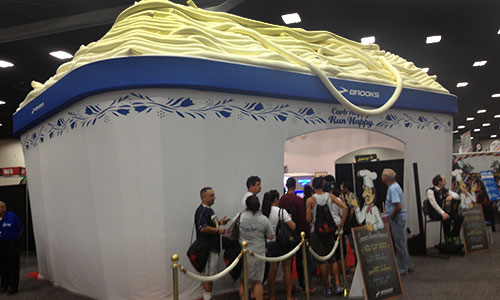 First stop was the check-in area and into the standard Brooks area. I was excited to see a huge Brooks tent shaped like a pasta bowl. I was hoping, more so, that the Brooks shoe-shaped pasta would be for sale.
Nope. No shoe-shaped pasta, at least not by the time we arrived. Too bad. I've been wanting to buy a bag.
We didn't stick around for the gait analysis or anything. We'd already been there, done that two weeks earlier in Portland. That expo was pretty epic.
So we headed out for the rest of the expo. It was packed. There were more people than my anxiety could handle for a minute.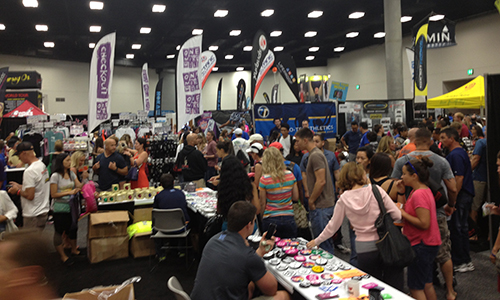 WHY SO MANY PEOPLE? OH MY GOD. TOO MANY PEOPLE. NO ONE TALK TO ME!
Sam was good at maneuvering us through the crowds and to her sister, who was waiting in the tape line. It would be Sam's sisters second half marathon. She met us down in San Diego and, thankfully, picked us up from the expo when my husband wasn't answering his cell phone. I had fears that he, and our race gear, got stuck in Mexico. That didn't happen.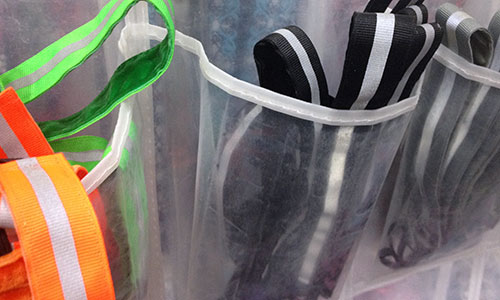 Lots of temptations at expos. I've actually become so much better at not trying to buy everything.
There's some stuff, though, that's just funny too.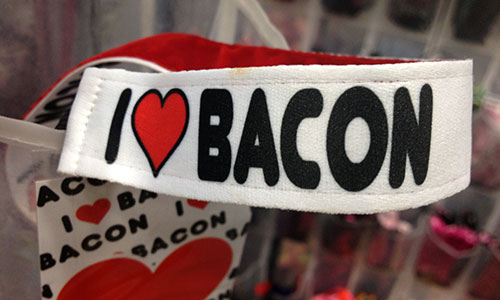 For the record, I'd never wear an "I (heart) bacon" headband. I just thought it was funny because there was only one left. Really? That many people bought these headbands? I guess there's a market for them … just not with me. Sam actually bought a Halo headband. She wore it for most of the race, but the verdict is still out on whether she liked it or not. She ended up taking if off and wearing it around her wrist most the race. That said, it was warm and humid, so I'm not sure she can fairly review it.
As much as I don't fall into temptation, I decided there were some good deals at the expo.
I scored a box of my favorite Gu for $24.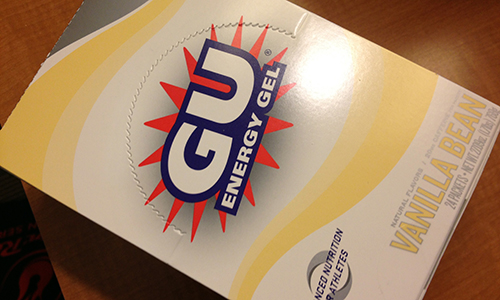 And I visited the Tiger Tail booth. Last year I bought the Tiger Tail roller, which I love more than my Stick Roller because the Tiger Tail doesn't pinch me. I tried to convince Sam to buy one. Instead, we both got Tiger Ball Massage-On-A-Rope.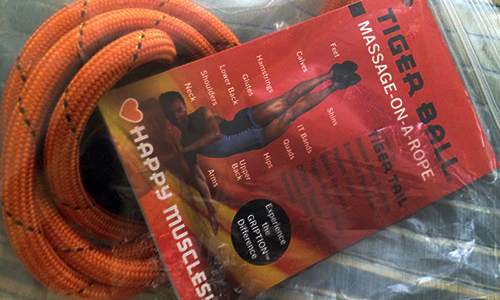 I got it for $24. A nice price for, being that it cost $28 regularly and then you also have to pay for shipping. To be fair, I was on the lookout for this booth because I knew I was going to either get this or the Knot Buster.
I've buried the lead a little bit on this one, but as we were walking around something exciting happened: I saw Deena Kastor signing race items. I KNEW I had to get in line, being that my Kara Goucher-signed race bib got me to a PR a couple weeks earlier.
Deena-freaking-Kastor signed my race bib.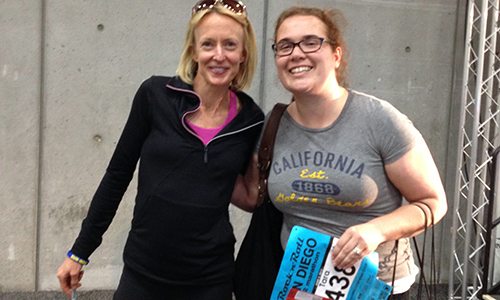 I'd like to think that's what led me to my 2:16:41 half marathon, which is a marathon-distance time for her. You know what? Runners are nice people. Kara was gracious. Deena was super sweet. They were amazingly nice to everyone who stood in line for a little bit of their time.
Before we left, we headed to the main Rock 'n' Roll booth where I eyed the "Heavy Medal" series.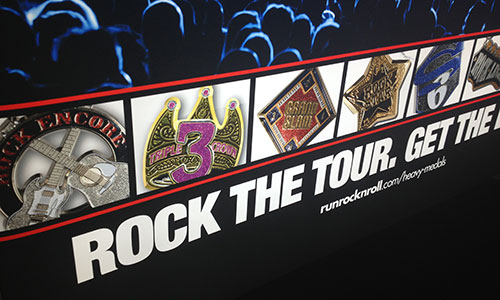 This year, I should earn the Grand Slam medal. Last year I earned the "Rock Encore" and "Triple Crown." That said, I accidentally registered for Rock 'n' Roll San Diego with my maiden name, so I had to send an email asking that my name be changed in the results. I just registered for the Rock 'n' Roll San Jose Half Marathon, which will be my last Rock 'n' Roll Half for the year.
I was considering doing the Rock 'n' Roll Las Vegas Half Marathon, but instead I think I'll be staying closer to home and running the just-announced Berkeley Half Marathon on Nov. 24. Sam is going for broke with her Tour Pass, which is ending up to be a good value for her, and trying to earn the medal for six Rock 'n' Roll Races in the year.
I was hopeful, but not certain, that I would be able to beat my 2:19 time from Portland … and that would come Sunday in a very amazing run.