Sometimes I disappear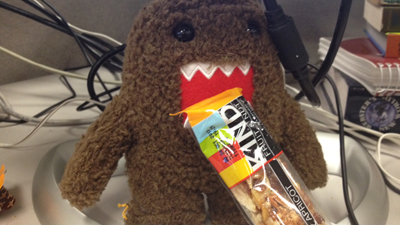 I hate to say it, but this is the time of year when I tend to disappear. From family gatherings. From social outings. From blogging. I just get too busy. That's not a bad thing (because I'm busy making money).
Unfortunately I also seem to disappear from running too.
Not this year, though. This week already I've logged 25 miles with a long run scheduled for Sunday morning. I'm hoping to have 35+ by the end of Sunday morning. I'm hoping to gradually step up my mileage as I really start to prepare for California International Marathon on Dec. 2.
Because it's that time.
My students published the first issue of the campus newspaper for the semester on Friday. At my full-time job, I've been busy with the high school football season taking off. That means I've been logging some serious time sitting in front of the little monster above. (For those who don't know him, that's Domo He's one of many monster-types at my desk.)
I've been logging serious mileage lately in general, both slow and fast. And, outside from a down period a couple weeks ago, I've been feeling really good about my running. So much so that I'm really excited about a 5-mile race I've decided to do next week all about women empowerment. It's actually one of the races I had to forgo last year because of a nasty Achilles strain that put me on crutches.
I was feeling great about running until I started hitting the road/treadmill this week. That's when I noticed a slight twinge in my calf. I also noticed that my shoes were looking a little more beat than I remembered.
That's when I knew. It was time to buckle down for a new pair again.
After only 300+ miles. I honestly thought the LunarEclipse +2's would last a little longer, but I'm the same runner with the same weight, so this shouldn't really surprise me too much.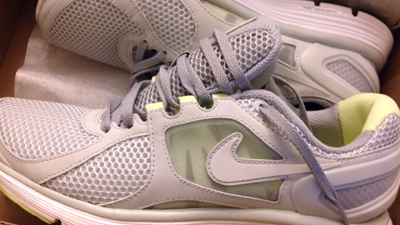 These are the "Breathe" edition of the LunarEclipse's. Kind of pretty looking in person. I'm going to do another outdoor run in my old shoes (the long run Sunday) and then start moving through the process of retiring those. Sigh. I really loved the hot pink. But these are my first "pretty" running shoes in general, and the new ones are pretty nice too.
So about that disappearing? I literally have to make time to blog now with school and video shoots more than twice a week. I'm busy. But I'm also working on balancing everything better this year. That's why I pushed myself to run days in a row. It's why I stopped everything and started blogging today.
It's why you're reading this, basically.
But it also means I'm working 70+ hour weeks when my students are in production for their newspaper. So I'm also a bit whipped out by Friday, especially after a 4 p.m. to 12 a.m. shift, which in reality tends to be a 2 p.m. to 12 a.m. shift. I'm trying to get over the fatigue, though, put my mind in an active area and just run.
Today that meant five miles. We'll see what tomorrow brings.
But if my blogging is lacking into the next month or so, it's because life gets crazy busy this time of year. I'll only worry about it if I start slacking on my training.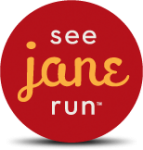 Run with me!
Save 25 percent all See Jane Run races, including the June 21 San Francisco Bay Area run, by using the code SJRAMB243. Use the code to also save 10 percent on online store discounts at seejanerun.com.