Search term Sunday: Waiting in line at portable toilets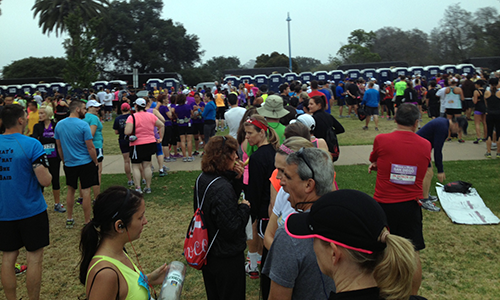 A confession: I'm really bad at consistency lately when it comes to things I'm trying to make "regular" features. I have so much to blog about but haven't had time. I've been working pretty steadily on some websites over the past few weeks. I started yoga (a blog post in itself, when I get to it). I meet with my students this Tuesday for a fall planning session. My grandmother had a 90th birthday celebration yesterday. I've just been a little bit overwhelmed.
And I'm running a half marathon next weekend.
But I thought this search term was definitely a funny one. Someone entered "portable toilets line waiting" and found my blog.
I know why, obviously. It's because I've stood in my fair share of portable toilet lines over the past few years of racing.
I've also come to develop some "pro tips" for making the best of a bad situation.
ARRIVE EARLY, GO EARLY
This is especially a rule of thumb at big races. The Rock 'n' Roll San Diego race is massive. And despite an ever-reaching line of portable toilets (see above), it seems like there are never enough to go around.
This year, the marathon started first. Even when my half marathon corral was ready to go, there were STILL marathoners waiting. I'm not sure what happened to them because, supposedly, the marathon course was going to be shut down fairly quickly after the first mile.
So I practice a simple rule: If you arrive early to a race, make sure the FIRST thing you do is go to the portable toilet. That way, even if you have to go again, you've at least gone once already. It takes away some of the line pressure.
GET IN LINE 20 MINUTES EARLY
Never wait until the last minute to make your way to the line. It will take you at least 20 minutes, in most cases, to make your way to the front of the line. This is especially true at bigger races. Smaller races don't have a lot of issues when it comes to portable toilets, unless there are only a couple available.
Be willing to start your wait early.
FIND ALTERNATIVE MEANS
This means what I think it means, but it also includes some strategic planning.
First off: If a race director tells you that you can "relieve yourself" in the bushes, do it. I've been at two races where men and women were told that they could use the brush to avoid the wait. I'm not kidding. And we weren't in the wilderness. The first time it happened, we were in a major metropolitan park.
"Runners, please use the bushes if you need to!" a man on a bullhorn said. It doesn't get more official than that.
That said, smart planning also can make your wait less.
At See Jane Run in Alameda, the start line is less than a half mile from the finish. And you know what all finish lines have? Bathrooms. So if you're willing to walk a little, the likelihood is that you WON'T have to wait.
At the Rock 'n' Roll San Jose Half Marathon last year, my husband dropped me off near the finish there too. There were wall to wall portable toilets available. No waiting. The walk to the start was literally three minutes.
At this year's San Francisco Marathon, a row of portable toilets was RIGHT AFTER the start line. Why? We're in the corral for so long many people need to use the toilet right when they begin. I got there right after a corral was released and made my way into virtually empty and clean portable toilets.
I also have "rest stops" along the way to make sure I never show up to a race really having to go to the bathroom immediately.
That said, these plans didn't actually help me the first year I ran each of these events. I remember waiting in those epically bad bathroom lines. That's why finding out about each of these things really made the experiences the second time more enjoyable.
DON'T WAIT FOR THE REAL BATHROOM
Very few big races offer real, flushing toilets. At the San Francisco Marathon, most "real" bathrooms are locked until after the runners move through the area (except for the ones by Stow Lake, those were open and people were using them).
I know some people have paranoia about portable toilets, but sometimes it's best to hunker down and get over it. You'll likely end up waiting twice as long for a toilet that flushes (maybe even three times as long) than a portable toilet.
PLAN FOR THE WORST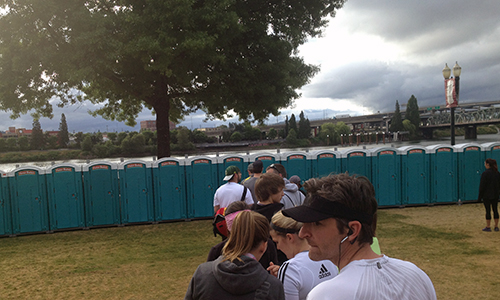 I always anticipate that I WON'T be able to use the toilet if it comes down to it. That's why there are ones strategically placed along the trails or paths or road routes. I never like to actually take the time to use those ones either, but it's better than running for 13.1 miles or 26.2 and really having to go to the bathroom.
I will say this: Sometimes I'm pleasantly surprised. In Portland, the photo above, there were only about 20 people in each line. We hardly had any wait, got in and out and made it our corral with about 10 minutes to spare. Those occasions are mostly rare, though.
Just know that sometimes, even with the best planning, you may not make it into one of those aqua-colored thrones.
SCOPE THE TOILET SITUATION OUT
This is likely how someone found this blog. A majority of the runners who do race reviews will mention something about the bathroom situation at the start or along the route. They'll especially mention something if the situation isn't very good. So I Google.
I also check Yelp.
I find that when the bathroom waiting or lack of portable toilets at a race is really bad, it ends up on Yelp. This is the race for Active.com race reviews too.
The second half marathon I ran was a smaller one, on a paved trail through San Jose. The organizers (a solid group) advertised bathrooms at specific points along the trail. Except those bathrooms weren't there.
I knew I wasn't the only one who noticed. The only bathroom I ever saw along the trail was one near the turnaround point. I used it really quickly because I knew there wouldn't be any others on the way back.
Of course, when I got home the first thing I noticed was a negative review from a racer: "Bathrooms not as advertised" was essentially the jest of it.
REMEMBER THE GOLDEN RULE
The most important thing to note is that people won't complain when the bathroom situation is good usually. You will hear about it when it's bad, at least somewhere. With so many race organizations now on Facebook, one of the things I've seen people do is ask questions about what will be available come race morning.
Pose the question: Has anything changed from last year?
Good race organizers will accommodate and improve upon the previous year's issues. And those are the races you end up doing again and again.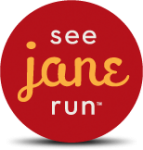 Run with me!
Save 25 percent all See Jane Run races, including the June 21 San Francisco Bay Area run, by using the code SJRAMB243. Use the code to also save 10 percent on online store discounts at seejanerun.com.