Mind over marathon: Part I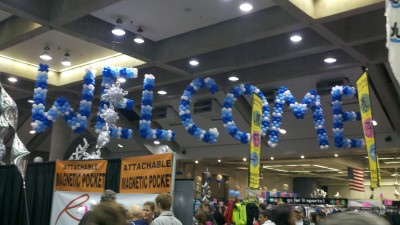 This is a fair warning: This post is going to be long and over two parts. I may ramble in parts, but I'll try to keep it together. Two days after crossing the finish line for the California International Marathon, I'm still in a little disbelief that I did it. But I did.
My time wasn't spectacular. It was 5:20:41. But I'll own every minute of it.
I'm now a marathoner. I can't believe it. I don't feel changed at all. But I know this means the beginning of something new.
But I digress.
Our journey to Sacramento started at the Sacramento Convention Center. That's where the expo for the 29th Annual California International Marathon was being staged. My husband and I seemed to walk in at a busy time. The number/chip lines were packed in some areas. My "C" wasn't bad. We got my number in about 5 minutes. I was also picking up my running buddy Jennie's chip. It was her first marathon too.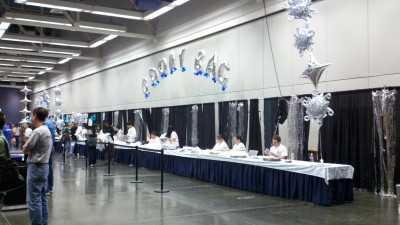 The line for Jennie's last name was much longer. And the volunteers seemed a little flustered by people coming up without their numbers. I knew mine. I knew Jennie's. I had printed both out. So it was a breeze. The volunteer actually thanked me for having the number and not making him search by name.
I was surprised I didn't have to do much else outside ask for Jennie's number. I didn't show identification. No one asked me to confirm I was me.
Even in the "chip check" area when my husband scanned Jennie's chip, no one said anything. It was odd. to say the least.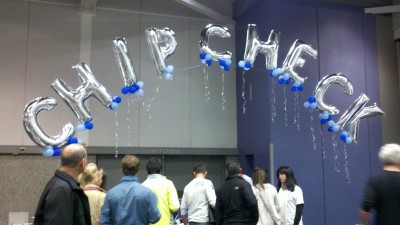 We were sent over to the shirt table. I believe we had the choice between short/long sleeve shirts if we registered before a certain time. I opted for the long-sleeve one because I enjoy my race long sleeve shirts. It has a bear jumping out of the California flag and into the race. It's a light blue color. And, unfortunately, I've already snagged it twice. That sucks because I love it! I think that might just be first marathon high still.
We walked around the expo for about 45 minutes. I scored a new pair of Zensah compression socks in purple for $32. I also got a California International Marathon shirt.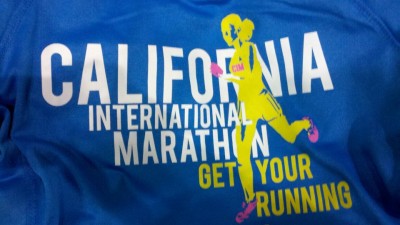 I also grabbed a pair of gloves at the expo. The temperature at the start was expected to be around 37 degrees. Cold. Very cold. And I've never had running gloves before. They were reasonable at $18, though on second thought I should have probably bought the size medium instead of large. But my thumb injury (which I'll blog about at some point here) made it where I have a nearly impossible time getting gloves on and off. So I opted for the larger ones.
We spent about 15 minutes looking for where to buy posters too. It was at the same booth where people could buy $20 bus tickets. Thomas was dropping us off at the start, so we didn't need to worry (though we ended up finding ourselves on a bus anyway, more on that in the next post).
I found the poster for this year, and another with the route. I bought both.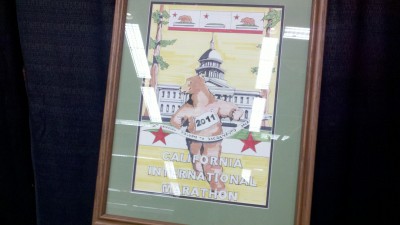 I can't tell you how nervous I was at this point. This was happening. No more training runs to prepare. It was happening in less than 24 hours. I was a little freaked out. OK. More than a little.
I was having panic moments. Everywhere I turned I was reminded that the word "marathon" did not have "half" in front of it. Nope. This was the full 26.2.
Yikes. OMG. Yikes. Breathe. Yikes.
There was a lot of that happening over and over again.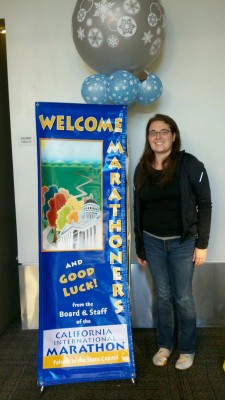 Do I look nervous? I really am. I was trying to stay calm. Thomas is used to my neurotic tendencies, but I think I was on a bit of overload with this one.
I was glad then, when he suggested we go for dinner earlier rather than later. Why? I figured my stomach wouldn't be turning as many knots if I ate early. I didn't want to chance it.
So we headed over to Old Sacramento. Our hotel reservation was in Rancho Cordova (halfway between Folsom, where the race started and Sacramento, where it ended).
I wanted pasta. But we haven't been to Old Sacramento in years, so we didn't know where would be a good place to go. We walked by some pub-style places, but I didn't want "bar food." We found a restaurant called Ten22.
Thomas ordered the steak special. I had the chicken with pureed butternut squash and vegetables. It was amazing.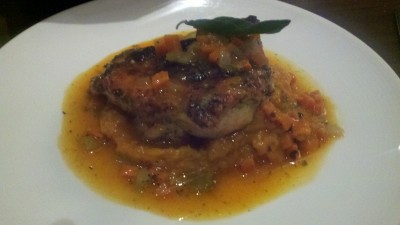 Thomas also had wine. I just had a couple Diet Cokes. I was still feeling the butterflies in my stomach when we left. Thomas wanted to walk around the waterfront for a couple minutes. It was chilly, but beautiful in Sacramento.
I'm counting myself lucky that I've had two overnight-type adventures lately. The trip to Monterey with my mom was a nice getaway. And this one-night away with Thomas, despite having to wake up really early, was also nice. It's just nice to get away, even if I'm running 26.2 miles.
Thomas snapped a photo of be with the newly painted Tower Bridge in the background.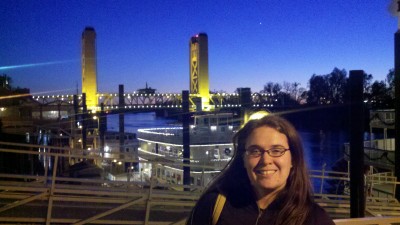 It was getting really busy in Old Sacramento. The holiday lights were beautiful, but Thomas and I were also a little tired. I'd slept in Saturday morning to prepare for what I knew would be a long night before the marathon.
We hopped in the car and headed up Highway 50 for the short drive to Rancho Cordova. Our La Quinta was nice. We stayed on the fifth floor where I saw a bunch of other marathoners.
We kind of relaxed the rest of the night, waiting for Jennie and her husband to come and get her number. Then we checked out the spa for about 30-minutes. Overall, I was just trying to calm my nerves.
When I got back to the hotel room, I laid out my clothes for the day. I had a Nike Thermal long sleeve, black Nike running capris, NikeID "I run to be powerful" shirt, Equalons, iFitness belt, timing chip on shoe, race bib, gloves, Garmin, RoadID and all my Vanilla Bean Gu was there.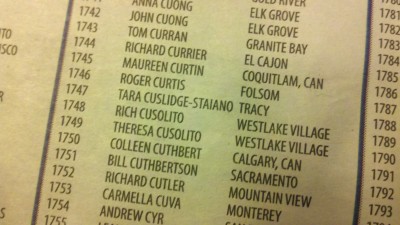 I was just trying to take it all in. I wanted to take it in. But I also knew I had to make some significant strides early on in the race if I wanted to make the six-hour time cutoff. I didn't want to go out and not be able to finish.
I tucked in with my own blanket (a tip from another runner's blog who said it would help me sleep better and it did) and went to sleep around 10:30 p.m. Thomas went downstairs to the lobby to watch television. He came back in at around midnight.
And I slept pretty good, until about 4:55 a.m. on Dec. 4.
Race day.
More important, my first marathon.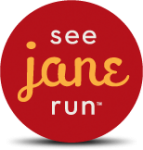 Run with me!
Save 25 percent all See Jane Run races, including the June 21 San Francisco Bay Area run, by using the code SJRAMB243. Use the code to also save 10 percent on online store discounts at seejanerun.com.