If I didn't have bad luck …
I wouldn't have any. Or so the saying goes.
The first hours of 2013 were great. No problems. I just hung out on my couch. I decided not to go for a run because my left IT band was still bothering me. My left big toenail (the one that is becoming increasingly black), also started hurting a little bit more.
Then, at about 4 p.m. my abdomen started hurting.
It wasn't just as little pain, it was a horrible stabbing pain. I tried heat. I tried an ice pack. I took a bath. I took some pain relievers. I did everything. But 8 p.m. I was so sick and disoriented that I could barely stand up. Every time I moved it hurt.
I kept thinking it would get better. It didn't.
Finally, fearing that my appendix was exploding or some other extreme malady was occurring, my husband high-tailed me to the hospital.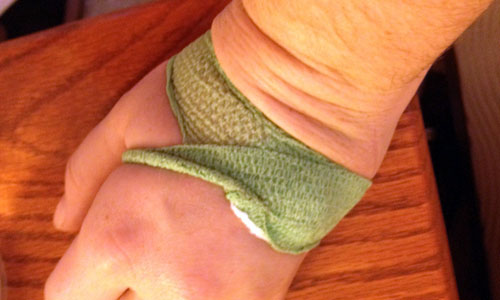 I think the fact that I threw up, pretty significantly, in triage got me in quicker than I imagined I would. I was keeling over in pain. I could barely get into the hospital gown. But they loaded me up with Dilaudid, a pain reliever that's not morphine (I'm allergic to morphine), and I suddenly felt so much better.
I had an x-ray done. They found nothing.
No explanation. To say I was disappointed would be an understatement. It's not that I wanted my appendix to be exploding. Not at all. That would have set my running back months (I had a surgery in July 2010 and couldn't run for four weeks, longest four weeks of my life). But I wanted something to be happening so I could have a diagnosis and get work on making it better.
Instead, they told me to visit a gastrointestinal doctor.
Let's me real: I've seen a lot of doctors lately. The thought of another one just bums me out.
So I started this year bummed out, doped up on pain relievers in an emergency room bed. After two months on leave, I didn't have the heart to call in sick to work the next day. I was tired, and the pain still resonated, but I made it through.
On Thursday, I headed out to my car to go to work and noticed a strange scratch on the door.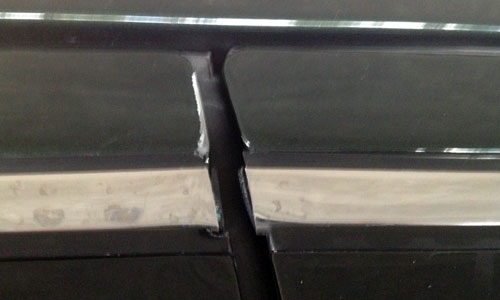 It didn't look right. I opened the door and found something much, much worse inside.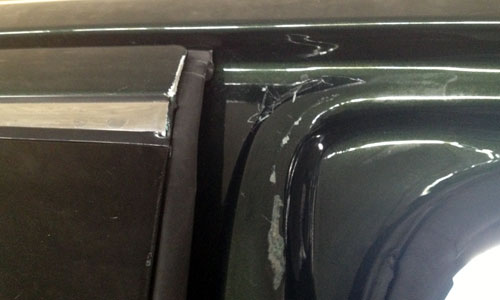 You've got to be kidding me?
No. Way.
Someone tried to break into my car. The only place I'd been? Work.
My car is in the garage when I'm at home. I sent my husband an email when I got to work.
"I think someone tried to break into the Jeep," it said. He had me send photos. When he received them, he was livid.
I mentioned it to the security guard at work. He told me that someone else's car was broken into earlier in the week, but no one was in the lot last night, etc.
My husband was firm: The only place it could have happened was in the lot at work.
The damage is fairly significant, especially on a new car.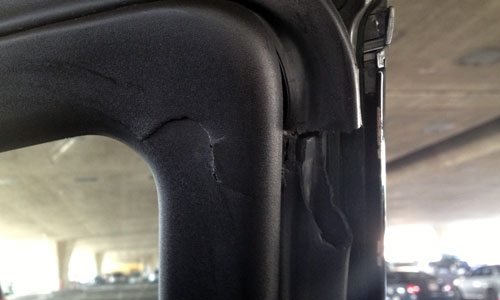 I filed a police report. We're turning it into insurance. My typically mild-mannered husband was cursing and upset when I got home and showed him. I told him I impressed by the Jeep's durability. The bad guys didn't get in. Nothing was stolen. And it's not like they can steal the car anyway, since a proximity chip is needed to start it.
Then on Friday, after all of this happens during the week, the cracks in the facade start to show a little in my anxiety. It turned into a bad day.
One bad day after another.
But … my IT band isn't in as much pain as it was a couple days ago. I've been stretching it every night and rolling it out with my Grid roller. I've also been using my TriggerPoint ball to massage the ends of my IT band.
I ran six miles yesterday. I ran five miles today.
I'm hoping to run eight to 10 tomorrow morning.
The running is going well. I'm hopeful that I'll be ready to tackle that trail 1oK on Jan. 26. (And start upping the ante for the half marathon in February.) So I guess there is good luck too in all this.
Since I keep having issues with that particular IT band, I'm considering investing in one of those physical therapy-style rubber straps to use to get some more mobility in that leg. I'm already rolling it out everyday. I'm stretching it out as much as possible. But the problem keeps coming back.
I suppose it's better than having constant knee issues, but still. We'll see if I can figure out a plan of attack on the IT band from hell.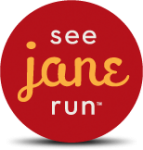 Run with me!
Save 25 percent all See Jane Run races, including the June 21 San Francisco Bay Area run, by using the code SJRAMB243. Use the code to also save 10 percent on online store discounts at seejanerun.com.