Because it's been a long, crazy week. And I only ran 10 of my 15 miles on Saturday then worked all day. So I present, my week, in photos.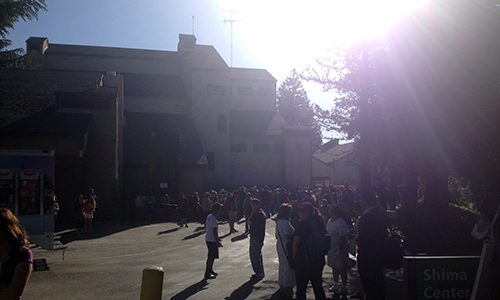 I woke up late Tuesday because I had turned down the ringer on my phone for some reason. I literally threw myself together to so I could be at school by my student's 9 a.m. lab start. I was greeted, just before 9 a.m., to this site right outside my building.
Fire alarm.
We waited outside for about 20 minutes before getting the all clear.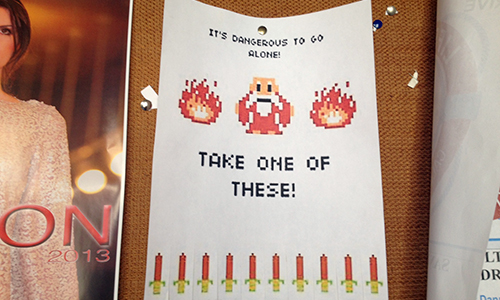 Speaking of school, college students are a much more lively bunch than high school, middle school or elementary school bunches. Why? They are funny, in a subtle way.
I found this gem of a posting right outside my office. It speaks to my inner dork and brings me back to my original Nintendo playing days.
Who didn't love The Legend of Zelda? I remember walking into the little caves to get the all impressive sword. With final weeks coming up soon (we finish the semester in mid May), I thought this was rather appropriate.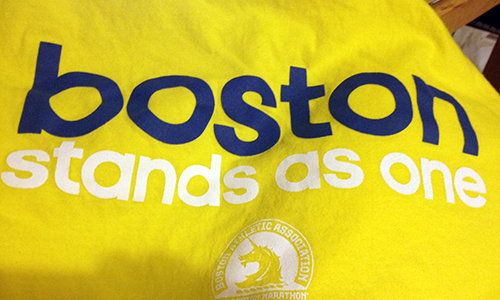 My Boston shirt came in the mail today. It's HUGE on me, but I don't care because all proceeds go to One Fund Boston. It's also a crazy bright yellow, which means everyone will see me wearing it a mile away.
It's cotton, so I won't be wearing it at night when I'm running. But I love this shirt, if only because it represents runners helping runners.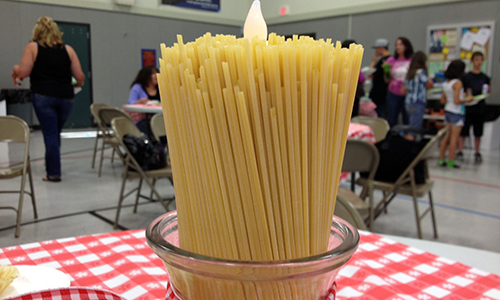 I went to a spaghetti dinner hosted by my friend's daughter's school. It was only $5 a plate and it benefited all the cool things elementary school's do for children (which essentially means I'm not 100-percent sure what the money is going to, but it's a good cause I'm sure). The lovely item above is the centerpiece for the tables.
My trip to the small adjacent town next to where I live also included visiting my friend's severely burned home. She's not living there currently. But a cedar chest she was partial too was damaged pretty significantly in the fire. She was told to call it a loss.
I saw it and realized it wasn't. In my ample spare time (ha!), I refinish furniture. Mostly all my own to this point. I told her all I need was some time with it and I could make it as good as new. Maybe better. New stain, new finish. So after we ate a plate of spaghetti each and stayed for a raffle/silent auction (she took away a nice entertainment-based basket for her children) we headed over to casa-de-crisp and picked up the chest.
I backed my Jeep onto her non-existent lawn. My husband got it in the car.
The good news is construction for the rebuild/renovation of her house started this week. The bad news is that it won't be done until October.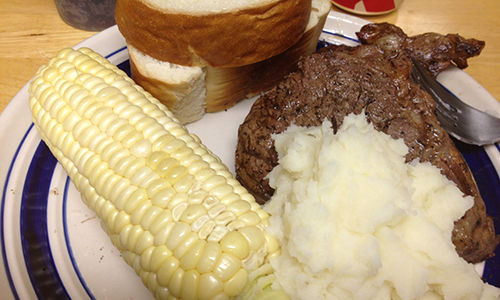 My husband is back to working normal shifts at his job, which means he has more time on the weekends to do things like cook. And vacuum. And generally not be a zombie.
He's pretty excited to go back to 9/80 schedules (five days one week, four days the next, making every other weekend a three-day weekend). I'm excited to have him back too.
He made steak and corn on the cob on his grill on Saturday night. It was delicious.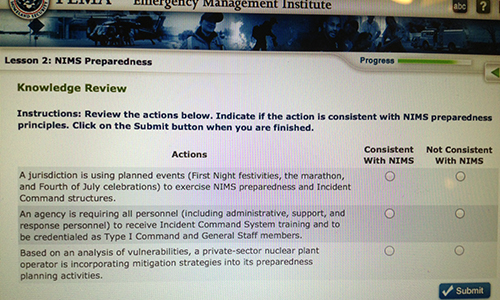 All that work I was doing Friday? It carried into Saturday. And will carry into today.
One of the things on my to-do list is FEMA-based training for school. In order to continue to be "eligible for employment" in the community college system I work in, I have to finish this mandated training. I've put if off a long time. It's due May 9. I took a test for one of two lessons tonight. I'm waiting for the response in my work email.
I took a photo of this because the first "action" talks about "planned events" such as "First Night festivities" and "Fourth of July celebrations." Both are really specific. In the middle of that it says "the marathon." I know it has to be applied to all municipalities (this course focused on the National Incident Management System), but "the marathon" is so vague it's funny.