I'm thankful for calendar reminders that alert me when I forget to write something down on my actual planner. Case in point: I signed up for a symposium on data and journalism sometime in April. Then I kind of forgot about it. I knew, just knew, I had something going on this weekend, but I couldn't remember what.
Queue emails sent from event organizers. And a Google calendar alert.
I'm so incredibly glad I didn't miss it. I would have kicked myself if afterwards I realized it too late (or even worse, realized it as it started).
Sam actually was heading into the Bay Area on Saturday morning, so I hitched a ride to a BART station near Castro Valley to get to the University of California, Berkeley campus. The event was free to J-School alumni (super stoked about that).
I think all the walking I did qualifies as some sort of exercise. Yes?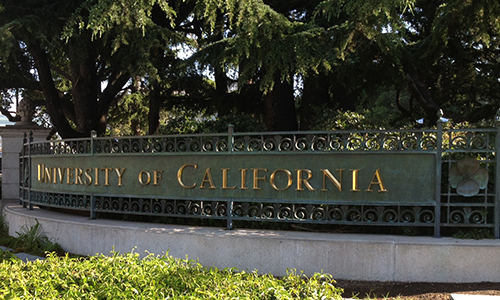 The main entrance to campus. A powwow was being set up there. Later in the day, I accidentally walked into a Queer Conference while trying to navigate to one of the cleaner bathrooms on campus I know (most exciting thing about that was the bathroom I went into was designated a "gender friendly" bathroom, welcoming men and women, I thought that was pretty cool). In total, I saw three homeless guys napping on lawns. And I saw a drama open house/demonstration being set up at the base of a hall.
All those reasons? That's why I love Berkeley.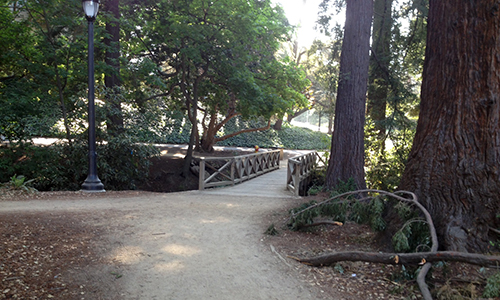 I made my way up from the BART station in downtown Berkeley. There's no real direct route up though campus, really there are no direct routes through campus in general.
So I slowed down a little and took in Berkeley's park-like atmosphere.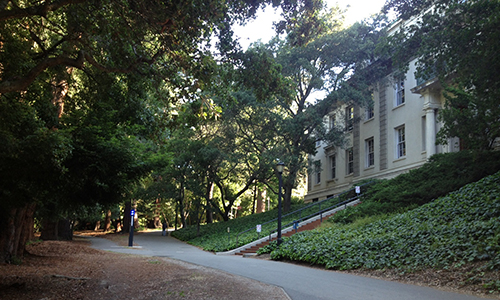 I also got some walking hill work done. Berkeley's campus has a lot of hills. Some brutal and mostly upward. Others rolling. I wasn't much of a runner while I went to school here, but imagine the hill training possibilities on the campus?
It's no wonder I used to see the ROTC programs running through campus.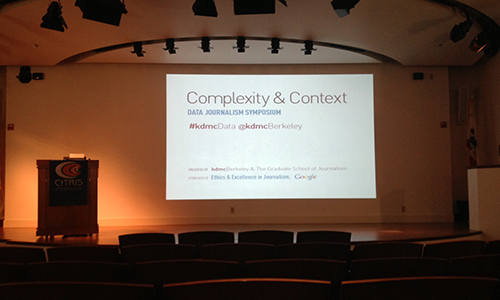 The all-day long event brought out an array of speakers. There were six sessions, with question and answer periods. There was a breakfast buffet and a networking lunch, too.
The topics included a detailed look into policy in the afternoon. Questions of ethics were broached too. One of the things that came up a couple times was new ethical issues in data presentation and journalism that weren't even considerations a couple years ago.
I didn't go for credit at school or anything. (I filled my outside of class required time earlier this semester with the three-day journalism conference where I literally work all hours I'm awake.) I did it because some of the key concepts taught can be applied to my community college classroom. I'm already writing some of it into the curriculum for next fall.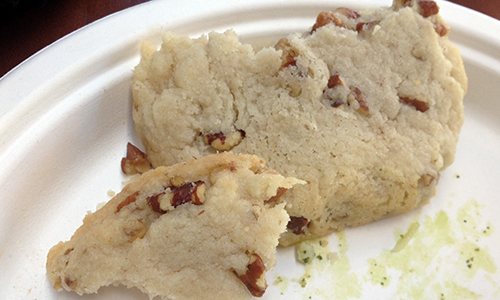 Speaking of lunch, these cookies were served. I'm not sure exactly what they were (don't worry, the green on the plate is from a pesto pasta), but they were delicious. It was a brown sugar, pecan melt-in-your-mouth kind of cookie. I'll admit it, I ate two. I was tempted to grab another one. I really, really wanted to.
The event ended at about 3:45 p.m. I realized I likely couldn't get back to the train to make the train I thought I would. So I decided to take a longer stroll through campus. That included taking in some of my favorite sights.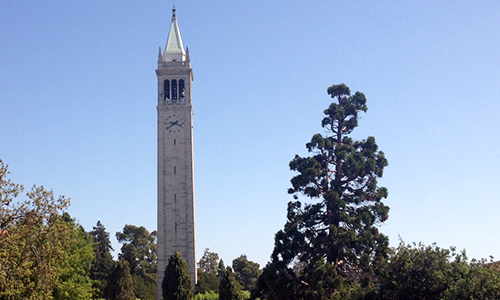 The Campanile is one of those landmarks that can be seen throughout the entire Bay Area. The first time I visited the campus in 2004, when I was considering applying for admission, my husband and I went up and got a bird's eye view of the area. I remember going up again, right before I graduated and looking around. It was one of those capstones of my two years in graduate school.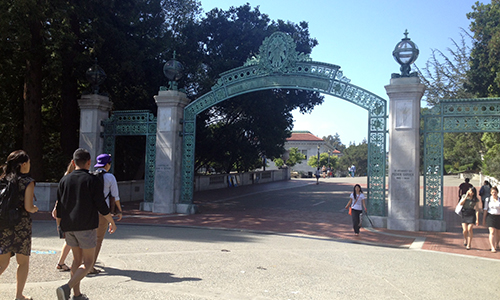 Sather Gate is about as well known as the plaza in which is stands. Sproul Plaza was the center of the Free Speech Movement once upon a time. You walk through the area, even now with it's fenced-in buildings and can't help but feeling connected to history. But there's a sense of history nearly everywhere you step at Berkeley.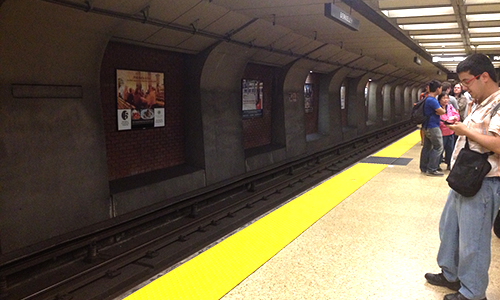 I headed back down to the BART station and made my train. Despite sitting most of the day, I had kind of walked all over the place to get to and from the symposium.
The train ride back was less eventful than the one there, which involved watching a guy to pull ups on the overhead hand bars in a train car. By 5:30 p.m. I was back in car heading toward home.
That's when Sam asked if I wanted sushi.
Of course I wanted sushi.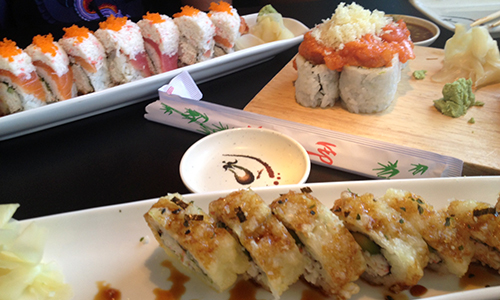 That's the orders of Sam, her son and me. Her son ordered this roll called the "Titanic." There was so much fish in it that it kind of fell apart everywhere. That's why it has the name it does, Sam's son told me. I got a deep-fried California roll because I really wanted something with a tempura texture.
After a long day in and around the Bay Area, it was glorious.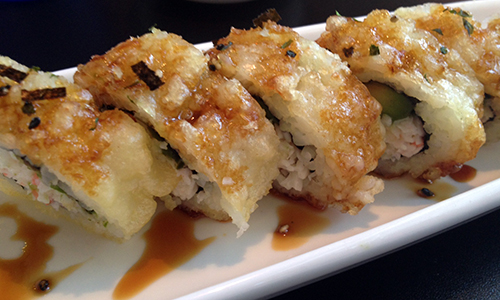 A little wine and a mini True Blood marathon later and I was in bed exhausted. I'm supposed to run mid-length to long run today, but I'm holding out until later this afternoon or this evening. I'm going to try to at least hit eight miles. I kind of feel like I have to do some sort of running today to at least put a dent in all the good food I ate yesterday.
The cookie isn't going to burn itself off. Neither is the amazing sushi.
I'm kind of using this weekend as a rest for the next two. On May 11, I have the Mermaid Run Sirena 18. On May 18, I'm flying to Portland for the night with Sam to run the Rock 'n' Roll Half Marathon.
Then I get a week of downtime before three weekends full of racing.
Things are about to get very hectic.