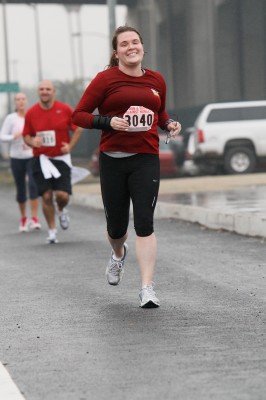 It's fair to say I struggle with the 10K distance. I think that's one of the reasons I "got over" it pretty quickly. I'm pretty sure at this point I've run more half marathons as I have 10Ks. Or, at least, they are pretty close. I'm not a fan of the 6.2, though.
I think it's because I always felt as if I was starting to "warm up" at the end of the run. 5Ks have a tendency to be fast. I've never ran a 5K over 30 minutes. That's a quick run. I'm out and done,
10Ks are more of a struggle. When I ran a couple, I suddenly realized that the difference between 6.2 miles and 10 miles (a nice training distance for the half marathon) was pretty insignificant. It's not surprising it took me 11-months to move from 5Ks to 10Ks, but only five months to more up to half marathons.
The marathon distance is still daunting. Even after a 20-mile run, it's intimidating. I'm ridiculously scared of my first marathon this weekend, no kidding.
The point is I struggle with getting going, getting comfortable and then stopping. My joints thank me. My legs do too. But my mind tells me to keep going.
I ran my first 10K on Thanksgiving Day 2010. I finished in 1:03:18.
And my PR stuck for a year. I tried to regain the momentum. I tried to push harder. But the truth was, my 10K experience quickly moved to trails for something more challenging. I've really only run two "flat and fast" ones. My second fastest was somewhere around 1:05, which was because I had a bathroom break mid-run. I couldn't avoid it.
So I had low hopes going into the Thanksgiving run in Stockton. The Run Against Hunger attracts a diverse range of people. Most compete in the 5K. Only about 200 do the 10K. I did the 5K in 2008 before I took running as seriously as I do now.
I was nearly thinking about now going to the run. Big Sur hadn't gone as planned. I was tired. My stomach hurt.
And yet, Thomas dropped me off and I started the run.
One mile in, I couldn't tell how I'd do. In fact, I didn't look at my Garmin until I hit the turnaround point to repeat the course. By then the field thins out tremendously.
Mile 1: 10:02
Mile 2: 10:03
Mile 3: 10:01
I was feeling good. I started to see the field way ahead of me. That doesn't bother me anymore really. People will finish before me. People will finish after me. I walked through a water station.
Mile 4: 10:15 — Still feeling good, but still not too sure about this run.
Mile 5: 10:40 — A stomach cramp got me at about mile 5.5. I slowed but stayed steady.
Mile 6: 10:07 — Looked at the Garmin here and realized I could come in under my time from last year if I pushed. So I pushed. It's easier to push in a 10K than it is in a half marathon. So much easier.
Mile .19: 1.41 — I ran the tangents good on this course, definitely. I don't typically come in under, but I hugged close everywhere.
Final time: 1:02:52
An incremental PR, but still a PR.
I was pretty stoked about this, despite the fact that I had to wait until Monday for official times to be posted. (This company often doesn't have streaming results. And we didn't have chip timing this year. We did last year. I have a feeling I would have shaved some seconds off with chip timing.)
It was a good run. I felt good.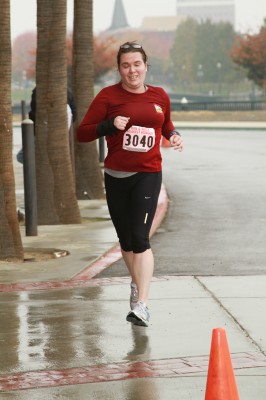 Oh and it had started raining at some point during the last half of the run. Not even a big deal, outside of the fact that I finished with my glasses on my head. I'm going to run the marathon in contacts I think.
I'm happy this race happened. It redeemed two not too great race performances – Nike Women's Half and Big Sur – but scared at the same time too. I usually run good, then bad, then good. I'm hoping a good 10K doesn't translate into a bad marathon.
Keep your fingers crossed for me, four days and counting.