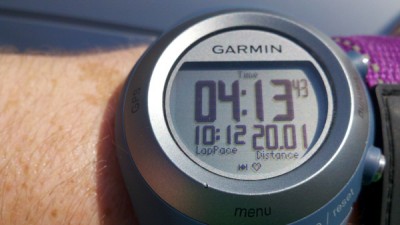 Sometimes when you start running, you don't exactly know how far you can go, you just hope to get where you need to be. That happens to me a lot. I hop on the treadmill or turn onto my street for a run with no number in mind. Instead, I just put one foot in front of another.
I just keep going.
And going.
I, hopefully, eventually, reach my goal.
Some days, with everything going on in my life, I don't see the finish line anywhere in site. I'm swamped with work. I have way too many extracurricular-type activities. I'm always on the run, literally.
I have days where I feel exactly like  I look in this photo: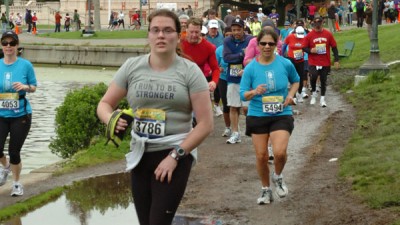 Tired. Confused. Defeated.
And then I have days like today.
Today, I feel on top of the world.
My alarm clock was set at 5:45 a.m. I only hit snooze once. I rolled out of bed, put on my running clothes and was out the door by 6:15 a.m. I had packed the reusable bag I got at the Nike Women's Half Marathon with about 10 different things.
I called it my "no excuse" bag.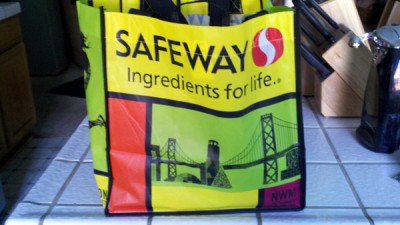 It had Larabars, M&Ms, Body Glide, Zensah Compression shin sleeves, a charger for my Garmin and a couple other things. I filled my two 20-ounce Amphipod waterbottles with a Gatorade/water mix.
I also filled a 32-ounce water bottle (also from the Nike Women's Half Marathon) with Gatorade for Jennie and I. I figured this would take away all our excuses for wanting to stop.
It actually did.
I met Jennie in the Central Community Park in Mountain House. It was pitch black.
We calmed our nerves a little, but the task at hand was a huge one: One 20-mile run.
No giving up. No turning back.
We started running. About a mile in we stopped at a portable toilet in the newest of the subdivisions in Mountain House. We saw a coyote. We kept moving. And moving.
Two miles. Three miles. Four. Five. Seven. Eight. Nine.
We kept counting down, talking about 100 different things. It's amazing what you can learn about someone when running. I love Jennie. She's one of the most honest, nonjudgmental people I know. She's an awesome mother. And she's determined as all hell. I'm glad she was with me all 20 miles today.
We laughed. We nearly broke down a couple times. We walked a slightly long duration toward the end (I think about 1/2 mile at one point). But we kept going. We kept putting one foot in front of the other.
And, soon, after more than four hours moving, we were done.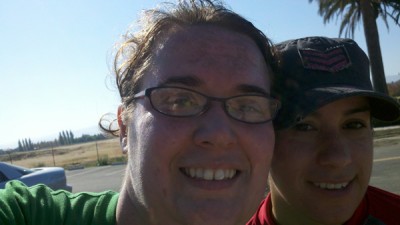 "I look like someone ran over my face," after looking at this photo again.
But we did it. And thank God for Jennie. When I started to get tired, she propelled me. When she started to get tired, I encouraged her. And we stayed next to each other or close the entire time (until my Garmin battery started dying and I had to step it up to get the 20-mile Garmin reading).
And then, we were done.
We celebrated by running over to the one and only market in Mountain House and getting Slush Puppies (Jennie's treat, which was awesome after a run that long).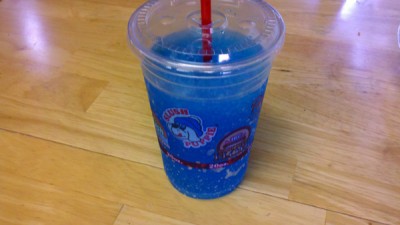 My husband said, all you have to do is write: "It sucked." But it didn't suck. In fact, it was the total opposite of "sucking."
I felt amazing after. I felt renewed. I felt alive.
I tweeted this not too soon after:

In high school, one of my favorite bands was Fuel. The band has one specific song, "Sunburn," that I love tremendously because of a specific set of lines within it.
"You were gone, you were no there for me, and I cursed the sky and begged the sun to fall all over me. This life's not living, living ain't free. And if I can't find my way back to me, let the sun fall down over me," the chorus repeats.
The highlighted part is my favorite. A friend once asked me why, the real reason, I run. First it was about diabetes. Then it was about getting in better shape. Now, it's about finding myself.
Today, I did. Between miles 16-20 I found a part of me that I'd left behind for some time. I found the will to continue to despite difficultly. I found a way to keep going even though I was tired. I found my will again.
Sometimes it's not about the time. Sometimes it's about the distance. And sometimes, it's about the journey that gets you from the first mile to the last. There is a part of you that changes when you put on step in front of another. There's an even bigger part that changes when you realize, after all, you can do it.
My twenty-mile journey, today, wasn't just a training run. It was about finding my way back to me.