Ever felt this way? All you want to do is go home and run five miles. Then you come home and look at the time and say: "There's just no way."
That's kind of my life over the past four or five weeks. Between my full time job and my part time job, I work about 10 hours a day, sometimes 12. On days when news breaks or big things happen, it sometimes stretches into the evening.
I'm fatigued. And my legs are giving me problems now.
For the past three days, my legs have been so heavy I haven't wanted to do anything. Yesterday, I wanted to run five miles. Instead I pulled out my Reebok step and did 30 minutes of step aerobics. Just so I could move. Just so I could feel like I did something. (Now, on second thought, this would have been a good chance for me to mount the bike I've been sorely neglecting.)
I forgot how much step can make me sweat.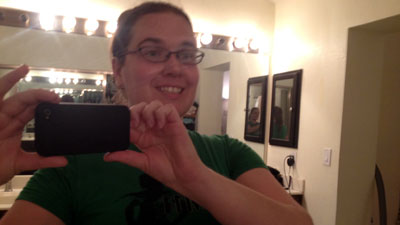 That's an "after" shot. You can't really see all the sweat, but it's there.
I took two Ibuprofens last night. Then I spent about 45 minutes to an hour massaging my legs. I slept in compression socks. I woke up feeling better, but by the end of my lab with my students, I knew my legs weren't 100 percent. And they wouldn't be. Unless I took action.
I called Massage Envy, where I have a membership, and scheduled a hot/cold massage for my body, with particular attention to my legs. It will cost me $60 because it's outside of my membership time. But my legs need it.
Especially because the 21 miler in Big Sur this weekend is now seeming very, very scary. I'm really worried about how this is all going to go. I'm worried about my training. I'm worried about nutrition. I'm worried about whether or not I can make it.
I have the will. I don't have the energy. I'm not sure I can make it through.
Hopefully the rub out will do the trick. It kind of has to. I can't show up to the start line with legs that just say no. It's not a 10K. It's 21 miles.