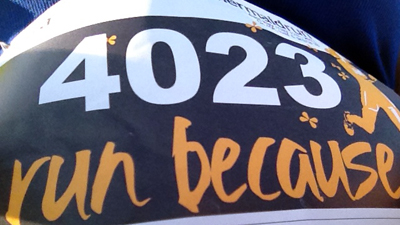 I have to admit, this past week was a tough one. Without getting into too many details, I'll say work was hard. Both jobs were hard.
My students were finishing their last issue of the year. And I worked more than 50 hours at my full-time job. It made for a week of work somewhere in the 70-hour range. I lost count after 60+. So when I got home from work, around 8:45 p.m. on Friday, I was seriously considering not running the Mermaid Series Sirena 18 in Fremont.
But I needed the 18-miler after my longest run of the training cycle at the Big Sur 21-miler a couple weeks ago. It's not because I thought Big Sur was a disaster, not at all. But the 18-miler was going to be a better proving ground for how the Rock 'n' Roll San Diego Marathon might go on June 3.
So I set my alarm clock for 4:30 a.m. I hopped into bed at about 10:30 p.m.
Sleep came quick, but my body didn't want to wake up. I knew it would be hotter than usual so I grabbed my only Dri-Fit tank top and a longer pair of capris. This would also be the first venture out for my Saucony Hurricane 14s.
I loaded my iFitness belt with Vanilla Bean Gu. And I slathered sunscreen all over myself.
The start was at 7:30 a.m. I made it to the Quarry Lakes site in Fremont by 6:45 a.m. Thomas opted to go to work, so he dropped me off.
It was a beautiful morning.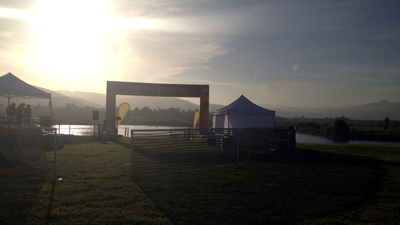 Too bad I hit a bump nearly immediately. I went to bib pickup and was handed an awesome shirt. I asked where bag check in was. I was told there was none, despite it being on the event's Facebook page.
I quickly ran away and called Thomas to come back and get my bag. Only after he was on his way did a volunteer track me down and tell me there would be bag check up, but she didn't know where. By then, Thomas was already making his way back to the park.
Ten minutes later and still with no sign of bag pickup, Thomas was back at the park. I handed him the race shirt and my bag, including my sunscreen.
The only bathroom lines in site were at the "real" toilets. I used the portable ones. At a certain point, and after so many races, I've gotten over my fear of portable toilets. So I didn't have to wait for the bathrooms at all.
The 60 or so people doing the Sirena 18, the longest of all four distances, lined up near the start. After some pumping up from an organizer, we were off.
The first four miles of the run were through the actual park. The first out and back was a nice, mostly fire path road. It definitely wasn't hard on the legs or knees. I was pacing pretty well through the first miles.
Mile 1: 10:13
Mile 2: 10:49
Mile 3: 11:32 — I took a quick walk break here. I noticed I was pacing out too fast. Way too fast. It was only about 45 seconds at most.
Mile 4: 11:07 — For the first time in a race, I ran and ate my Gu at the same time. I usually stop. I also didn't walk through the first couple aid stations, I sort of walked/run and tried not to spill water all over me. I did end up spilling water all over me.
Mile 5: 10:57 — Must have been the Gu.
Mile 6: 11:14
Mile 7: 11:56
Mile 8: 11:13
Mile 9: 12:29
Mile 10: 11:39 — Finally reached the double digits, still on the out and back here.
Mile 11: 12:00 — The 11-mile marker was right after the turnaround. Has anyone else ever noticed how awkward turnarounds are? The race field was so small I kind of shuffled around the sign and volunteers.
Mile 12: 13:09 — I stopped to fill up my water bottle at the aid stop.
Mile 13: 11:54
Mile 14: 13:22 — This was kind of my "wall" in this run. This is also where I noticed a difference in the heat. The entire "out" part we ran away from the sun. The "back" part was all in the sun. And while some was covered, not all was.
Mile 15: 11:56 — I'm starting to get tired. It was then I decided NOT to do my last Gu at mile 16 and just see how I did.
Mile 16: 13:09 — Thought to myself: "Maybe I should have done the Gu."
Mile 17: 13:17 — Second thought: "Definitely should have done the Gu." Back in Quarry Lakes park, there was no shade. None at all.
Mile 18: 11:03 — I crossed the finish line and thought I hit my Garmin. It read 3:32:51. Then, after being handed my Mermaid Series necklace and a water bottle, I realized the Garmin was still running. It turned off officially at 3:33:07. I was annoyed because the two women who finished in front of me had pacers leading them in. Pacers who took up the entire sidewalk. When I tried to get around them, one of the women sped up.
And also, my Garmin had me at 17.90, which means I ran those tangents a little too well.
So, my unofficial time was 3:32:51.
I waited until Sunday to track down my "official time" only to find a huge problem. I'm not at all listed in the results.
Nowhere.
I'm assuming, after running nearly 30 races, that my timing chip likely failed.
I can't help but be more than a little upset. I once saw a really nasty battle play out on a Facebook page where a woman wasn't getting her time fixed and kept asking for it to be remedied. I didn't understand why she was so upset. Her Garmin had the time.
Now I understand. I spent more than three hours out on that course. I braved the long out and back that nearly took me to Coyote Hills Regional Park (it was in sight at the turnaround).
And I had no time.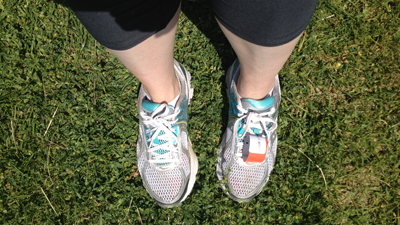 On my right foot, above, is the offending D-Tag. I've never had a D-Tag fail before. I've sent an email to the race organizers. Two girls finished exactly before. I literally came in immediately after.
I know I showed up and I know I did the race. But I want my results too.
I'll say, that kind of soured a really good experience.
I left every emotion I had out there. I ran consistent. (The slower miles were from filling up my water bottle, adjusting my new shoes, etc.) And I suddenly feel so much better prepared for the upcoming marathon.
I nearly cried when I got to the finish line. It was an emotional 18-mile journey.
My husband caught me coming through the finish, floppy arms and all.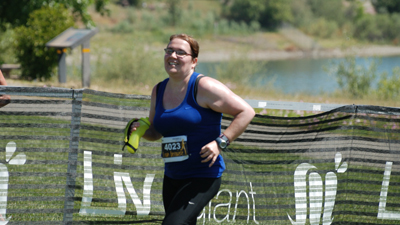 Just as quickly as it started more than three hours and thirty minutes earlier, I was done. I sat down on the grass near the finish. I wasn't hungry thanks to the Gu. I wasn't even all that tired. I had a couple blisters from shoes that hadn't been field tested too much, but that's to be expected.
And I tweeted about my excitement in my finish:
After an exhausting 60+ hour work week, I just ran the most consistent race of my life. I left everything I had in those 18 miles.
My husband was trying out his new camera lens, so we stuck around for a little bit.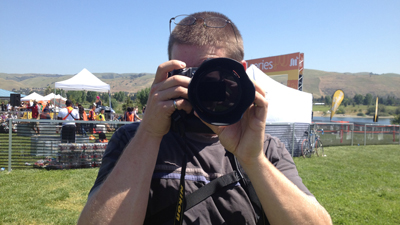 He got a fairly nice one of me too.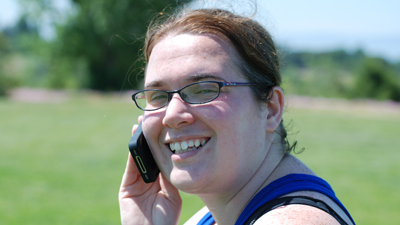 I would caution readers that I don't look that horrid in real life all the time. I clean up pretty well when not covered with sweat and when my hair is done. I promise.
We stopped at a nearby nursery to pick up some Mother's Day gifts since we were expecting my mom and grandmother's for dinner in a dual birthday/Mother's Day celebration. When I started to clean up I noticed a nice sun burn/tan line from my Garmin and my Road ID.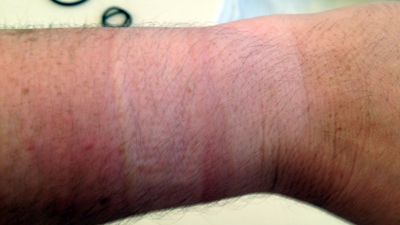 Overall, the Mermaid Series East Bay Run was fairly organized and fun. There were aid stations every couple miles. The volunteers cheered everyone on. And instead of a medal at the end, we got cute little necklaces. On one site it said "motivate" on the other was the run's logo. Super cute and functional. I can wear this on Monday. I couldn't do that with a medal.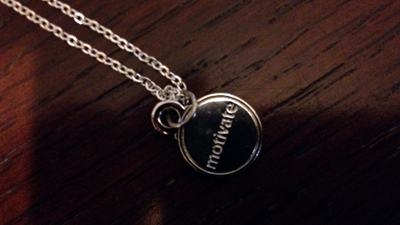 In the evening, I kicked up my feet and watched some Netflix for a short amount of time before the day finally caught up with me. Early-morning wake-ups for races are to be expected, but nonetheless are fatigue-inducing later in the day.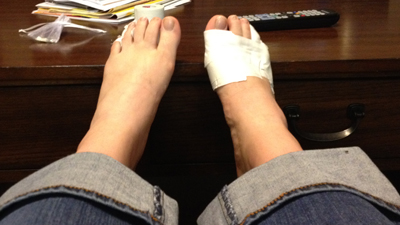 I feel more ready for this marathon than I was in December. I don't know if it's because I have done a second long run or because I'm a better runner now than in December, but I think I'm definitely feeling my stride better.
And I didn't walk away from this run feeling horrible (outside of the bummer of not being recorded in race results or listed on the site). With another Gu, I probably could have kept going. I know I could have kept going.
There's something to be said about feeling comfortable in the long run.