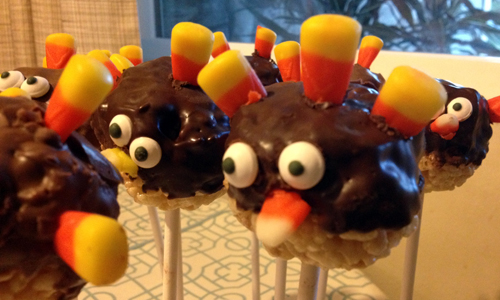 Eventually I'll get around to my Big Sur Half Marathon on Monterey Bay recap. But today is Thanksgiving. And, despite my recent turmoil, I'm finding I have a lot to be thankful for in my life.
There are people who are and continue to be amazing to me. There are certain events that have happened that I am incredibly grateful to have been part of. I have food on my plate every night. I have a warm home. I have a nice car to drive. I have a lot.
Here's a short list of reasons I'm thankful today, just because it's that time of the year. And this is in no particular order.
My grandmother: I'm 28 years old and my grandmother still makes the best Thanksgiving dinner ever. Hands down. Her pies, too, are to die for. My grandfather used to love having family together. After he died in 1996, my grandmother continued to host Thanksgiving. She has done so nearly every year. I'm glad I'm still able to enjoy the holidays with her and she's still able to host. It gives me a lot of joy to be with her at Thanksgiving.
My brother's girlfriend Ashley: For making the amazing Rice Krispie treat turkeys seen above. She handed a holiday with my family. And she did so with grace. I think that means she's a keeper.
My mother: We just finished spending three days and two nights together in Monterey for the half marathon. I'm glad she was able to get away with me on a much needed little vacation. She's been a constant through all the crap I've been dealing with lately. And I'm incredibly thankful for all the support.
(Wo)man's best friend(s): Our dogs Sky and Beau spent most the day knocking over nearly everything on the first level of our home, but I don't think I'd be able to make it through some days without them. Beau just seems to know when I need someone to come over and give me a kiss. He puts his head in my lap when I'm sad. Sky gives me her paw to tell me she loves me too. It's comforting to have my two Chow Chows with me.
Lasting friendships: My best friend and the maid of honor in my wedding came from Stockton last night, where she is visiting parents. I made lasagna and we enjoyed apple pie she brought for dessert. We had a great conversation that lasted more than two hours. That sort of love, especially right now, is amazing to me. I can never say enough thank yous.
My husband's humor: I've had a lot of moments lately where I've just wanted to stay in my room and have a good cry. My husband is an amazing man who makes me laugh, even when I don't want to. He's good at pulling me out of the darkness and giving me a reason to want to smile again.
My home: Two years ago, we purchased our house in Tracy and quickly went about making it a home. I'm thankful that we have the resources to make it a comfortable place to retreat to and continue to be here for a long time.
Our backyard: My husband worked his tailbone off to put our beautiful backyard together. We can now enjoy it, even in the winter, just by looking out the window. It's a little overgrown right now, but it's plush and green and I love looking at it.
Running: It's my saving grace right now. It's where I can think. Whether it's one mile or 20, or 26.2 in less than two weeks, it's helping me figure things out when times get tough.
My Nikes: Yes, my LunarEclipse's are on my list. Best pair of running shoes I've ever owned. Worth every penny of the $150 price tag. I'm thankful for them every run.
Racing: It makes me feel like myself. It tests my ability. It challenges me to be better. I'll likely be narrowing down my list  of runs into the next year, but I'm hoping to do some volunteer work to earn me entry into some Brazen races too.  Hopefully I can continue to do races, but cut back on costs too.
My phone not ringing: I never thought I'd be so glad that few people are calling me or reaching out right now. (For those of you who have, yes, I've received your words of encouragement and emails, I'm just not quick to respond as of late because I don't know what to say, how to thank you. I will, though, at some point.) Right now it's nice not to be on anyone's immediate call list.
Netflix and Hulu: For being my entertainment on my treadmill. It's rare I venture out for a run these days and never without Jennie, so I've been doing a lot of speed work and distance on my treadmill.
Chocolate: I don't think I need to explain this. But I really need to eat less of it. I'm getting a little more round than I should be.
Diet Coke: Everyone says it will kill me, but it saved me from my five Pepsi a day habit. Plus I'm no longer drinking my calories.
Lululemon: Luxtreme is smooth. I love smooth. The one day I go without a Lululemon Run:Swifty shirt during a race, I came away with horrible chafing on my arms. Four days later and it's still healing. I'll never do that again. There's a reason runners stick with what they know. That's it.
My own turkey trot: Six miles on the treadmill this morning. I also donated $10 to the Red Cross. I'm more relieved that I skipped the local one than not now, especially since I was able to do some good (by donating).
Hopefully I'll be able to blog my Big Sur Half recap before the weekend ends. I'm looking forward to talking about what went right and what went wrong. So much more went right than wrong.
Happy Thanksgiving!