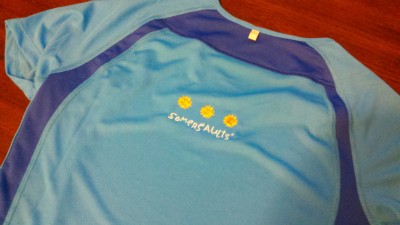 When I started running nearly two years ago, I never thought I'd run a half marathon.
I started with 5Ks and didn't make my way to a 10K until November 2010. That was 11 months after I started running. I couldn't imagine going any further. After I ran that 10K, I ran another. Then another. I then found myself signing up for a half marathon. My first, the Oakland Running Festival, was in March of this year.
That's when I set my eyes on what I thought was the pinnacle of all half marathons: the Nike Women's Half Marathon on Oct. 16 in San Francisco.
I entered the lottery with two friends as part of our running club. We waited. And waited. Then the day came when names were chosen we kept seeing the Nike 26.2 Facebook page saying that more notifications were being sent out. We never got ours. The next day, all three of us got the "winged goddess has spoke" email. We were not chosen.
I want to say I was devastated.  I'm fiercely brand loyal to Nike. I love my Nike running shoes (which I don't think people hear a lot because there as SO MANY other shoe brands out there). But I'm a Nike girl, right down to my Dri-Fit running shirts, capris and my inexpensive sandals for after my run. So Sam and I booked the Oct. 2 Rock 'n' Roll San Jose half marathon.
One of my favorite bloggers, though, listed a contest for a Sausalito-based healthy snack company called Somersault Snacks. I've been given Somersault Snacks at runs before. I remembered liking the sea-salt flavored ones. I logged on to the Facebook page and checked it out.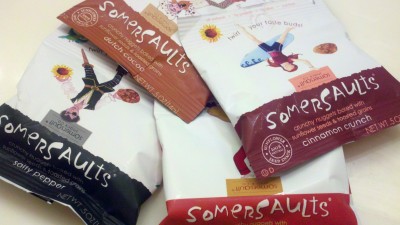 Tell us why you run, they said. So I did.
I answered with this statement: "I run to be…healthy" – I started running to get off my diabetes medication.  I'm now medication free and training for my first marathon!"
About a week later, I got an email from the lovely crew at Somersault Snacks telling me I'd won a spot on their team for the Nike Women's Half. I had a moment. I squealed. I cried a little. I couldn't believe it, for a couple reasons.
It seemed like serendipity that a company that made snacks out of my favorite flower would choose me to represent them. I am humbled and honored by this opportunity. So much so that when I was forwarded a copy of the team's training schedule and saw there were only two more team runs, I told myself I'd make one. I couldn't do the 12-mile run in San Francisco last weekend, so instead I went to the one in Sausalito today. I even took a day off of work for it.
We ran five-miles around the waterfront area and two members of the Somersault team took myself and Jamie, another contest winner, up a fairly steep hill. Good training for next week's run.
The elevation gained looked exactly like this:

Notice the hill wasn't over a mile-long run. It was pretty hefty. Whew. I trained for a flat and fast San Jose. These ladies worked me out a little today.
We ran with a beautiful view of the San Francisco skyline on one side of us and through neighborhoods. We even ran by a slightly-interesting site in the first part of the run. It was so bizarre, I went back and took a photo.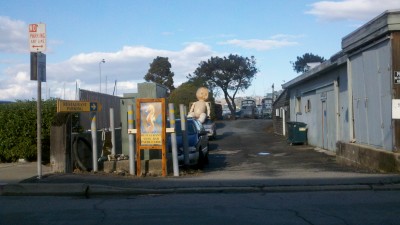 Do you see the gigantic baby in the background? That was kind of awesome!
I'm bummed I didn't take my phone with me to get some nice shots of the skyline and the hill we climbed. I need to remember that now that I have a blog I SHOULD be carrying my camera around.
I had a nice chat with Jamie along the way. It was a great run. It was awesome to run somewhere different, with different people. It was awesome to finally meet the people involved with and see the company that's provided me such a great opportunity.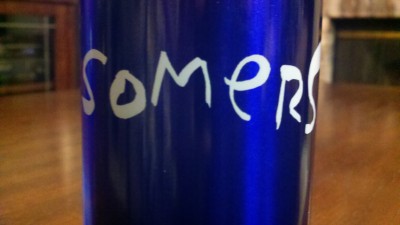 The Somersault Snacks crew was a hospitable group. And the swag they gave to us was awesome. We got the cool Nike jersey above with the cute logo on the back. I got a little sunflower clip for my hair (race day necessity!) and samples. I even took some of the samples to Sam tonight during our cross-training swimming lesson.
I'm planning on taking more to share at work tomorrow and maybe with my students during/after newspaper distribution.
The crew didn't ask me to blog about this experience, but I've been so excited leading up to it that I had to. I'm thrilled to be part of a team of women running a half marathon aimed at women. I'm thrilled to have been picked from so many others for a completely sold out race. And I'm thrilled I was able to make the journey to Sausalito to at least say thank you in person.
I'm excited for Oct. 16 when I get to wear my Team Somersaults jersey and meet the rest of the team.