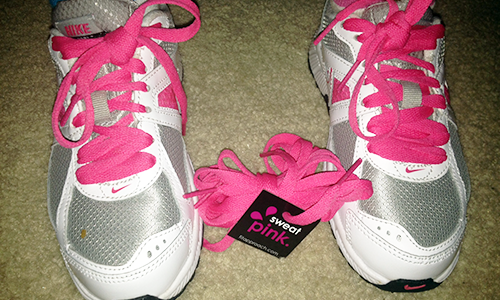 My running buddy's daughter just got a new pair of shoes to get ready to go back to school in the late summer. She's such a girly girl, always running around in pinks and purples. So I wasn't surprised when her mom showed me her new shoes.
I just happened to be taking my running buddy a pair of Sweat Pink laces for her running shoes, part of my spreading of the #sweatpink love thanks to Fit Approach.
I didn't even know the daughter had just purchased a new pair of pink-accented Nikes.
Kismet.
I handed a pair to the little girl. She was THRILLED to have pink shoelaces. She thought they were so much better than the white shoe laces who came with the shoes.
The laces were a little long, obviously since they are made for adult shoes. But she loved them in her new shoes. And she's now ready to #sweatpink when she starts her new school year in mid August.