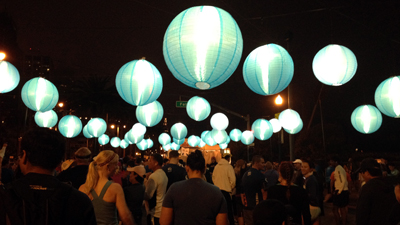 I'm not going to lie: Sunday was one of the best days I've had in a very long time.
It may sound like hyperbole, but it's the truth. From waking up feeling good, to deep relaxation on the 50-minute ride to San Francisco, to being smart enough to stop at a super secret public bathroom so I wouldn't have to wait forever at the start line, to the pretty lanterns above my corral — the 1st Half Marathon of the San Francisco Marathon was a race of redemption for me.
I am thankful that after months of self doubt and second guessing, I feel as if I'm finally coming out of my running slump.
I ran strong and I felt absolutely unstoppable at the end, even with the major hills that slowed me a little.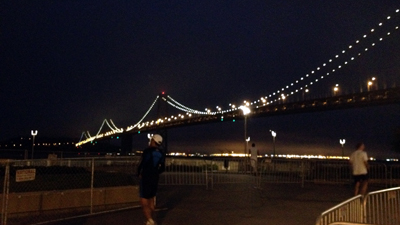 My morning started off with a 5:30 a.m. view of the San Francisco-Oakland Bay Bridge. My husband dropped me off near the start line in downtown and I walked over with a huge group of people, including a man wearing jeans. I keep hoping he wasn't actually going to run in them, but I know sometimes people do.
Based on a 2:25-2:30 finish, I was in corral six. There were two more corrals behind me, which meant that, no matter what, I'd have time to run the course if I needed the full three hours. I honestly wondered whether I would a couple months ago. I kept telling myself that, with the hills, I'd be closer to my Nike time last year of somewhere around 2:53.
I signed up for the corral during a particularly optimistic moment apparently.
It was dark at the Embarcadero.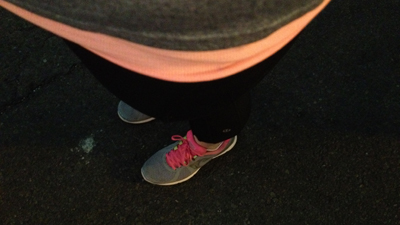 I thought it was kind of funny my shoe laces, despite the sun not yet rising, were still bright as ever. I immediately went to my corral, despite having more than 30 minutes to wait. I was told race officials actually close these corrals. The bathroom lines were LONG everywhere. I'm convinced there were not enough bathrooms at all. Every stop had a line of 10-20 people.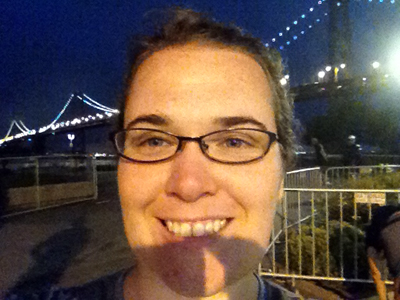 The sun was coming up a little in this self photo with the bridge behind me. I was feeling good. I don't know why, but I was feeling as if I could run on and on. I didn't know if I could, though.
The time ticked on in corral six as Bart Yasso, the chief running officer at Runner's World magazine, bantered with the emcee. It honestly wasn't that long between the 5:32 a.m. initial start and my 6:12 wave start. And the San Francisco Marathon officials were prompt in their starting times. No kidding. We literally went off at 6:12 a.m. That's probably the first time that's happened at a race.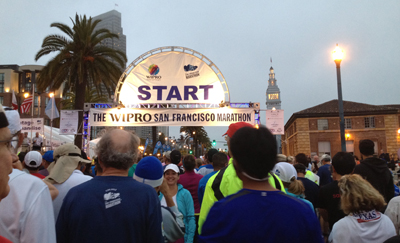 We weren't actually lined up at the actual start line all that long. But here it is. There weren't a ton of people in my corral either, or at least with all the space it didn't seem that way.
With a quick countdown, we were off.
Mile 1: 10:13 — It didn't feel as if I was running in the 10s here. I was just trying to move along the waterfront without tripping over someone. Good thing about this race is that there are so many fewer people that walk than Nike. That's great because the Embarcadero has changing surfaces, including some cobblestone.
Mile 2: 10:18 — My heart rate was great, feeling good. Started thinking about the second mile in races in general. It tends to be pretty tough for me sometimes.
Mile 3: 11:47 — The first hill. Not huge, but the moment I started moving up, I had a sharp pain in my left glute. I wasn't sure what it was, but thought, maybe, it could really derail the race for me. I went a little more conservative. I did a Gu at the first water stop.
Mile 4: 10:47 — Downhill through Fort Mason where the sprinklers had been on just before. I kept hoping I wouldn't slip. I didn't, but it seemed like an unnecessary hazard.
Mile 5: 11:27 — And we're climbing again. Up a huge hill. By this point, I was feeling really good. Five miles in under an hour? I was amazed with myself a little. Go me! (Super fast people are probably laughing when they read this, but a lot of my problem is thinking I can't run fast. I'm trying to get over that.)
Mile 6: 13:34 — OH. MY. GOD. HILL. I remembered it from Nike. I took little baby steps for the most part, then started moving up in more of a walk. This was the ascent to the Golden Gate Bridge too. Once I got near the bridge I started stepping it up, not believing I was almost halfway done. And still feeling good.
Mile 7: 11:45 — I remembered, as I entered this mile, that I needed to do another Gu. I didn't get to until the Marin County turnaround.
Mile 8: 12:01 — I kind of had to go to the bathroom, but couldn't because there were SO MANY people in line. Seriously. And there were people using the actual bathrooms too. Fail. I know there are a lot of people running, but maybe invest in more portable toilets?
Mile 9: 11:37 — Back across the bridge after a Gu. I did notice the three-percent elevation climb and downhill on the bridge. No horrible, but not great either. I just kept on running. Scary moment near here, though. A car seemed to move into/close to the "buffer" lane. Suddenly all the runners heard tires screech. Everyone around me turned around thinking someone was hit. That wasn't the case, but it was troubling.
Mile 10: 11:47 — Continuing up that huge hill after the bridge. I looked down and was still coming in under two hours. AWESOME! I remembered my time on the easier second half course last year was 2:35:30. I wondered, could I get that?
Mile 11: 11:09 — A nice downhill here after reaching the top of the hill.
Mile 12: 12:04 — The ending uphills begin. In retrospect, I was supposed to do a Gu at mile ten, but forgot. I think I was on a runner's high and thought "I can do this!" and didn't bother. It started slowing me down here.
Mile 13: 11:59 — More uphill, as my body was getting tired (only a little), definitely need to remember that to finish strong I need to do the Gu.
Mile .26: 2:18 — I'm obviously over, which is because I wasn't running those tangents well on the hills, but I look down and I'm still coming in under my time last year on the EASIER half.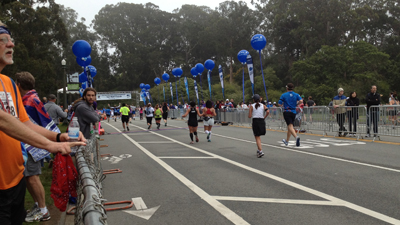 Official time: 2:32:45
I couldn't believe it. I'd run better on tough course than I'd been able to run in nearly every race before. I came in only seconds after my Oakland Half Marathon time and that course is nowhere near as hilly.
What's changed? My diet is different. But I'm also doing more incline training when I run on the treadmill. I'm also running smarter and adding speed workouts to my training. It appears to be working.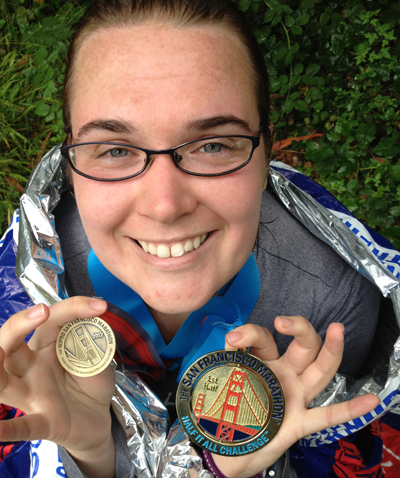 I grabbed two bottles of water. I was thirsty, even though I carried my handheld. There were only water stops every two miles. A lot happens in two miles, even on a cool San Francisco day.
I was particularly glad to be handed a space blanket. The fog on the bridge left my hair soaked and my clothes damp. I put back on my long sleeve and wrapped myself up after I went and grabbed this special medal: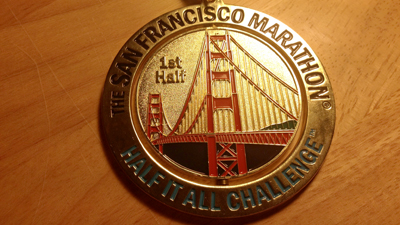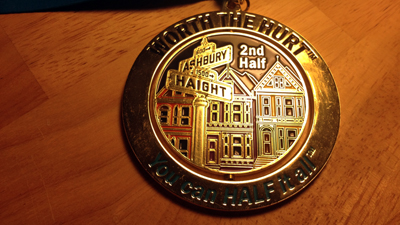 It's my "prize" for running the 2nd Half Marathon last year and the 1st Half Marathon this year. I know the pictures aren't great, mainly because I was trying to take them at night, under a lamp. It's a huge spinner medal, with images from both runs on either side of the spinner. I wore it proudly around the finish line area.
Speaking of which, the 2nd Half Marathon was happening right around us, along with full marathoners running nearby.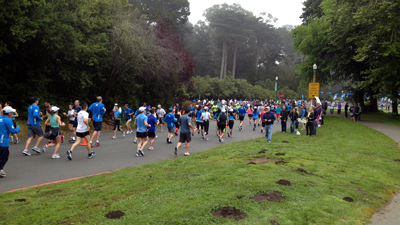 I wasn't even in pain. I'm thinking my Nikes LunarEclipse +2's are much more awesome than I thought. My husband and I had planned to hike in the Marin Headlands, back across the Golden Gate Bridge, but instead decided on a trip to the San Francisco Botanical Gardens. We walked around checking out the place for nearly two hours.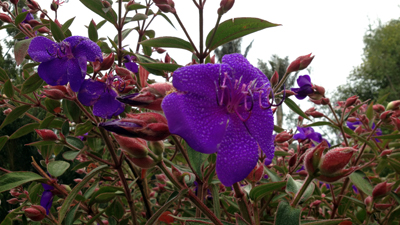 Then, hungry, we headed back to the East Bay where we stopped at one of my favorite pizza places in Oakland, Lanesplitter on Telegraph Avenue. During graduate school I lived right down the street from Lanesplitter. I spent many nights eating pizza while working on my master's project for UC Berkeley's Graduate School of Journalism.
I think it's fair to say Lanesplitter got me through graduate school.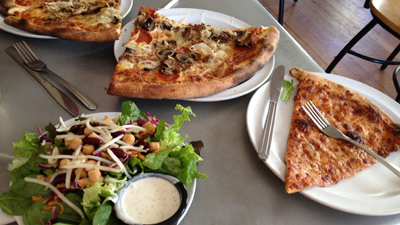 You can see why. Amazing salads. Huge slices. After a half marathon? A major win.
I'm still excited, days later, about my run in San Francisco. I'm hoping to take that excitement into the Brazen Racing Summer Breeze Half Marathon this weekend. But I think it might be asking too much for another performance like that.
Right now I'm just happy to know I still have it in me. I can still do it. And that makes for a good day indeed.