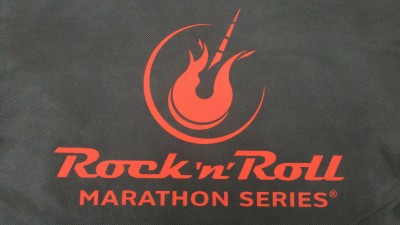 When my friend Sam and I signed up for the Rock 'n' Roll San Jose Half Marathon we did so because we didn't get admission into the Nike Women's Half on Oct. 16.
We figured we needed something to train for. Rock 'n' Roll would be our October half. It would also be Sam's first.
By a strange twist of fate Sam, our friend Jennie and I all gained Nike entry in the past month. But that's for another post.
The race is tomorrow. Today we ventured to San Jose to pick up our race packets (I'm always slightly annoyed by this practice, but understand nonetheless that part of what these races do is bring people into the area) and check out the expo.
Sam had never been to an expo before. I fear she may be spoiled now.
For one, the race medal is awesome. It's not ridiculously small, like the last two I've received. And it's heavy – very heavy. It's a beautiful medal. I can't wait to get one in my hands in fact.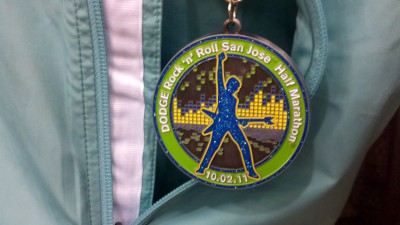 The race packet pick up was by far the best I've ever experience. No long waits. In fact, we both walked right up and grabbed our bib numbers. We were handed an extra packet with four safety pins. That was a perk. So often I'm handed bib numbers without any way to attach them to my shirt.
We then moved to the "shirts/swag" area. Our blue Brooks shirts are nice, but they are a unisex size medium and I can swim in it. No kidding. I'm actually kind of in love with races that have sex specific shirts. My favorite so far is from the San Francisco Marathon, but I digress.
We picked up our shirts quickly and found our way to a swag bag table with reusable pull-string backpacks (the first image in this post) that actually double as sweat-check bags. The next stop was the race-specific merchandise area where the prices were a little steep for Brooks gear (one of the sponsors) with official logos on it.
We checked out some of the booths, including some fine Moving Comfort goods. We also checked out some sweet smelling portable toilets (if only because they didn't actually have a stool in it).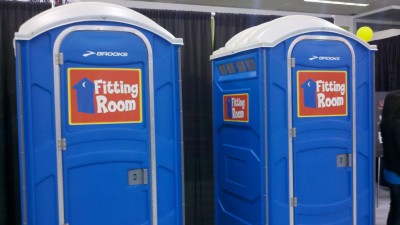 The main floor of the expo was really awesome. There were representatives from big and small name companies. There were brands I've ever of and some I never knew existed.
We got free energy bar samples. We tried some recovery drinks (Sam found the Muscle Milk booth) and checked out the booths for other races, including the Oakland Running Festival which we'll be hitting up in March.
We got to a small booth hidden away on the side of the hall where we got race-size Body Glide for $1. I also got a larger stick for $7, which is as much as I paid for my smaller stick awhile back.
I also found a neon green pair of Zensah compression sleeves for my legs. I'm not too keen on the color, but at $25 the price was right and I figured if I wear them at night people will at least people able to see me.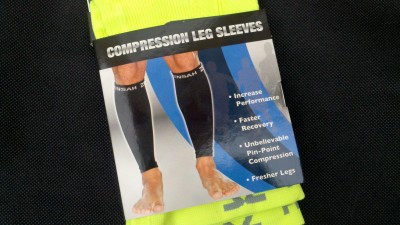 I've already tried them on and I love them. I don't think they'll be making their debut in the race tomorrow, but I might try them on one of my shorter runs sometime this week. The sleeves are much more neon green than the photo shows, believe me.
Sam had her stance evaluated at one booth. I think she would have taken the plunge and bought some new insoles if they weren't so expensive.
We then found a booth for "The Stick" massage stick. The representative literally spent a minute on my leg and I was convinced I needed to own one. I'm planning on rubbing my leg out later with it before I go to sleep tonight.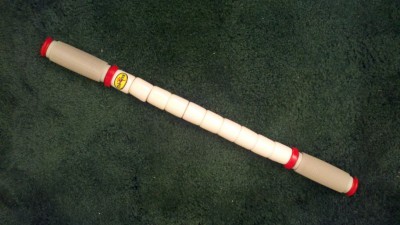 I may have to add it to my "favorites" list if I love it enough. Sam wasn't as convinced, but she felt the deep tissue version.
That said, she ended up buying a sweet little massager for her muscles. While she was getting a preview at that booth I saw that Marshall Ulrich of "Running on Empty" fame. I ordered his book from amazon.com the other day. I'm supposed to get it on Monday.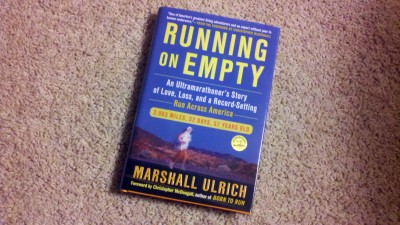 But then I saw him there. I nearly had a squeal running geek girl moment. I contemplated not going over to shake his hand and say hello. I was recommended his book by a friend who said it would be a good read when training for a marathon.
I sucked up my nerve and went over and said hi. I could barely ask questions I was so nervous (awkward for a journalist, yes). I talked to him and bought a book on the spot. I'll send the amazon.com one back. He signed my copy. It was totally worth it. I've never been so inspired during a five-minute conversation with someone.
Seriously. He signed my book saying "the only limitations are in your mind." I'm using that to get through the 13.1 tomorrow. And, hopefully, the 26.2 in December.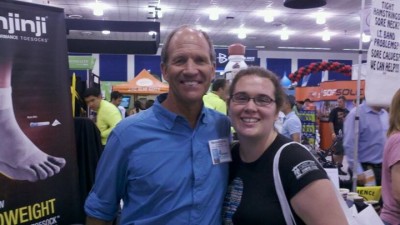 Our parking meter was coming close to expiring, so we had to get moving quickly. It was too bad too because Sam was actually loving the whole expo experience. I've been to three other expos for half marathons and this was the best of them all. It was well-lit, had a lot of free swag and good deals on other items. Garmin was even there with a booth. I nearly bought a new heart-rate monitor, but I figured I'd wait until mine actually went out.
I'm stoked about running this half marathon for a couple reasons. The first is that there is entertainment along every mile. I think I'm going to enjoy that. The second is that it's the first half since I hurt my leg in August. I thought for a minute there that I may not run the rest of the year. I had a two-week period where all I wanted to do was cry because my leg hurt so bad.
I feel good about this run. Now I just need to pick out what I'm wearing.