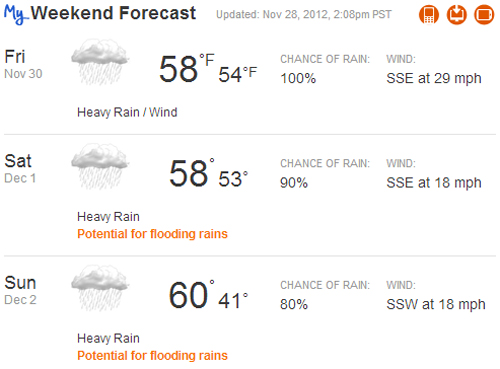 So the weather for this weekend looks awesome for staying inside and lighting a nice fire.
But I'll be out running 26.2 miles from Folsom to Sacramento instead. On Sunday, the forecast for Sacramento even calls for a "potential for flooding rains."
Earlier today, the forecast called for 70% chance of rain. Now it's higher.
Yikes.
I've only run parts of half marathons in the rain and cold. This looks like it will be a full deluge for the five hours or so it will take me to finish this thing.
Maybe if it's pouring down rain I'll run faster? One can only hope.
But this means I'll pull out the contacts, which I rarely wear. But it's better than having my glasses covered with rain drops everywhere. I'll wear a visor (because a hat will just get wet anyway, so I might as well just wear the visor).
I'm still trying to figure out what shirt to wear, if only because I think it will also be cold. So I want to be warm. But if I get soaking wet and then it clears up, I also want to dry out quick. I also don't want to lug around a soaking wet long-sleeve shirt forever.
I'm planning on taking a garbage bag to the start. I'll also take Aquaphor to make sure I don't chafe. I can't imagine what chafing would feel like after that long in the rain.
So while I'm not looking forward to running in pouring rain, at least I have a plan.
That said, I'm still crossing my fingers to hope the storms pass and dump all four inches of the rain we're expecting (apparently it would be a record for rainfall) before Sunday.
It started raining today, so I think we have some hope.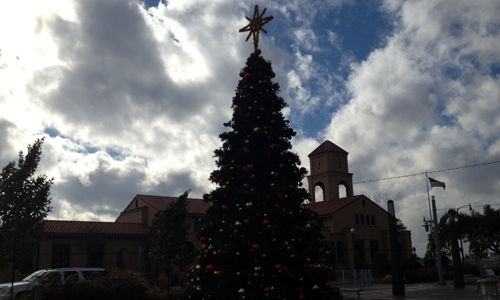 There was a bit of a clearing today during the lunch hour before an afternoon appointment I had to go to. So I headed to a sweet shop in the small town I live in. I picked up some homemade rocky road (nothing like killing a diet during taper week, oops).
Our town put up the Christmas tree in our town square area this week. But the photo is more to show the clouds than the tree. It's a pretty impressive cloud showing.
I'm not going to let rain ruin my marathon. But I'd love to have a little less wet, a little more sun come Sunday.