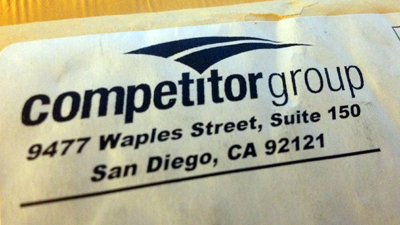 I had to stop by my parent's house on Monday to help my brother figure out some financial aid paperwork for school. He'll be going into his third year at University of the Pacific in Stockton, my alma mater. Each year funding cuts have meant more "figuring out" when it comes to how we can afford to make college work for him.
So I told him I'd stop by and look over his paperwork. When I did, my mom motioned toward a cabinet next to the door.
"You have something there," she said.
I looked down to the small little package from Competitor Group and I immediately knew it could only be one thing.
My first heavy medal.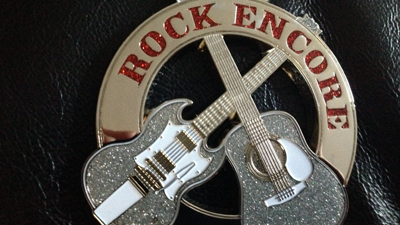 Everything I've ever been told about these heavy medals is so true. Yes, it is really "heavy." Yes, it's beautiful. And yes, it felt awesome to get it in the mail. I can't even describe how excited I was to get it in the mail.
I'm on track to earn a Triple Crown with if I finish the Rock 'n' Roll San Jose Half Marathon in October.
To earn the Rock Encore medal, I completed the half marathon in Pasadena (not my best race experience) and the full 26.2 miles of misery I ran in San Diego. The latter event was only on June 3. I kind of feel like that's a nice turnaround.
The original medals from those events weren't too shabby either.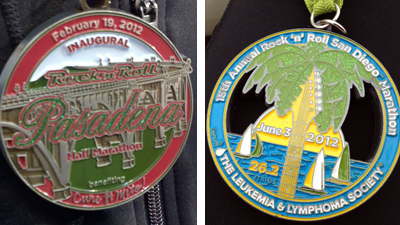 I love the Pasadena one because it has the bridge we ran across (said to be haunted even). I love the San Diego one because I earned it. That day, I really earned it. It was a tough, tough run.
A lot of races offer incentives such as extra medals to bring people back. Some runners compete as many of these events as possible to earn the biggest bling. I'm often not lured in by extras like this, if only because I've spent the past year figuring out what "my" events would be. I've tried a lot, not liked some, decided to go back to others.
The Oakland Half Marathon is one of the races I consider "mine." No extra glam needed.
I was up in the air, though, about registering again for one of the San Francisco Marathon half events immediately after I finished it last year. (Now San Francisco is one of my favorite running destinations despite the killer hills.)
But then I was sent a notice about the Half it All Challenge.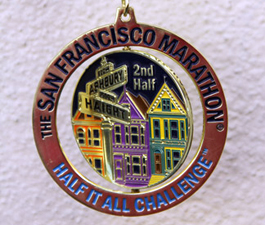 Runners completing the 1st Half Marathon and the 2nd Half Marathon within a two year period, no matter the order, will get an awesome
"spinner" medal.
The medal is as big as the regular marathon medal, but has color added in and a nice ribbon. You get that on top of the key-chain medal participants get for running a half marathon.
It's a pretty sweet piece of bling.
Last year, I ran the 2nd Half Marathon because I was utterly afraid of the 1st Half elevations. Then I ran the Nike Women's Half in October. I was told the hills for the 1st Half aren't nearly as bad as that. I can only hope that's true.
So, rather than sign up to run the 2nd Half again, which I'm not sure I would have done. This Sunday, I'll be waking up and getting a very early start (think 6:12 a.m.) in the dark on the Embarcedero in San Francisco for the 1st Half. I'm excited to be running across the Golden Gate Bridge for the first time ever.
But I'm also nervous about starting with so many runners at the beginning. Last year's 2nd Half didn't join the rest of the pack until later, and even then the bathroom lines were crazy. Let's be real: I always worry about going to the bathroom before a race. It's simple fact. I don't want to start without going. There. I said it. This is a problem for me. I get very anxious about it.
I digress.
Did I sign up for the race because of the bling? No, there were other reasons. But the medal is a nice addition. And earning it (hopefully this half, my first since March, will be better than what I'd been doing, if not by time, then by experience) will be a nice cherry on top of the already sweetened deal of running across an iconic bridge.