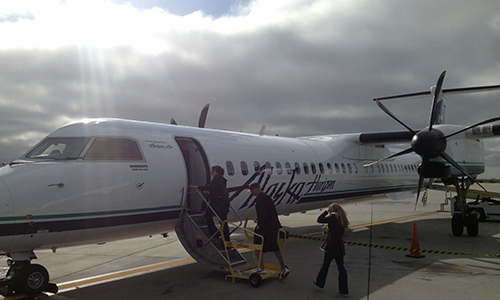 The trip to Portland marked a lot of firsts for me — specifically it was my first time in another state for a race. It was also the first time I flew to run. It was the first time I took a cab (that cost a ridiculous $40 to an expo). The first time I walked to a race start (and back). That's a partial list.
There are a lot of races in California. Included in that are a lot of Rock 'n' Roll races. But my running buddy Sam, who I've done seven half marathons with, bought the Rock 'n' Roll Tour Pass this year. She's getting her money out of it too. She had this race on her schedule. I was considering it, but then backed out after I left my full-time job in January.
Then she told me about an awesome deal on air fare. And I booked my trip. Simple as that. I wanted to run. And I wanted to run out of state for once too.
We'd talked about it for the two months we knew we were going. When the day came, I don't think either of us could contain our excitement. And yes, I was more excited than anxious for once in my life.
For that reason, I'm doing something I don't normally do — I'm splitting my race report into three sections. This post will cover the travel to Portland. The next will be the expo (because it included a lot of things that made it deserving of it's own report). The last will be the actual race.
There will also be a lot of photos.
She picked me up bright and early to head to Oakland International Airport on Saturday morning.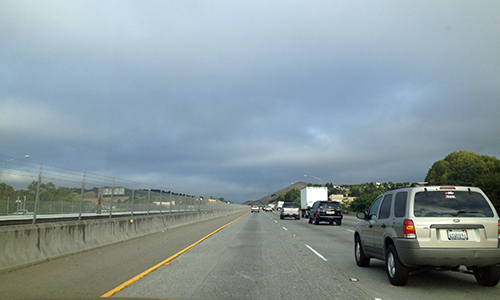 Bay Area traffic is rarely bad on weekends. At 7 a.m. it moves along nicely. After a quick stop along the way, we got to the airport with a lot of time to spare and chill for a bit.
Security wasn't even that bad.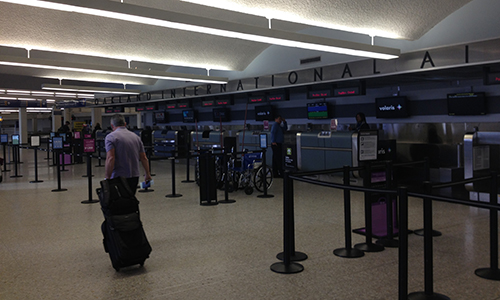 I always wonder how many people actually check in at the desks at airports these days. Especially for quick flights. We had carry-on baggage, so we didn't need to bother. I think when we walked into the airport there were only about 50 other people around. The line to get scanned and checked was about 15 minutes.
Lucky me, I was selected for a pat-down on my left side.
By 8:50 a.m. we were boarding for our 9:15 a.m. flight. Another first for me — I had never boarded a plane on the tarmac. It was so bizarre walking down the connector and then going outside, down a ramp and then boarding the plane via another ramp.
The small plane was packed full of people. I don't think there was one seat empty. Sam and I, even though we bought our tickets at different times, were lucky enough to be able to sit together.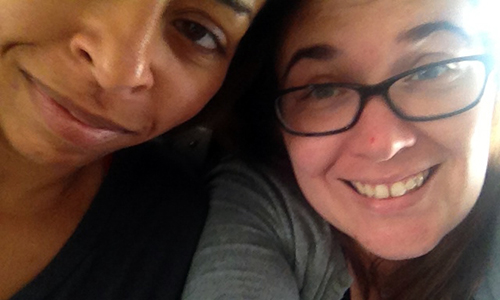 Everyone needs an excited plane selfie, right? We settled down for the nearly two hour flight with a couple magazines and good conversation. That included making sure we were up-to-date on the appropriate way to escape the airplane just in case of emergency.
I guess I'm a little strange. I read these every time I get on a plane.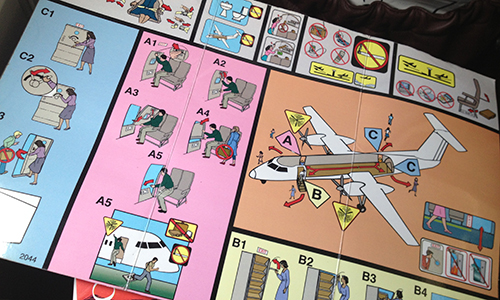 One picture showed how not to drop a suitcase on another passenger's head. Apparently some people need to be told that.
Since we were flying north, I was able to snap some amazing photos of San Francisco. I'm always amazed that the seven-by-seven block that is the city can be covered in a marathon (which I'll be running now in less than a month if my IT band doesn't act up).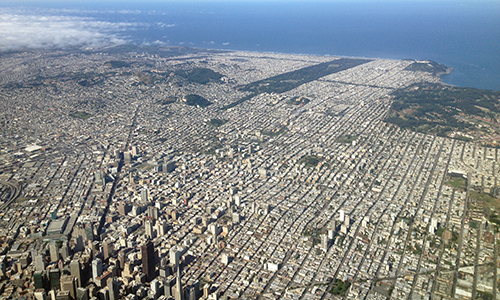 I always love how it can be cloudy in some parts of the Bay Area and then bright and sunny in others. When I live in Oakland and went to school in Berkeley I used to love climbing to the top of campus and looking down at the vast puzzle that was the Bay Area.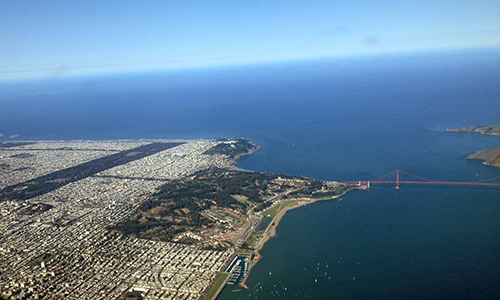 I loved this shot of part of the Golden Gate Bridge. You get a great view of Fort Mason and Golden Gate Park too.
I'd never flown Alaska Airlines before so I was a bit surprised when the drink and snack choices included beer and wine. Yes, even on a 9:15 a.m. flight. OK. I'm saying for the record that I'm not typically a lush. Not even close. I'm usually the designated driver, especially since I had my gallbladder removed.
But it was two days before my birthday. And I felt like I deserved some wine. Even though it was red wine, which I'm not usually a fan of. I'd like to think I wasn't the only person on the plane opting for early wine.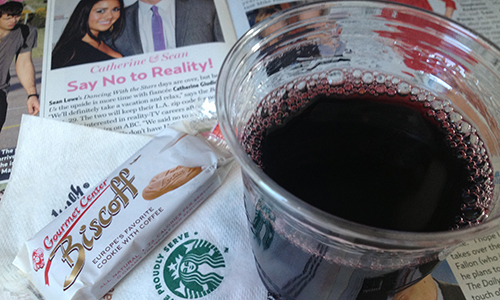 Red wine, Biscoff cookies and a rumor-mill Hollywood magazine. I indulged myself a little. Maybe a lot. I had two other drinks during the day. For dinner, I ordered a margarita and a mojito. I'm not sorry. Not even close.
When we arrived in Portland, we were immediately greeted by cloudy skies.
I was warned to expect this. I was also sure when I checked the weather report it said clear skies this weekend.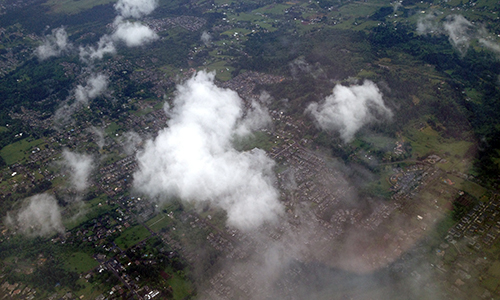 This was before we landed in Portland proper. I kept marveling at how green Oregon is. I know that California has pockets when it's lush and green, but we've suffered from a severe lack of rain this year. We had a little a couple weeks back, but the span of ranges between where I live and San Francisco is still mostly brown.
Oregon was all green.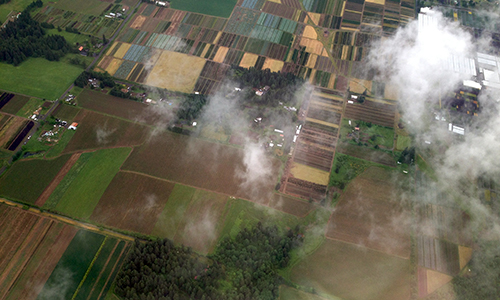 I knew, as soon as we went through the clouds and down into Portland, that one of us should have brought an umbrella.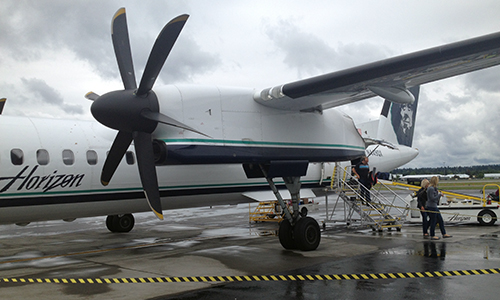 Fun fact: At PDX passengers are allowed to embark the plane from the back and front. That rocked for Sam and I since we were in seats 17A and 17B. No waiting! In this photo, you can also see the ominous rain clouds. And puddles on the ground.
Unlike the Bay Area, that wasn't a fog layer. Those were rain clouds. I ran a very hard California International Marathon in the ran. For 18 miles it poured and poured. I was hoping (and saying a silent prayer) that I wouldn't have to do the same for my first out-of-state race.
It didn't take long for us to pick up our belongings and head out to the terminal.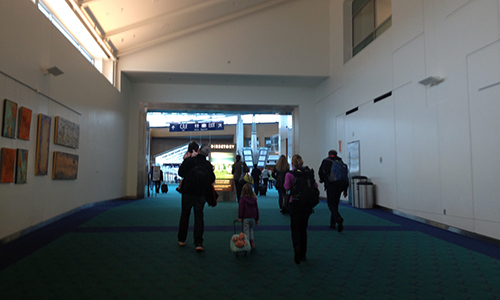 PDX is an incredibly nice and easy to get to airport. And right when you get by the security entrance there's a Nike store. (There was also a guy waiting with a Nike sign and a name, which was pretty cool too see.) I didn't partake in the Nike store, since we were heading to the expo.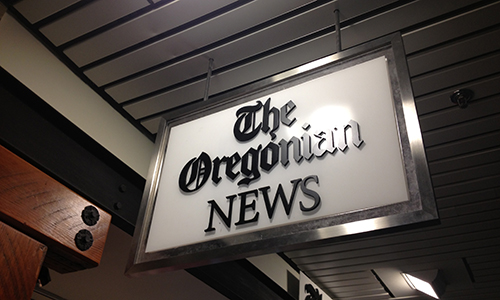 Next thing you know we were heading to a cab en route to the expo. What we didn't know was that the cab ride would cost us $40 because the cabbie decided to go out of his way and make the trip longer than it should have been. (You live and learn, right?)
The best part is that we didn't initially walk into the expo we were supposed to be at. Instead, we walked into a knife and gun show…