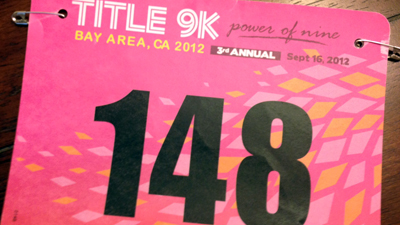 I signed up for the Title 9K for one specific reason: Last year an injury forced me out of the previous one at the last minute. It was one of two races in a two weekend period that because of my strained Achilles, there was just no way I could run.
I was on crutches, actually. And in a lot of pain. So much pain that it still hurt to put my foot down even slightly.
So when I found out that this year's run would be at Quarry Lakes in Fremont and that it would be a little later in the year, I decided to sign up. I'm so glad I did.
Today was a good day. An empowering day, with hundreds of other women. And over a 9K (5.59 miles), I didn't stop once. I also didn't wear my Garmin, surrendering it to Jennie who came along to do a training run herself in the park. But my official time is pretty awesome.
I finished in 53:39 for an average of 9:37 a mile, officially.
I'm super stoked about this for a couple reasons.
One is that it means I can likely sustain a 10K at under 10-minutes a mile. Two is that it means, despite some recent setbacks and a not so great running week, my training is still on course for the California International Marathon. Success. Empowerment.
The sky was overcast as the group headed over to the start line.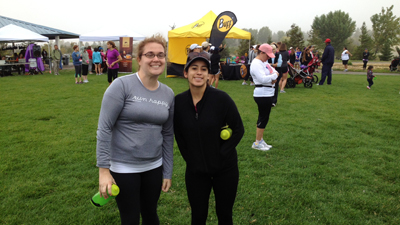 Jennie looks a lot preppier than me in this photo. I just look tired. And my hair is a mess. Yikes. I'm only posting this to show the weather, which was a nice overcast.
I was only there for about 20 minutes before it started. There were plenty of portable and real toilets. I was literally in and out of the bathroom line in five minutes. Thumbs up for Title IX for that one, especially for an all-women's race.
The starting line was chaotic, but organized. I don't have any photos because my husband "borrowed" my iPhone so he'd have entertainment while I ran. (He couldn't exactly leave because I was running for only an hour.)
My husband had already picked up my race bag with a bunch of swag in it.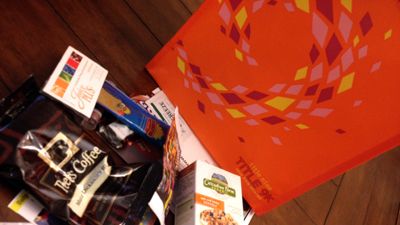 And my nicely-designed T-shirt, which initially was too big. The nice ladies at the expo/check in both were nice enough to let me exchanged it with a size medium after the race. I'm glad I hadn't washed it before, otherwise I wouldn't have been able to exchange it.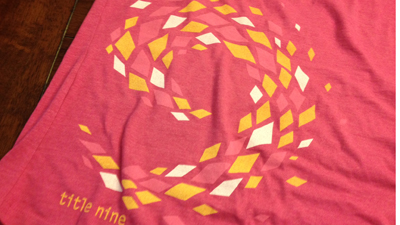 At 9 a.m. exactly, we were off to run Quarry Lakes. The organizers promised a "flat" race. I'd say it was "flattish," but definitely not as flat as I'm used to on some of my training runs. I'm actually really glad I've been doing more incline work to prepare.
I started out strong, kind of stuck behind a group of women who were spread across the path. I kept trying to pass them, finally doing so when the path opened up a little bit more. I had no pain in my legs, not even my glute that's been bothering me over the past week.
So I just kept going. I had no idea what my time was. I just kept at it. No problems, outside of a park official's truck literally driving right through the race path.
I didn't even need to stop at the first aid station because I carried my Amphipod 20-ounce handheld.
I quickly saw the sign for mile two and headed out into the out and back section. It all seemed to happen so fast. I turned around at a bridge, behind what seemed like a ton of people, and headed back along the outside of the park and then into the park again.
I slowed only when I hit an aid station on the way back, just after mile four, and grabbed a cup of water.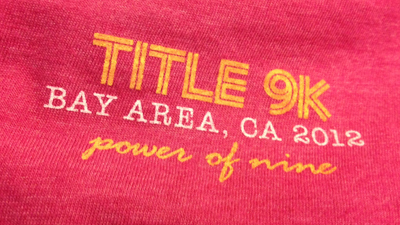 Toward the beginning of mile five, as I made my way back to the finish line, there were two ladies manning an aid station with chocolate for the runners. I didn't partake. I figured I was doing really, really well. I was tired and I could have used a boost, but I figured I'd just keep going.
And I did.
My legs picked it up on a couple more small inclines and finally I ran under the finish line and my chip made the computer beep. My time was registered and I walked through a line of people toward an area of food.
As I was headed that way, I was handed an awesome water bottle.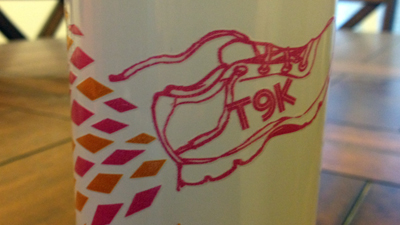 It's a little blurry, but the bottle is a nice metal one. It has the race on it and a design that matches the shirt and the bag. I was surprised because no one said anything about a finisher gift.
It even denotes that I ran and finished the Title 9K.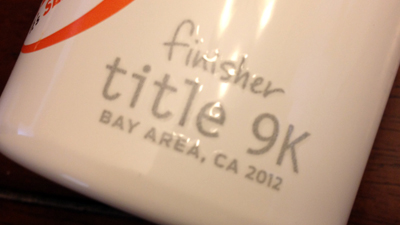 At the end there was a nice offering of bagels, Hint water and other goodies. In another line, people were being handed awesome multifunctional headbands/wraps. I was handed a tie-dyed purple and black one. It's pretty awesome. I definitely think I'll end up wearing this as it starts to get cooler in the next month or so.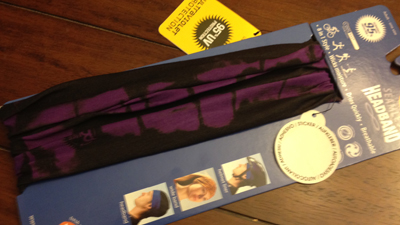 It's pretty nice. I'm looking forward to trying it out on one of my upcoming training runs.
All the "swag" at this race was pretty nice, but that's not why I'm excited about it. It was a great experience, surrounded by other women who propelled me to do my best, resulting in one of my best races to date.
It's funny, I figured I'd start this blog and talk all about how great I ran. The problem is, when I run great I don't feel the need to dwell on it. When I have a bad run, I almost feel the need to justify my time, even on my blog.
This was a good run, but not because I willed it to be. Because my training is on par. Because I'm a better runner now than even four months ago. Because I'm taking my CIM readiness runs more seriously.
In three weeks, I run the Rock 'n' Roll San Jose Half Marathon. After today, I'm really looking forward to it. Because after today, I know I'm ready. And there's no need to dwell over that.