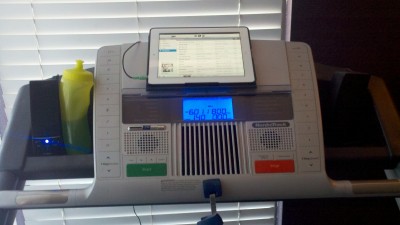 On Wednesday, the treadmill repair guy came. I expressed some hesitations about my dealings with the warranty company before.
How can you diagnosis a problem without, first, seeing the treadmill?
What if the fix isn't as simple as you think?
Turns out, at least in this case, my fears were unwarranted. The repairman was highly knowledgeable, cordial and funny. He didn't take too long. And the best part? He got my machine back up and running.
The culprit behind the nasty belt slip wasn't the "walking belt" as they call it. (Serious? It's a "running belt" in my house. I NEVER walk on my treadmill. Ever. The idea is ridiculous.)
The problem was the drive belt and tension coil holding on to it. Turns out I actually did run my treadmill into the ground, via a very worn, but not mangled, drive belt. The repair company also sent lubricant for the deck. Apparently I needed that too.
The fix was quick, but I didn't get to take my treadmill on a "maiden voyage" per se until my Friday off from work. I've been really busy with the holidays. To be fair, I wasn't even sure I could make six miles.
I'd only run two and four since the marathon (recovery took more time for me than most people). Nonetheless, I hopped on Friday morning. And set the speed for a slow 12-minute pace. That's my most common beginning setting since my shin splints earlier this year.
And I ran. And ran. Six miles later I'd reached my goal for the day.
Today I hopped on for an eight mile run.
Oh treadmill, I missed you so. I stared at my frozen duck pool outside and said: "This is why people buy treadmills. So they don't have to run in that."
I should mention the ride is smoother than I remember too. I had no pain. The belt was running good. It was like a new treadmill. Like the first time all over again.
I've run a total of 18 miles this week so far. I'm considering a four or six mile run for Christmas morning on the treadmill. Why? I'm considering it a Christmas miracle that I WANT to run again. I WANT to run far. No "I'll do three." I want a 10-mile run sometime soon.
Two weeks ago I was wondering if I'd ever run again. That thought did cross my mind.
Now I do. I even signed up for one last 10K for 2011. More on that later.
Fixed treadmill and 18 miles so far this week. A minor Christmas miracle for this runner and her tired legs.