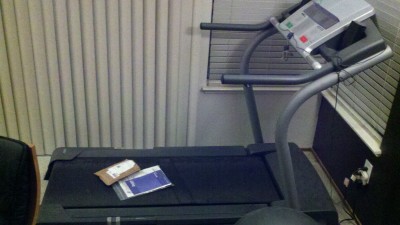 I have a confession to make: I love my treadmill.
It's something of a sin as a runner to say that, though. I'm supposed to love running outdoors. Feeling the breeze through my hair. Enjoying the sun beating down on me. Blah, blah, blah.
The truth is, running outside is sometimes not very glamorous. I've had guys yell at me from cars. I've nearly been hit by cars. I've had to make unexpected pit stops at not-too-pleasant park bathrooms.
I only really like running outside in Mountain  House. My long runs in Tracy have a tendency to be incredibly painful at times.
So I turn to my treadmill.
I do it often. Sometimes it's a mid-length eight-mile run. I've done as much as 15 miles on my treadmill before.
Why? Because, unfortunately, my treadmill is always ready. It gets dark and my running buddies are unavailable. I don't want to run alone, for the reasons I mentioned above.
And I love my treadmill. I can put on Netflix on my iPad and watch crazy programs such as Destination Truth or Ghost Adventures. I just kind of go on automatic and push through. I'm admitting now, much of my marathon training was done on the treadmill.
So when it started acting up about four weeks ago, I panicked a little, but didn't overreact too much. My treadmill is four years old. I've never had is serviced.
And it needs to be serviced. But I kept going on it. Why? The marathon was only weeks away. And it's been getting cold here.
I know "cold" is a wussy reason to not want to go running outside, but my last long run before the marathon was a 10-miler through Tracy and I was cold and tired all 10 miles of it.
I took a week off after the marathon.
To be fair, my legs are still tired. But they are also itching to run. And I'm overeating. Bad combination.
So I readied myself to hop on the treadmill earlier this week.
The belt was slipping before. When I hopped on this time, it WOULD NOT MOVE.
Yep. It was stuck. And I haven't gained THAT much weight not running since the marathon (I'm still swimming and I've gone to another fitness class with Sam twice).
I turned it off. And on.
Started with a walk (rare for me).
Go. Go. STOP. Go. STOP. STOP.
Well there goes that.
One of my running club buddies wrote on my Facebook wall that it was pretty badass to run down my treadmill.
And that's essentially what I had done. I've run a ridiculous amount on my treadmill this year staring down this marathon. It fits in with the two-jobs, multiple responsibility work environment I'm in. It fits in with my lifestyle.
So I placed a call to the treadmill repair folks who hold my warranty. They said they'd send a kit out to my house. Then I'd have to call another number.
This is a dumb process to say the least. Shouldn't the repair person come BEFORE to diagnosis the problem? I'm so glad they take my word for it.
I was expecting a large package (maybe a new belt?), but instead, I got a small brown envelope with two items: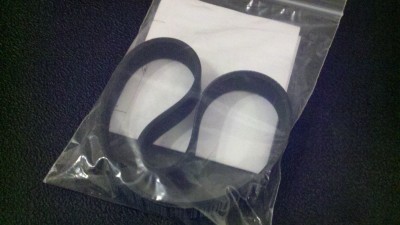 In this bag is a new drive belt. I'm not 100 percent sure the guy knew what I meant when I said my belt was "slipping." He should have. But I got this nonetheless. I'm a little confused by this.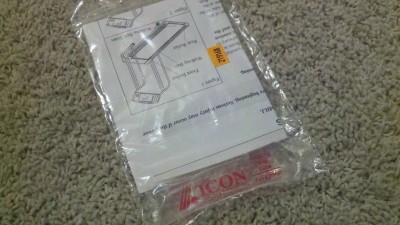 Oh, and they sent me lube. I thought this was kind of funny. It even came with a "lubrication pattern" diagram to make sure the person who eventually comes to fix my treadmill knows what he or she is doing.
I called the number back for treadmill repair and was told someone would be calling me within 48 hours to schedule an appointment. That was Friday afternoon. I haven't heard yet and it's Sunday night.
I'm assuming I'll get a call at some point Monday. I better. I'm a little annoyed by this not-happening-quickly repair so far.
And I'm worried that once someone comes, it still won't be right.
I just want to run again. I know I can open my door and move outside, but right now my treadmill feels comfortable to me. Maybe it's post-marathon anxiety, but my treadmill is where I want to be.
I can't wait to have it back functioning.