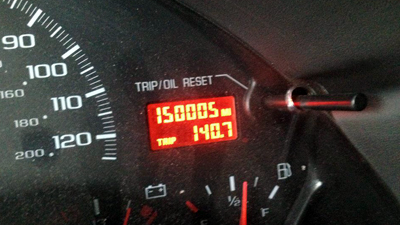 I had some computer issues this week, or at least I thought I did. I thought I had a virus that wouldn't let me connect to the Internet, but it was actually an issue with our wireless router not connecting to both my computer and Netflix on our television. Lame.
So I've kind of taken a week off from the Internet. But I've been running. Just not as far or long as I'd like.
I did get in an eight miler on Saturday, but my legs felt heavy most of it. That's a huge change from the past couple weeks when I've felt like I could run miles and miles and not stop.
I think my legs still need to recover from the Brazen endurance run last weekend. So I'm giving them a chance.
On another note, I reached a pretty awesome non-running milestone this week. My 2002 Camaro, which I purchased new, hit 150,000 miles. It's been a faithful car for me for nearly 10 years, so I was excited to get to that point. I didn't get "the" moment, because I was driving back from an unscheduled but necessary work assignment, but I got the mileage shortly after.
I remember the milestones in my car much the way I remember my first 5K, 10K, half and marathon. You get to that point and ponder what's next. You wonder if it's an end, or just a beginning.
Then you plan another milestone. Or at least I do.
For me it usually also means planning another race. My calendar on this blog only lists races through the Big Sur Half Marathon. Those are just the races I've registered for. I'm considering some additions to that schedule in the coming weeks. (By the way, registration for the Big Sur Marathon opened today and the organization has already listed it as more than 70 percent full. That's exciting and all, but the 21-miler was brutal to me this past year, so I don't think I'm quite ready to tackle the marathon. Maybe the 21-miler again, but that doesn't sell out nearly as fast as the marathon.)
Another milestone? I'm taking my first vacation of the year in two weeks. Six whole work days off. I'm also preparing lessons plans for my third year as a community college journalism instructor. I'm excited to be starting again, but I'm also worried because I know it's a lot of work in addition to my full-time job and I'm exhausted by the end of the semester.
More running in my future too…if only to help keep me sane while doing all of what I just mentioned.