I love getting surprises in the mail, even when I know they are coming.
It's always cool to come home to something awesome. On Monday, I came home to an answer package from T-Rex Runner. I've been reading her blog for a couple months now and I love, love, love it. When I saw she had shirts made, I knew that I had to get one.
Except I don't have a PayPal account. So I had my husband order one for me.
I was so excited to open the package.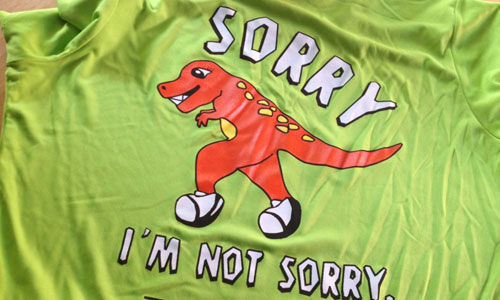 I have to admit, I had a moment when I opened it. The awesome T-Rex on the back, wearing running shoes and with pretty eyelashes, was exactly how I imagined it would be. Under the image is the URL to the blog.
I've purchased shirts before from my favorite bloggers. Why? I think it supports what we do, even if only a little. It's easy to get a website on WordPress and just use that to blog.
It takes more, though, when you actually buy the space, design the blog, maintain the site, etc. It's a lot of work to blog, even if it doesn't seem like it on our end. (A side note, yes, I've been blogging about non-running things lately. As much as I want to say "it's my blog and I'll cry if I want to, I know that's now what people come here for. I won't promise it won't happen again, but I start my training plan for my next half marathon this week.)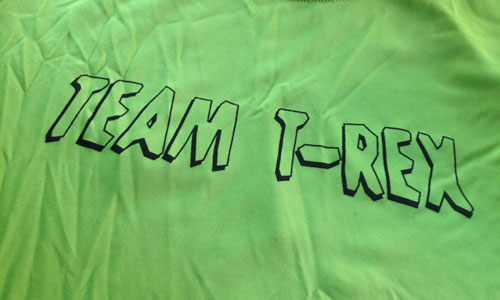 That's the front of the shirt. I was so excited to get it that I put it on and ran four miles on the treadmill.
T-Rex Runner even sent along a nice card thanking my husband and I for the supporting. It was adorable.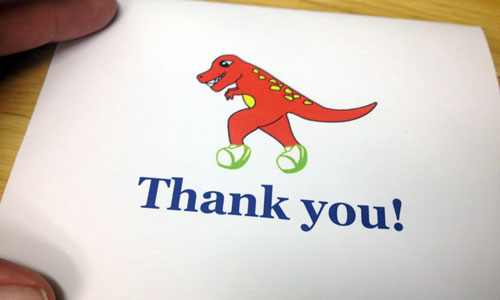 That four miles was significant, though, for two reasons.
The first is that it got me to 100 miles for the month of December, which only hours before when I had a terrible headache at work I thought wouldn't happen. I had planned to hit the treadmill in the morning, but was just too tired.
I need two miles to get to 100.
I needed four to get to 1,250 miles for the year.
I'm not sure why I wanted a "nice round number" to cap off 2012, but I did. So I ran, watching the beginning of Downton Abbey (not sure I'll pick that show up).
My IT band on the left side is still in pain, though. I have to take it slow under my legs warm up.
During my run, I got a text canceling our plans for New Year's Eve. My husband and I decided to go get take-and-bake pizza anyway, as we had planned to do with friends, and stay home with wine, beer and champagne.
I never changed out of my running clothes.
We had pizza and bread sticks. Then we headed into our office to brush the dogs while my husband talked on the phone with a friend who later came over. When Beau, our male dog, was done, he headed back out to the kitchen.
Beau has a tendency to steal food. It's less tendency, more of a problem.
Case in point:
To be fair, we set him up on that one. But he takes food off the counters, literally. We have to hide stuff from him. "No!" doesn't even cut it with him. He is always hungry. My husband calls him "hungry monster."
When I came back into the kitchen, Beau was staring up at me eating 10 slices of pizza. Only two were left, still on the take-and-bake plate. He devoured more than half the pizza.
Well. I wanted to start my new year on a good diet anyway…so I guess him eating the pizza was not that big of a deal.
Plus, this is the face I get: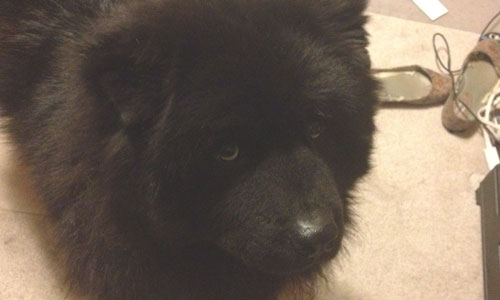 I should put him on Dog Shaming.
We spent the rest of the night hanging out with friends at home waiting for midnight. It was a nice, low key celebration.
Today we're staying at home, hanging out and watching Netflix. I may hop on the treadmill later and knock out a run after we eat dinner. (Starting of the year right is a theme, yes?)
I did something I'd been putting off for awhile today: I signed up for the San Luis Obispo Marathon that's happening in less than 100 days. I'm hoping to try and achieve what I was for California International Marathon, without the rain hopefully.
So 2013 is starting off on a good note. After the last couple months of 2012, I'm glad of it.