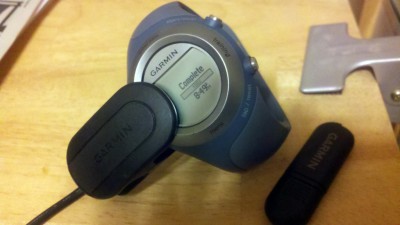 When I purchased my Garmin 405CX right before my first half marathon, I was more intent on using it then really getting to know it.
I took it out on an "inaugural run" and then didn't load it up again and locate satellites until I was standing on Broadway waiting for the Oakland Running Festival Half Marathon to begin.
I was already nervous at that start. It was my first half marathon after all. I had only been training for one for three months. I had only done one 10 mile run. I didn't think I'd finish. (And there was that point at mile 10 where I nearly fell apart and felt as if I was going to have to wait for someone to come save me).
At the start a woman was also booting up. She had a 310. I watched her because I was a Garmin newbie. And I had looked at the 310 model but decided it wasn't the right one for me.
"What's its name?" she asked.
"It's a 405CX," I responded.
"No, what's its name?" she said back.
"It doesn't have one," I said.
"Is it new?" she said as she watched me fidget with it trying to make sure it didn't go out of "training mode" before I needed to hit "start."
"Yes," I said.
"You need to give it a name," she said back. "Everyone does. This is Speedy."
I never really thought of it. The Garmin needed a name. I went for three months without giving it one. I couldn't think of one.
Buddy? No, to predictable. Chelsea? No. Bridget? Ha. No. Gina? Gem? Gemela? Greg?
I decided on Gertrude. Gertrude the Garmin.
Why Gertrude? I figure if I'm going to have something beeping at me and telling me to run faster and prodding me along, it better be an older woman who can still manage to finish half marathons faster than me. That's how I imagine my "Gertrude" looking. It's fitting, I think. And Gertrude is kind of a motivator too. She's a constant companion, always faithful. Kind of like I envision my grandmothers, actually (neither of which is named Gertrude).
So Gertrude it is. And she's a big part of who I am when I run.
She's also one of the only things I own that I constantly keep track of. The Garmin is on my desk with the ANT+ stick ready for every upload.