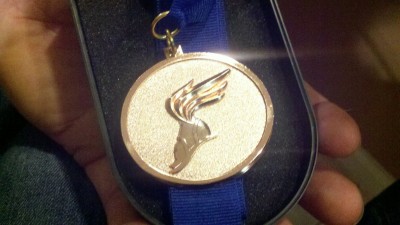 With all the marathon training and preparation, I didn't get a chance to write this post until now. In late November, my running club had its first quarterly awards. I earned the title "Duration Champ" for posting 60+ hours of running in a quarter.
That's a lot of running.
I laughed, though, because it didn't seem like I got very far. The truth is I'm a little slow, my pace ranges from 10 minute miles to 12 minute miles. So it takes me longer to do the same distances as other people.
If I didn't have two jobs, I could devote more time to running. But this is kind of my situation as it is now. I'm not complaining at all. I wish I had more time to work on being faster. I just don't.
I'm honored by this medal, though. I found the Mountain House Running Club thanks to my running buddy Sam. I live in Tracy. Mountain House is about 5 miles west of Tracy and sits along the Altamont.
It's a beautiful, small community. There are some nice trails, but, more importantly, there are wide sidewalks to run. That's one of the reasons I love it. It's kind of become my running home.
I'd rather run there than Tracy any day. And I do run a majority of my outdoor runs in Mountain House.
I also like the club because there are good, dedicated people involved. They care about running and the club. It's a nice group.
So I'm humbled to be the club's duration champ this quarter.
I'm not sure I'm working on any sort of medal this quarter. I've only run two miserable little miles since the marathon. I'm having a hard time convincing myself to get up and go. I kind of feel like I'll never run again. I felt this way after my first half marathon too, but I don't like it much. I want to get up and go. I just can't find it in me to do so.
That said, I've done some swimming and biking instead. Good cross training. Still…I'd like to get my legs going again soon.