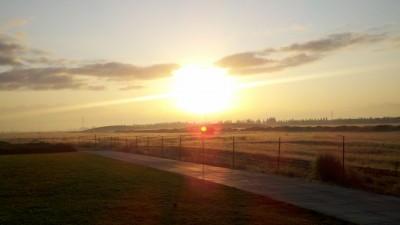 The clocks moved forward at 2 a.m. this morning, which meant that I got an extra hour of sleep before heading out for my long run today. That was nice, but I was also tossing and turning and waiting for my alarm to go off, thinking, maybe, I slept through it.
I grabbed my gear and got ready. Jennie sent me a text at about 6:20 a.m. asking if she could borrow a water bottle. No problem. I brought a refill bottle with me for part of our run. This was the view that greeted me in Mountain House from Central Community Park, the beginning of all of our long runs.
We started out right after 7 a.m. The bathrooms were even open, which is always good. We headed toward the still in-progress village battling the cold and somewhat wet conditions.
The goal? Well, we didn't really have one. I think both of us would like a second shot at 20 miles. But, unfortunately, we both were battling this run early on. Jennie said her shin hurt. My right Achilles was sore. We decided half way through we'd likely only hit 10 today.
I say "only" because last week I ran my longest run of my life at 20 miles.
We are usually warmed up by mile three. Not this morning. We were slogging. In retrospect, we probably weren't full recovered.
Worst, we were inconsistent: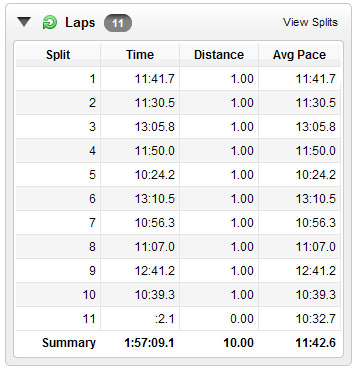 I noted, though, before getting into bed that my dailymile was at 790.
That's part of what propelled me to want to do 10. I'm pretty sure I said before leaving the house this morning: "Even if Jennie decides she wants to quit at mile 6, I'm going 10." Of course Jennie doesn't quit. She's good like that. She motivates me. That makes her the perfect running mate for the California International Marathon.
So we kept pushing. And pushing. And finally, we were done.
And it never rained once.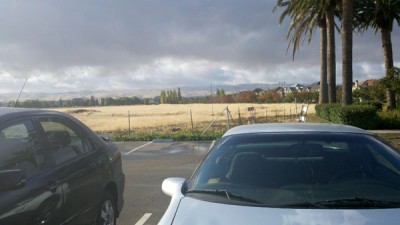 It looked threatening, but it wasn't. In fact, it wasn't even as cold as we thought. I wore my new Mizuno running vest and a Nike long-sleeve Miler top and ended up shedding down my my Dri-Fit t-shirt at our 7-mile stop-at-my-car-and-get-more-Gatorade stop.
The beauty of our 10-mile runs is that the first six miles tend to be consistent. Then I changed it up because Gertrude the Garmin lets me do that. (I'm going to hold off posting about how I have a request in to Garmin to have the battery looked at, mostly because I want to see how this plays out and I'm deeply concerned with a half marathon and a marathon coming up that no good can come of me sending the 405CX in this close to the marathon. That said, the battery is dying at nearly five hours. No good for a first-time marathoner who runs 11-minute averages.)
Sorry about the aside. I'm having a little bit of an issue with the Garmin issue.
So our last four miles are kind of sporadic. We run just to run. I do this as a mental trick. I can't give up if I don't know where I am going, right?
Works for me.
So Jennie and I pushed. We finally got to 10. And, to be fair, this 10 was a lot easier than I'm used to. Why? Could it be last week's 20-mile jaunt? Perhaps. Even with difficultly, which we had, it was easier than our usual 10-mile runs.
And I hit 800.
I have the dailymile tag on my blog to prove it: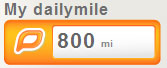 I did a little dance. I had a moment. And I spent the day celebrating, like someone who has literally ran twice the distance she did last year should do.
My mom asked if I wanted to go see a movie. She came to Tracy and we saw the new Harold and Kumar movie (the duo I later referred to as the "Cheech and Chong" of my generation).
Oh, and there were blended margaritas: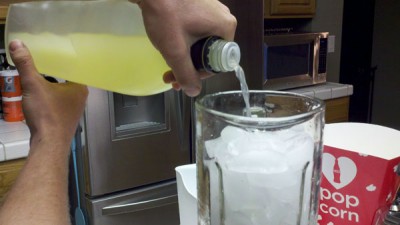 That's my husband's hairy arm using the blender that literally hasn't been out of the box since we lived on our rental. That's more than a year. We really need to party more.
Plus, I finally got around to making stir fry with the vegetables I picked up from the health fair at work the other day. Best part? I have leftovers for tomorrow.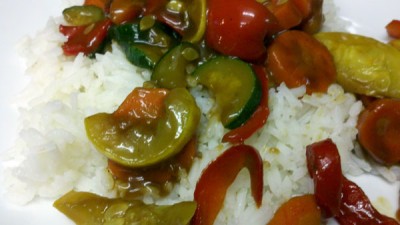 And, yes, it was delicious.
So I'm at 800. I'm not sure about getting to 1,000. I'd like to try, but that's 200 miles in two months. Can I do it? Sure. I've been averaging 100+ for the past two months.
But the marathon is on Dec. 4. And that's 26.2 if I make it. (Let's be real, there's a chance I could completely balk, I know this, even when people tell me I can do it.)
I have 6-7 on schedule for tomorrow. If I feel good enough I'll do 8. And then 6 on Wednesday. I have a day schedule on Friday, so I can either run 10 in the morning or in the evening. We'll see.
Jennie wants to try for 20 on Sunday. I'm chaperoning my students to a journalism conference on Saturday. Hopefully I'm not too tired to conquer 20.
So, my remaining goals this year: Get to 1,000 and run that marathon.