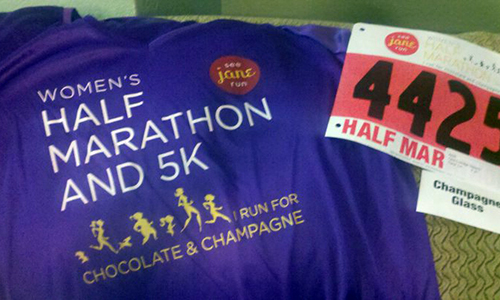 Two years ago I signed up for the See Jane Run Half Marathon as my first 13.1 race distance. I picked it specifically because of the company's mantra and it's encouragement of women of all kinds.
"Here's to you.  The broad-shouldered, the knock-kneed, the pigeon-toed, the small-breasted, the wide-hipped, the long-waisted, the short-legged, the stocky, and the skinny. And yes, even the perfectly proportioned.  May you live long, enjoy dessert, and never stop laughing.  Blisters heal. Muscles recover. Friendships last a lifetime. High heels have their place in the very back of the closet.  If you can run a mile, you can run a marathon. There comes a time when you really need to replace your sports bra. No really. Consider this.  Only one person wins. Everyone else should have a rockin' good time. Yes, you can talk and run at the same time. Chewing gum is the hard part. A little chocolate goes a long way. Be yourself. There's a little bit of Jane in all of us."
To me, that's the embodiment of running. It doesn't matter who you are, how much you weigh or how fast you run: You can and will do this.
In fact, what propelled me to sign up for an earlier half marathon was that notion that if I could run a mile, I could run 13.1 just fine. So in January, immediately after my first 10-mile run around my city, I did just that.
Then I signed up for another.
By the time I hit the picturesque start-line in Alameda for See Jane Run, the race I signed up to be my first was now my third. But I held dear to what was supposed to be. This race meant everything to me.
I ran a 2:35:36 in Oakland for my first half marathon. I ran a 2:27:34 for my second. I was hoping to run a 2:25 for See Jane Run.
I remember being so optimistic when my husband dropped me off at Washington Park in Alameda. It was a sea of friendly faces. Every woman there was happy. The best part was the before-race 1980s inspired aerobic workout.
Once I started running, I felt good. My 10K time was decent.
Then I started to fall apart. My feet started to fall apart.
My body started to fall apart.
I was encouraged on by all the fabulous runners around me, but I just fell flat. Something was wrong. All that positive I took into the race was disappearing, but not because the race was bad. The race was fantastic. The volunteers were amazing. Everyone was really supportive.
But I wasn't "on" at all.
By time we head back into the finish-line area, off the island we were running around, I could tell my feet were blistered up. And not just small blisters here and there. I feet felt as if the entire bottom was blistered beyond repair.
I was in pain.
I crossed the finish line at 2:42:16.
And I was devastated.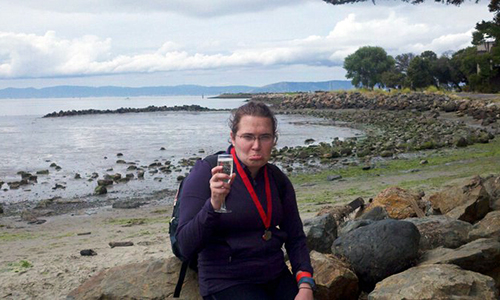 My husband took this photo of me after I sat down at a park bench for about 30 minutes and tried to figure out what went wrong. I was near tears. I was so upset.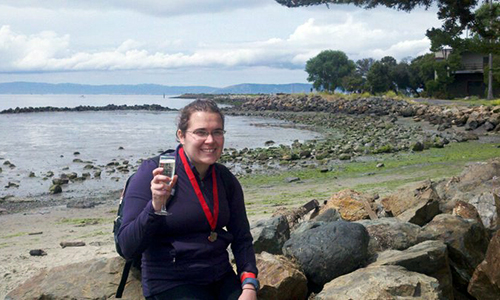 Then he shot this one because he told me no one could take a photo looking sad with a glass of champagne in their hands and chocolate in their stomach. No one. Not even after running 13.1 miles. He's a wise man.
And yes, that's the view from Crown Beach Memorial Park, where See Jane Run in California ends. You can sit there and just stare out at the water for hours. Which is good if you're feet hurt and you have a glass of champagne. (If those aren't reason enough to run this race, I don't know what would be.)
Needless to say, the race knocked the passion out of me for a couple weeks. I kept asking myself questions on what I could have done differently.
Are you supposed to get better at half marathons are you do more? Shouldn't you feel better at the end of each race?
I learned something, though, as a sat out a couple weeks processing what happened at the race: You will have bad running days.
You're probably thinking: Well, yeah. Everybody has bad days at SOMETHING.
But I was still very new to running. I was still very unsure of myself. I didn't know how to react to a race going that completely wrong when it should have gone right. Now I know you react and change. You look at what happened and make sure it doesn't again. You adapt.
That day, I realized what was wrong fairly quickly. I was wearing the wrong socks. At that point I had very little experience with wearing "performance" clothing. I had just started purchasing Dri-Fit shirts and moisture-wicking pants. In many of my early race photos, you can see me wearing my $1 Target socks.
They're socks. Who needs to buy special socks? If you're running for a long time, i.e. over two hours, you should probably invest in some good socks. (Still new to running? See Jane run has you covered in the socks area, no doubt.)
So my time on the course didn't exactly constitute my finest running moments during the 2011 See Jane Run race. But I walked away from it with a much greater perspective on overcoming and fighting. It didn't matter how much pain I was in that day, I was going to get to the finish. I was going to get my chocolate and champagne. And I did.
That's part of the reason I sent in an application to be an ambassador for the company this year. The blisters healed. The ego wounds did too. But I took something more powerful away from that specific race than I realized at the time. I took the skills I needed to run every one of my long runs, marathons included, with persistence.
See Jane Run holds a special place in my heart because of that. That race taught me one of my first big lessons in running.
I also took the knowledge that bad days are like bad runs. The ones that don't go right make us appreciate the ones that do so much more.
So this year, I'll be back out on the course. I'll be focusing on running as fast as I possibly can to 1) Beat my time from 2011 and 2) Hopefully PR. I'll also be using it as a final training race for the San Francisco Marathon, which is the following weekend. I already know it's going to be an amazing time, if only because two years ago it was and I know it's just become even better since then.
It's a a half marathon, sure. But it's also a party that celebrates women over 13.1 miles. And you should join the party.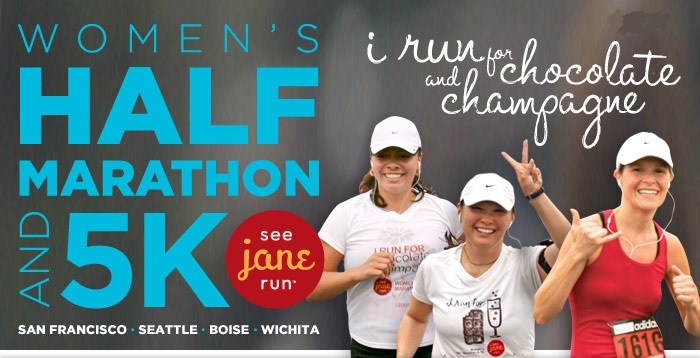 The link above takes you to a registration page where the half is $85 through May 8. Then the price goes up by $10. Not quite ready for a half yet? The 5K is also a fun option with the same perks (chocolate and champagne at the finish!). The 5K is $45 currently.
Did I mention it's mostly flat and fast? Plus the neighbors cheer you! I had a toddler give me a high-five two years ago. You can't beat a toddler high five!
(NOTE: I'm a See Jane Run Ambassador for 2013-14, but the views in this blog post are completely my own. I really believe in this race and what See Jane Run represents. So come out and celebrate with us. OK?)