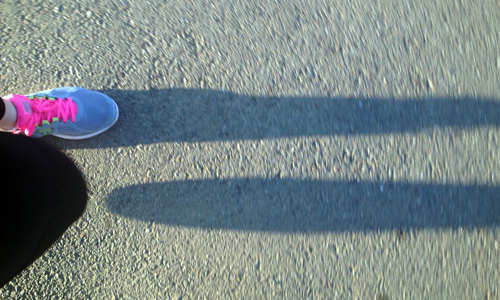 Today I had a student come in and tell me she had to drop my class. It was heartbreaking. This wasn't her first semester on the newspaper staff. I was sad to see her go, but understood her reasons. We talked about life and responsibility.
Today, I told her it was OK to fall apart. Today, I told her it didn't matter what other people thought.
Today, I believed it.
"Fall apart. Just do it. It's fine. Don't feel bad about it, if you have to do it, just do it," I said to her. "I learned more in the time I spent putting myself back together than I ever did holding it all together."
Today, my words rang true.
Today, after that, I knew the decisions I've made didn't break me. I knew the mantra "tough times don't last, tough people do" was true. I knew that everything that happened was supposed to, from gallbladder surgeries to falling down on my run last week.
Because I'm happy. I'm surrounded by amazing people. I'm doing awesome work for someone I respect greatly. All because I finally walked away from something that was tearing me apart from the inside out.
Today, though, I wish someone would have told me it was OK to fall apart six months ago.
And so today, I came home and went for a run, bad little T-Rex style arm and all. And despite only getting four miles, today it felt amazing.