It's been a tad warm lately. And by warm I mean, "it's not hot enough to not run outside from time to time but let's be real and stay on the treadmill."
I know my limitations. The hooter temperatures make me not want to run. I get cranky. I want to quit. I basically start out hoping for seven to 10 miles and then stop at four.
On the treadmill, I know I get the distance. And, lately, I've been upping the resistance to simulate outdoor running.
The problem with treadmill running is the monotony. I've let my mind wander enough times and nearly fell off the deck to figure out some time back that I needed to do something to keep my mind occupied.
I started with music on my iPod.
Then, last summer, I got an iPad for teaching. And we got Netflix. And Hulu Plus.
And now, I spend most of my treadmill runs watching videos. Usually two, which gets me anywhere from eight to 10 miles.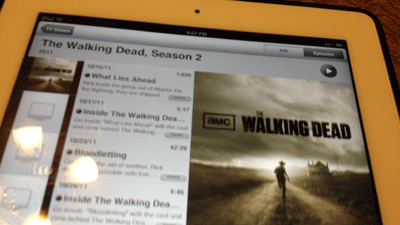 My latest obsession as the mercury rises is The Walking Dead. Netflix has the first season available on instant streaming. I got through the first six episodes pretty quickly during my runs this past week. Having something I'm interested in to watch even helps with mileage, which stands at 33 miles this week, though I'm hoping to hop on for some more after I'm finished cleaning my house and blogging.
Plus, I'm waiting for season two to download onto my iPad.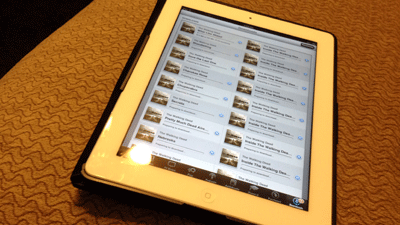 Believe me, the distraction makes the runs go by faster. It also helps me keep pace. I know I'm at my goal pace if I can finish a certain number of miles before the episode is over.
Of course, the treamill makes Netflix a little wonky from time to time. That means the first four minutes of my run I'm trying to get Netflix to reconnect to the Internet, despite the fact that I'm only 40 feet from the router.
The mill runs are also helping me train for the event I'm doing this weekend: the Brazen six-hour endurance run.
I logged 117 miles for June, which I figure is a good base to run six-hours straight. I'm looking forward to it, to test my endurance, but to also see how far I can get. If I can run a marathon in around 5:20-5:30, I'm hoping the event will be my first ultra. That's pretty exciting to me, considering I'm using it as a "training run" for the San Francisco 1st Half Marathon later in the month. (I'm not nearly crazy enough for the 12-hour race.)
So I'm beating the heat, staying indoors and keeping cool on the treadmill, with a little help from The Walking Dead.
My hope is that those three words aren't needed to describe me during my six-hour run on Saturday. After the disaster in San Diego, I need a good run.