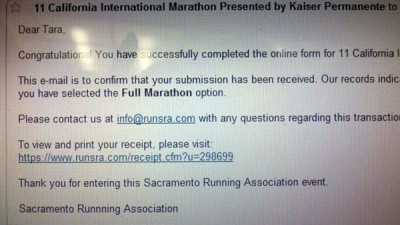 Here's something fun to know about me: I'm completely and utterly petrified of not making the six-hour time limit at  the California International Marathon.
My fastest half is 2:27. My slowest is 2:53 (and that was with hills, dodging people for eight miles before finally decided it was more important to have fun that be fast).
When I signed up for the marathon in May, I thought I'd be averaging 2:15 half marathons at this point. Life got in the way. I'm too busy with other things. My distance training runs are up to par, but my speed work is not.
I'm scared of being pulled off the course. I'm hoping to finish somewhere around 5:30. I'm hoping to keep up the pace and keep moving. But I don't know what's going to happen.
So I'm relying on some inspiration to push me through. On the band of my RoadID, I had the last line inscribed with an Eleanor Roosevelt quote.
"You must do the thing you think you cannot," is the quote. My RoadID, specifically, says "you must do the things."
I had it put there when I was training for a half marathon. I didn't think I could. I still can't believe that on March 27 I became a half marathoner in Oakland. And I've ran five other ones since.
And now I'm hoping to conquer the marathon. In six hours.
I hope I can. I hope that it's a mental block and it's something I think I can't, but actually can.
In any case, we'll see in a month if that's true. Crossing my fingers.