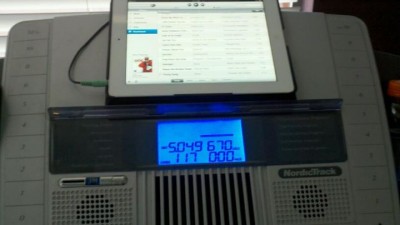 I started today with 98 miles for the month of September. I've come a long way since January's 68 miles. Up until June I averaged 60-70 miles a month. Then I went to New York City on vacation and only ran 38 after a horrible run (and 2:42 time) at the See Jane Run Half Marathon in June.
In July I was prepping for the San Francisco Second Half Marathon. I finished that in a redeemable 2:35:30. Better.
This weekend I run the Rock 'n' Roll San Jose Half Marathon. Outside of an injury that derailed my training for two weeks in August (I only ran 88 for the month) I've been fairly consistent in ramping up for the Dec. 4 marathon.
I rolled out of bed this morning and put on my running clothes.
"Guess what my run today means?" I asked my husband who was in the shower.
"I don't know," he responded. (He's not much of a guesser or anything.)
"When I finish the first two miles, I'll be at 100 miles for the month," I said, digging through my collection of sports bras.
"Yay," he said from the shower.
"I know you'll care for about two minutes about that," I said back. (This is our relationship, it's fine, he just isn't as into running as I am.)
I grabbed my waterbottle, filled it 50/50 with cold water and Gatorade. I hopped on the treadmill and started going.
Two miles later I had my 100.
I kept going. It's not a rest day. I could keep running. I did three more miles to not overdo it before Sunday's half.
It's two miles short of the 105 for July. But I passed the 100 mark then somewhere in the Haight.
The mileage is harder now. It will continue to get harder. The runs are longer. They will continue to be.
The passion is deeper, though, on the road to 100+. But maybe that's just me.