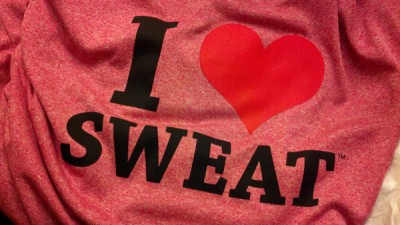 I've done some Christmas shopping for myself in addition to others this year. Why? Because not everyone understands my love of the sport. I didn't want to make a "running wish list," though I've had one for awhile.
So I've been dropping hints for myself lately and picking up some much wanted items.
One came today.
I read a great blog called Ali on the Run. The author is based in New York City and has Crohn's disease. She ran a marathon earlier this year and raised money for the Crohn's and Colitis Foundation of America while working toward her 26.2. She ended up raising more than $20,000.
Now I'm really bad at fundraising. I remember the typical elementary school walk-a-thon. I only asked my parents, grandparents, etc. And I raised just enough to earn a T-shirt. (Wooooo!)
Ali is impressive because she had a great idea. Insert shirt above.
She came up with the "I (heart) sweat" shirts. I started seeing them all over running blogs. I wanted one.
But they were nowhere to be found. I even Googled "I (heart) sweat" to track one down. I saw some generic knock offs of the shirt, but they definitely weren't the Ali versions. AND, none of them were benefiting her awesome cause.
I got lucky then when I saw her blog mentioning she had more shirts. The post was several hours old. I saw comments that said "you're already sold out!" and quickly went to the T-shirt website.
The site was out of a lot of colors. But they had a long-sleeve version in rouge red.
Score!
And she still had some larges in the Brooks shirt left.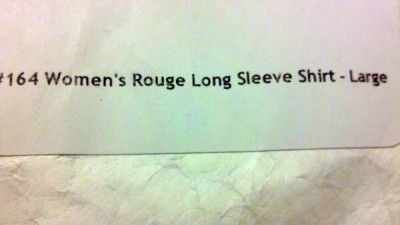 It came today, like promised, before Christmas.
It's actually the same feathered red color as my Brooks "Run Happy" shirt.
It came with a cute little "I (heart) sweat" label on the package too.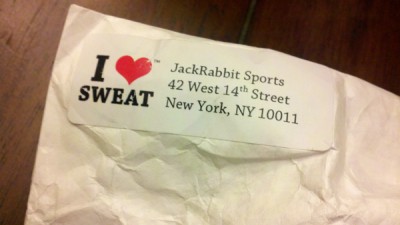 I'm excited to wear it for one of my next runs. It's been cold here. Not as cold as the on the East Coast or anything, but it's cold enough that I can see my breath more than 30 minutes into a run.
So I've been layering. And this is the perfect addition to my now many layers.
The shirt is pretty cool, if I can say so. I'm glad I locked one in before they all sold out.