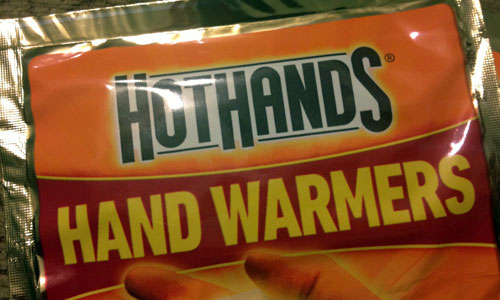 Baby, it's cold outside.
Not as cold as it could be here in California, but definitely not as warm as it was a couple weeks ago. I'm pulling out more of my long-sleeve shirts and jackets to run in. Though, I'm still not back to running since the marathon thanks to the cold of death I can't seem to shake.
That's why I invested in some Hot Hands hand warmers recently. I found a two pack in the $1 bin at the local Target. These little cushions of heat keep the hands warm. There are also some for your feet, but my feet already get hot quickly so I didn't grab any of those.
A couple packs of these makes a perfect gift for a runner. Why?
Consider that we're often standing around trying to warm up before runs. Our hands, unless you own a pair of running gloves, tend to get cold fast. Sometimes I'd rather not wear my running gloves because I know I'll end up taking them off mid run.
The solution is a hand warmer to hold onto while you wait and then throw away at the first water stop, or even before the race begins (in the proper place, of course).
A perfect solution. And the price is right.