My car breaking down on Thursday should have been the first indication that things for our quick overnight trip to Pasadena weren't going to go as planned.
At 70 miles per hour, my throttle body went out. I drove it to the dealership. The damage? $1,650. Even worse, I don't get it back until sometime Wednesday or Thursday of this week because of the long holiday.
I'm hoping this doesn't turn into a repeat of last year when it was gone for two weeks. Still crossing my fingers on that one.
In any case, our plans for me to drive changed fairly quickly. Sam, last year, mentioned wanting to do more of the Rock 'n' Roll runs because they reward runners with some awesome swag if you do more than one. (Heavy medals anyone?)
So we signed up for Pasadena, the first California Rock 'n' Roll Half during 2012. It was also an inaugural event for the series.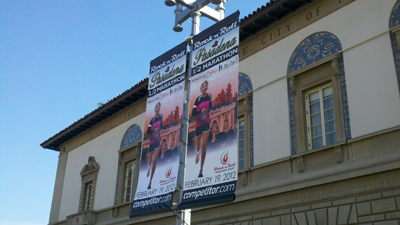 We knew it was going to be a quick trip, basically there and back all within a less than 48-hour period. But it turned out to be a bit more strange than we were anticipating.
We left at 9:30 a.m. from Tracy and headed down Interstate 5 toward Pasadena. The trip was, basically, uneventful. Except there were a lot of idiots who didn't feel the need to move over when they weren't going the speed limit in the fast lane. Of note: I was tired. I ended up working an 11.5 hour day because my car broke down and I needed to take it to the dealership Friday morning. More on that later.
We stopped and ate in Buttonwillow, about 20 minutes from the beginning of the Grapevine, the stretch of Interstate 5 that weaves into the Los Angeles basin.
There was never a point where we weren't going to make it before 5 p.m. but I think we kind of rushed down hoping for an expo to the degree of the San Jose one last October. That wasn't what we came to.
The front of the pickup line was empty.
Sam and I had little trouble walking up to get our numbers. Next came the shirt booth.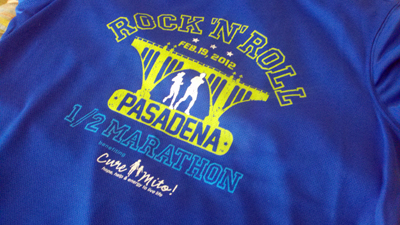 The shirts for this half were actually fitted. Much better than last time in San Jose when Sam and I both got medium sized shirts only to have them basically be dresses on both of us. I opted for a Brooks large, which gives me a little extra room. This shirt has a nice back/front design. The front is above.
This is the back: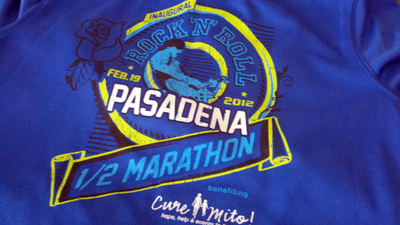 We also got our swag bags which serve as gear-check bags too. The Rock 'n' Roll series and the San Francisco Marathon, where I did the second half last year, are the only other races that I've been given a gear-check bag that's actually a decent reusable bag. Nike gave me a heavy plastic bag, but not the same quality.
It's good because I didn't bring something for bag check and we ended up actually using it since we were there alone, without anyone picking us up.
We made our way through the Brooks area where they sale merchandise. I ended up buying a shirt.
Then we checked out the booths. There weren't many. We did get some awesome samples of organic cake. That was a plus. We got some Snicker Marathon bar samples too.
It was a beautiful day outside the expo.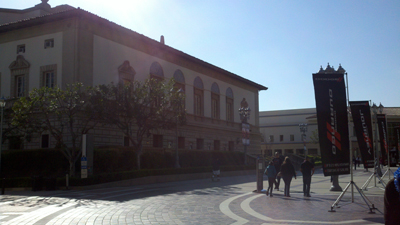 And inside we got to see the beautiful medal we'd be getting after finishing.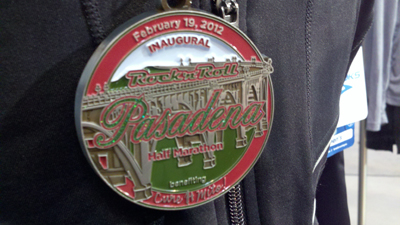 But there wasn't much there. We did get $15 off for signing up for the Oct. 7 Rock 'n' Roll San Jose half marathon. We also got a free shirt for the inaugural Pasadena event since they didn't have any San Jose shirts. Had I of know we'd be scoring those awesome shirts, I probably wouldn't have bought another one. A day later and I'm wearing the teal-colored T-shirt at home.
After only 45 minutes, we were done. I don't even think I spent that little time at my first half marathon expo.
We did score a pair each of CEP compression sleeves. Sam opted for black for her first pair ever. I went a little wild with pink.
They look at little something like this: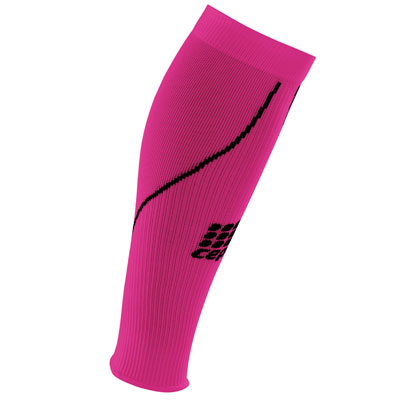 I actually wore them during the race and they were incredibly comfortable. And I love the color.
So we headed to our hotel, which was a Travelodge on a main street through Pasadena. It was quaint, and OK for the price we paid. But we had a problem: We had about five hours to kill and nothing to do.
Sam started looking at places we could potentially go. We ended up heading to the Citadel Outlets in Los Angeles. Sam needed a water bottle. Despite our best efforts, we didn't find out. We did find shoes. Lots of shoes. Well, only one pair for me, but lots of shoes for her.
She ended up with four pairs on an amazing sale. And then we decided we needed food. I had a bit of a headache. We opted for a restaurant literally right down the street from the place we were staying. We should have tried something else.
To say it was the worst experience I've had eating out might be an understatement. We waited nearly an hour between the time we sat down and the time we ate.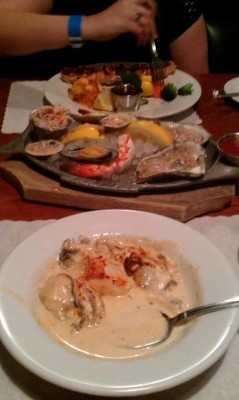 I didn't tip. The waiter refused to even acknowledge us most the night. (Did I mention we had some crazy experienced on the 110 freeway in Pasadena? Wow, it was nuts. We saw two nearly overturned cars in two places this weekend. Seriously, it was amazing.)
We then headed back to the hotel to settle down. Sam seemed to fall asleep immediately. Not me.
About an hour after I went to bed and I still wasn't asleep someone checked into the room above us. It must have been a group with girls. They laughed for hours until they went to bed. I couldn't sleep. I turned on the fan on the window cooler for white noise. Still no sleep.
I finally got t sleep only to awake twice in the night.
I knew when I finally woke up for good at 4:53 a.m. that I hadn't gotten enough sleep. We had to be at the Rose Bowl before 6:30 to be assured a parking space (which we paid $10 for). It was dark. We looked for a Walgreens too. Nothing.
When we finally made our way to the Rose Bowl it actually wasn't a bad parking arrangement. We got in and out of the car pretty quickly.
And we had an hour or so to go before race time. Good thing, too, because my stomach was feeling a little bad.
I should have known that was a sign of something bad. But I didn't realize my run would be one of my worst yet.