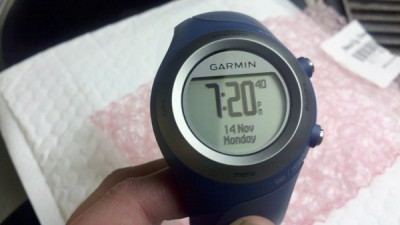 I've blogged about Gertrude the Garmin before.
She was my training buddy and the closest thing I had to a constant running partner. I loved my Garmin dearly. And then she turned on me. She kept losing battery life. She was fading, fast. I wrote about Gertrude going bad too. I sent it to Garmin after opening a request with them to do so.
I knew, from reading previous blog posts, that there was a chance Getrude wouldn't be replaced at all. She'd be deemed unreliable and unusable. Then Garmin would send me a new one.
I knew it could happen. But I kept hope alive it wouldn't when my.garmin.com didn't update the serial number of my Garmin.
But, alas, last Monday I got home and found a small envelope stuffed in my mailbox. It contained the Garmin above.
It's not Gertrude. Not even close.
I was so bummed about it that I didn't blog about it. Gertrude was with me for my first half marathon earlier this year. She wouldn't be there for number seven, the Big Sur Half Marathon.
I tried to sync satellites right after I got it. It took forever. I figured that signaled something. But it seems to be working fine. I ran the half (more on that later in the week when I have time to write up a race/weekend review). Even though my efforts at the Big Sur Half Marathon weren't too stellar, my Garmin and I ran our first race together.
Our second will be the Run Against Hunger on Thanksgiving Day in Stockton.
So far, so good. But I miss Gertrude.
So in honor of her, I introduce you to Gertrude II. Or Gert-II as I referred to her on Sunday to another runner.
Our journey together is just beginning, but she'll hopefully lead me through my first marathon in a couple weeks.