I started swim lessons today. Not the kind where you learn to swim. I did that a long time ago.
I remember learning more by osmosis than actual lesson. I grew up in Stockton, Calif., which is where I commute to everyday for both my jobs. I lived in a neighborhood with a not-so-great park (serious, a teenage boy was shot and killed there only a couple years ago). My parents would always opt to send us down the other way on our street to a park that was further away, but in a safer neighborhood.
Victory Park in Stockton is home to the Haggin Museum, one of the greatest establishments in the city, and Victory Pool. It was also right down the street from my elementary school.
I learned to swim at Victory Pool. I didn't want to hang out with the "babies" in the shallow end anymore. To get to the 4-6 foot end, we had to swim across the pool back and forth to prove to the lifeguard that we could do it. My sister took swimming lessons at the local YMCA. I never did. I think my mom picked up that I was slightly afraid of water (I still am, actually).
So I learned good enough to swim across the pool back and forth and make it to the other side. And then I picked up more, because my sister and I would spend the summer down at the pool with nothing else to do. It only cost $1 to get in at the time. My mom would drop us off and come back four to five hours later. That was the time when you could do that sort of thing.
I haven't swimmed much since. My friend Sam apparently decided after me torturing her with long runs she would return the favor.
We're now doing swim lessons twice a week, Tuesdays and Thursdays in Tracy.
So I packed up and headed about five-minutes from my house with a new swimsuit and goggles stuffed into a Nike running bag.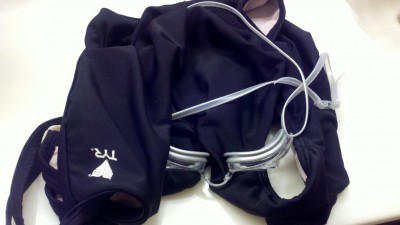 I grabbed a towel and my Amphipod running water bottle. The lesson was 30-minutes.
We did "bubbles" and glided across the pool. No kicking. We're not supposed to kick. I have a feeling we'll be getting yelled at a lot. And I ended up having to use a little blowfish toy to keep my chin down. My chin was supposed to be touching my chest. I wasn't do it right. The instructor was patient with the both of us. The lesson went by quick.
I walked away realizing how much work we have to do for the triathlon it now looks like we are doing in April. We have another lesson on Thursday. I'll be coming back from a run in Sausalito with my Nike Women's Half Marathon team at 3:30 p.m. I'll be blogging about the run after my lesson hopefully. About a month ago I won a spot on Team Somersaults to run the Nike half. Words can't express how excited I am to run with the group of women I've been reading about.
So I'm stoked for my Thursday afternoon run (I took a day off work to be involved in it) but a little worried about getting back by 7:30 p.m. for swimming lessons. I'm crossing my fingers.