I want to say I didn't set out to run a marathon during the Brazen Dirty (Half) Dozen six-hour endurance run. But I knew it was a possibility. I knew I could run a marathon in six hours. I had before, even though my last experience in San Diego wasn't pretty. I also knew I'd never attempted such a distance on trails, which in many cases tend to increase my time thanks to not-so-secure footing and rolling hills.
But I was confident in my ability for this one.
I've had some really good runs lately. Those were mostly on flatter ground or on the treadmill, but I felt strong going into the run. My goals were pretty simple. I wanted to attempt eight laps. And I wanted to run the entire time.
I wanted to run the entire time even if it meant slowing down on certain areas and not pushing myself super hard on others. There was one specific hill that I power walked up every time and I was really glad I did by final two passes around.
I'm happy to report that I made both goals basically. I made it eight times around the 3.37-mile course. And I ran 5:52:21. I probably could have made the .7 loop around too once more, but figured I didn't want to chance it, since they were starting to countdown and I was pretty tired.
My morning started out at 4 a.m. when I woke up to get ready to make the trek to Point Pinole Regional Park. We arrived at about 6:22 a.m.
It was a beautiful, foggy morning.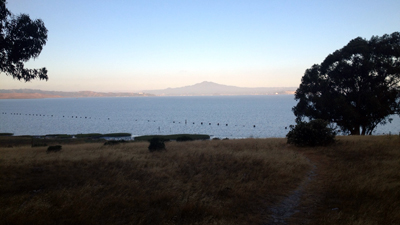 The bathroom lines were nonexistent. And with two bathroom locations on the course, I didn't have to worry about ever needing to wait in line. Though two or three bathroom stops during the run added to my time. My brother came too and we tried to get his packet early. No go. They weren't giving them out for a couple more hours.
Danny went back to the car and fell asleep. Thomas also took a nap. (Important note for later.)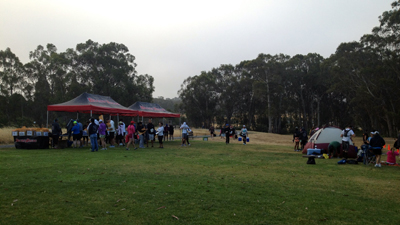 The race got started right on time after some announcements. I should note that there were probably less than 200 people in total racing the six and twelve hour runs. I think there were more for the six than the twelve, definitely.
There's another photo from the start. We all stared together. By the second loop, we were all pretty spaced out, which was one of the appealing features of this race for me. I wanted to do a race without a lot of pressure. I wanted to be relaxed after the experience in San Diego. This was perfect.
I started out strong. I found my pace pretty quickly and I just kept moving. And moving. And moving.
My splits were all across the board. I ran all over. From 11:22 to just under 16 minutes.
There's more detail of it here. I don't think I was inconsistent though. It's a timed race where individual laps are counted. That includes pit stops, like water bottle refills and stopping to look at results. I also stopped at the aid stations. My average moving time, according to Garmin, was 12:40, which isn't bad at all, especially since I kept repeating the course. There was a A LOT of course fatigue for me at the end because of that.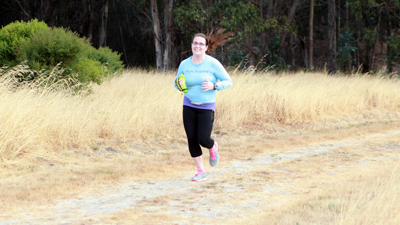 My shirt here says "Run Happy." I kind of feel like that was what I was doing all day.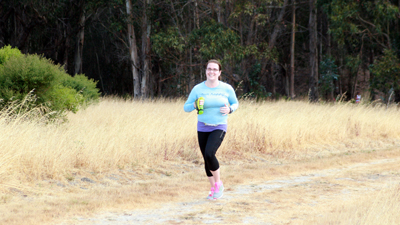 This was at the top of the last hill on the loop. I ran up it nearly every time. In fact, I was doing pretty good running up nearly every hill. I paced down as I went uphill, with small steps to make it through. I was also incredibly conservative with the downhills, including a fairly steep one on a single track near the point of Point Pinole (also the best view).
I wore my long-sleeve shirt the first three laps. I wanted to take it off sooner, but Thomas was still sleeping. He didn't show up with a new bottle until I was finishing my fourth lap. And he didn't bring my back. I was a little upset. It had everything I needed it in, including sunscreen, which would come in handy later.
He kept refilling my bottle, so every two go rounds I would refill it.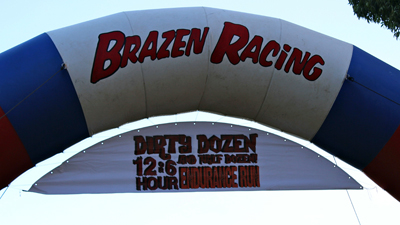 Each time we'd pass under the Brazen arch. Later a second arch would go up for the 5K/10K. I ran the 10K last year and thought the endurance runners were crazy. And then I became one.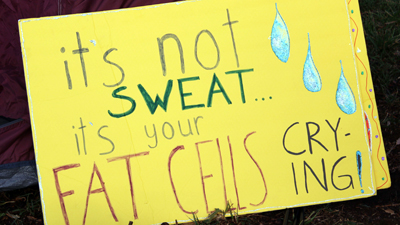 And there were great, changing signs throughout the course. Fat cells burning? You bet. According to Garmin, I burned 2,855 calories. I did five Gu in Vanilla Bean flavor. I also had Thomas constantly refilling my 20-ounce Amphipod water bottle. I brought my own Gatorade, because I knew it wouldn't be available on the course.
I wish I would have taken a photo of an aid station, specifically the one at the arch where volunteers had everything from mini peanut butter and jelly sandwiches to oranges to chocolate candy. The other aid station, at 1.7 miles from the arch, was staffed by Mountain House runners who encouraged me on each go round. I looked forward to getting to that aid station every time.
All the volunteers were so encouraging. Including the "woo" guy taking photos. In the six hours, he showed up three places along the course.
The second time I saw him, I told him I was glad he moved because he was so encouraging.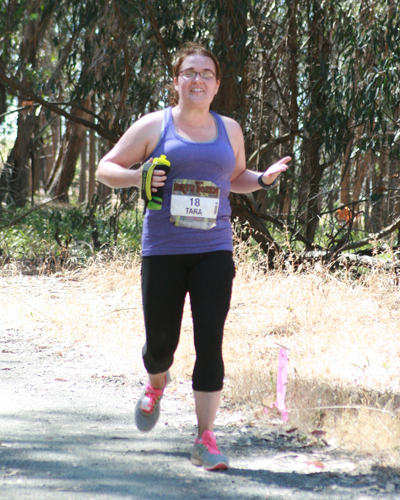 That's me saying "hey, you moved!" and telling him I was glad to see him. He then said he'd be moving again and I thanked him for the support. He caught that too.
Notice that these photos are vastly different from the ones I posted for the Rock 'n' Roll San Diego Marathon a couple weeks back. I wasn't miserable during this run. I wasn't in pain. I was having a really good time. I was taking my time. And I was loving every minute of the nearly six hours I was running. It was awesome. It was probably the best run I've had in a long time.
And I think it had a little something to do with my shoes.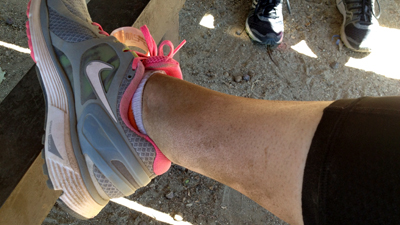 My shoes that are now covered in dust. Check out my legs post run. I was sunburned during the last marathon, covered in dirt for this one.
And yes, I ended up at the end running a marathon. Slow and steady, finishing, according to my Garmin, with 26.7 miles. I'm still waiting for final results to post on the Brazen site to see what the timing company has recorded.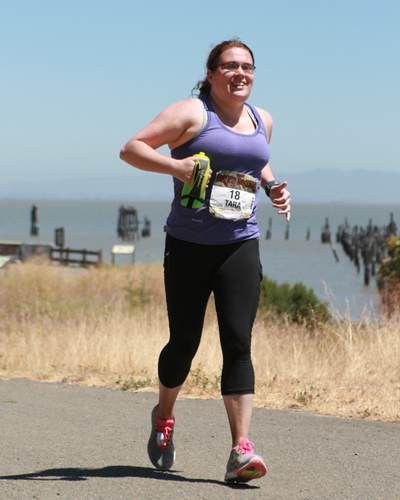 Another one with my jiggly arms. I've slimmed down everywhere on my body except my arms. Swimming was helping that, but I haven't picked it up again since my swimming school shut down. So my arms just flab around when I run. Gross, I know. Look how slim my legs are though! Silver lining I guess.
It was during the lap that I'm photographed in above that my brother Danny whipped the competition during the noon 5K. I'm not even kidding. He finished fifth overall. He also was first in his age group. I've only ever twice finished in the top three in my age group and that was during incredibly small races.
Danny was wicked fast.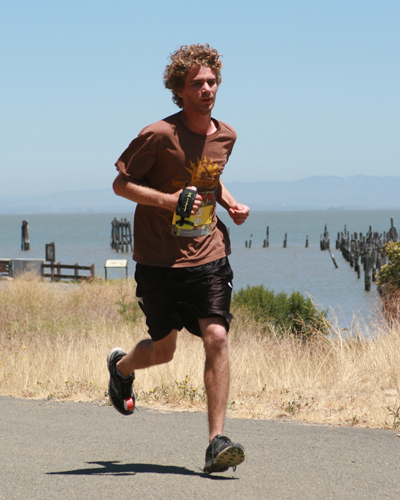 So he was waiting at the end with Thomas when I finally came in on my last go round. It took him 23:58 to run one lap. It took me much, much longer, but I was trying to pace myself to get through all six hours. (Not making up excuses at all, I was slow and steady.)
At the end, Danny was presented an awesome medal that the announcer referred to as a "piece of poop."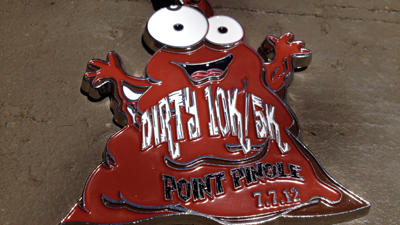 Is that not the coolest medal ever for a 5K or 10K? I would have been kind of jealous if I hadn't also earned a pretty awesome medal that also doubled as a coaster and bottle opener.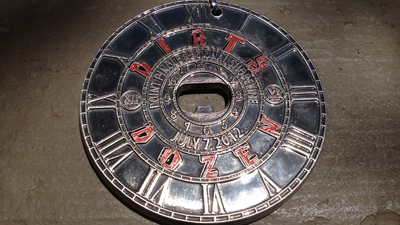 It even has backing on it so it won't scratch the table. That on top of the awesome hoodie I received instead of a shirt and I think this is the best distance run I've ran so far. I know I felt great after I finished. And that was really important to me after the disaster in San Diego.
Plus I got to spend the day with my husband (who wasn't all that great at crewing, so much so he said next time Danny could crew for me and he'd go to the nearby shooting range) and my little brother, who got a second age-group medal that I didn't take a photo of.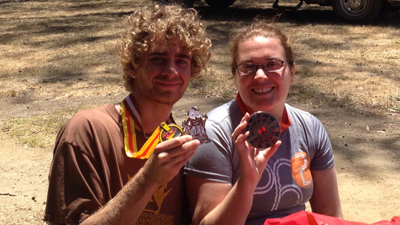 I sent my mom that photo as a "proof of life" for my brother. Danny ran his first half marathon with me in 2011. After we ate and got back to my house, he had an accelerated heart rate. He ended up in the emergency room in the hospital down the street. I felt horrible, so I didn't ask him to run with me again until Bay to Breakers. I sent her a "proof of life" photo after that too.
You can tell I changed shirts here. I had to. As it became hotter (probably why I slowed a lot near the end), I became more and more sweaty. I smelled so bad after I finished. I immediately took off my tank top and put on another shirt. Yeah, it was that bad.
We hung around a little, mostly so I could regain my bearings. Running for that long kind of wears the legs down. Surprisingly I'm not feeling half bad a day later. As we left, the 12-hour runners were still going strong.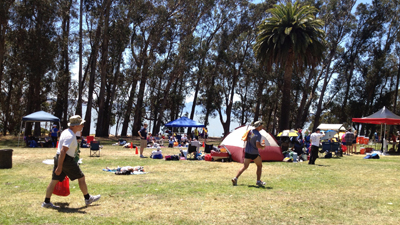 I admire that. I honestly don't think I could have gone six more hours. My toes were starting to blister (just from repeated pounding), and my right hip was starting to feel a little pain. But I had no IT band issues. My shoes were wide enough to not push my feet into a curve. I was happy the entire way through.
A good day? Yes. A good run? Yes.
It's funny that taking longer to go a similar distance than I did just over a month ago came make me feel better, but this run wasn't about the distance as much as it was covering all six hours. It was about finding my stride and sticking to it. It was also about finally meeting a goal I set for myself.
And I did. Success. Finally.