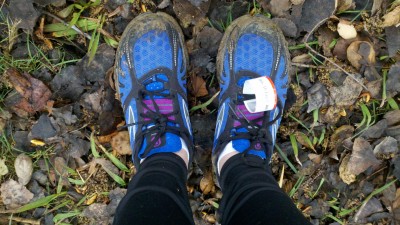 I haven't had much luck with races lately. The Pasadena half marathon didn't turn out as I had planned. I haven't been running as much lately. And my time of the treadmill was fairly seriously compromised because of a weird blood sugar/body aching like it's on fire thing, that happened earlier this week and basically kept me away from work for two days.
So.
I was hoping for a good run and finish at today's Brazen Racing Badger Cove 10K.
It's a new course for Brazen. When I looked at the elevation chart for the 10K initially I said no. Not only no, but hell no.
The climb? 934 feet. With switchbacks.

Yeah. It looked scary. My husband tried to calm my nerves today and basically told me no way it would be hard. There wasn't all that much climbing involved. He didn't run it, though.
And I signed up specifically because Brazen has never had a race within 20-miles of my home. I've usually had to drive into the East Bay, more than an hour or so, and venture somewhere distant.
I got to sleep in a little extra with this race. Big plus. And the Mountain House Running Club were showing up in force (more on that later).
The course stayed pretty calm the first couple miles. Not bad.
I stopped twice to tie my shoes. This was my first race wearing my Brooks PureGrit. It was a nice break-in run. But I'm still getting used to the shoes in general.
I wasn't expecting having to tie my shoes. Lame. My Nike's for street running never do that.
But the PureGrit's were essential today, for many reasons.
First, everything was wet.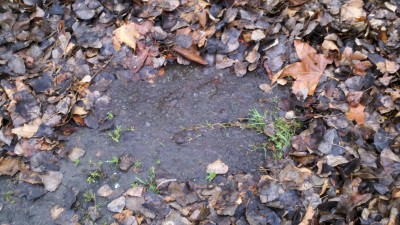 Lots and lots of puddles. Everywhere.
And second, there was a lot of mud, especially on the downhills.
The race was delayed until 8:30 a.m., which made getting there a little easier. By the time we showed up, the half marathon was already starting. I quickly got in line for my bib. Big surprise, the bibs today had our names on them.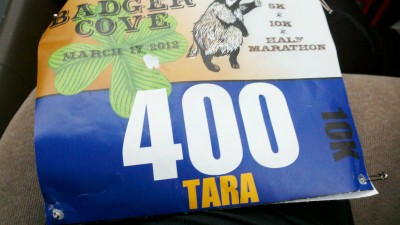 Wow. Brazen is getting fancy. I was so impressed with this new addition to the regular Brazen star treatment. Really. I've been feeling not so great all week and this kind of made it for me.
Everything was moving along quickly as we lined up. Corey from the Mountain House Running Club found me. We had a nice chat before we took off.
I paced out pretty well. Outside of the shoe tying, things were going pretty well. Until the hills began. Then my body, which already felt slightly weak, really started hurting.
I was hitting under 11-minute miles until the climb.
Then things went downhill as I went uphill.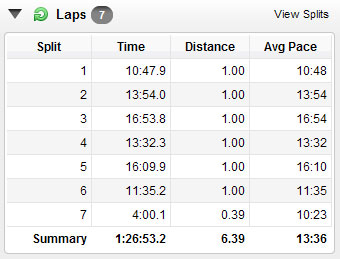 That mile three was brutal. It was switchback after switchback all uphill. I was ready to call it a day. I was lagging. People were passing. I was walking.
Then I hear someone behind me: "Tara, if I pass you, I'm putting it on my blog!"
That tidbit of motivation came from Corey. I dig Corey. He's got a great personality. He's sarcastic too, which makes talking to him all the better. Plus, he's pretty accepting in general. (Let's face it, I don't live in Mountain House, but they let me claim their club. That's nice, honestly. I don't have a running club here in Tracy. The Mountain House Running Club is the only group that accepts all ages, genders, etc. around my area, but they are a cautious bunch who doesn't just let anyone in. But I run in Mountain House frequently, so I kind of feel like it's part of my routine.)
So…I decided to pick it up. Not really because I didn't want Corey to pass me, but because his words served as motivation.
I kept looking back to see if he'd chide me again.
And, let's face it, I didn't want to be called out for the entire blogosphere.
So I pushed. When I wanted to quit, I kept pushing.
All the way to the end.
My official time: 1:26:41
Corey came in not long after me. Matt from the running club greeted me at the finish. He placed third in his age group (because he's a lot faster than me). Soon after, Greg and Drew from the club came in. Chris was there before I came in too.
Here's a group shot of those of us who were around at that time: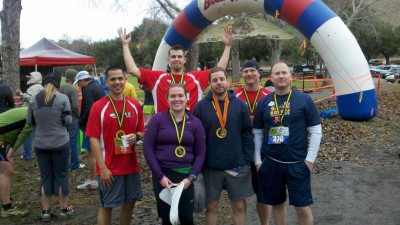 Of note: I'm really starting to look a little pudgy. Need to work on that. You'll notice the mud on the ground. Yeah, it was kind of like that everywhere.
I grabbed something to eat, said my goodbyes and Thomas and I were off. Back to Tracy via Patterson Pass Road. (Why not? It was a nice drive.)
As for the PureGrits, the pair stood up to the test. I had better stability on the trail. I have no pain after. I did notice a little spring in my step. The elastic that crosses over the lace area actually kept my feet from slipping out. I didn't feel as if every step would be the one that made me slip. I'm kind of in love with them.
Was it a bad race? No. But it still wasn't my best. My race luck hasn't returned yet. I'm still in a slump.
But the bling was awesome after. The shirts were green for St. Patrick's Day. The medals were bigger than the one I got last month for running the Rock 'n' Roll Half in Pasadena.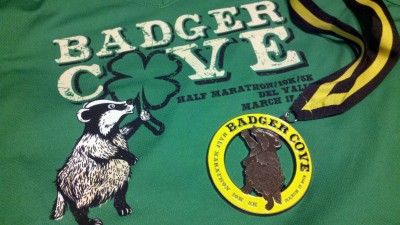 And now? On to the next one. I'm planning a treadmill run for Sunday. It's pouring outside again. I'm kind of done with the mud for today. I have a week until the Oakland Half Marathon.
I'm just hoping for better luck at that one.