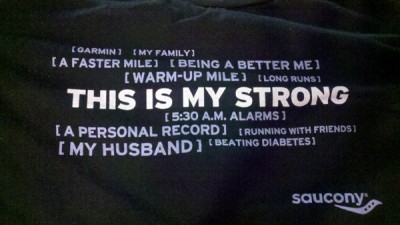 Whew, my week is nearly over. Thank goodness too. I'm exhausted.
I just finished up my first set of swimming conditioning lessons. The lessons spanned over a four week period, every Tuesday and Thursday outside of one night I was in San Francisco.
And I've been relearning everything. My freestyle is not what they teach now. My backstroke is okay, but not perfect. I found out tonight I tread water pretty good. That's likely from all the leg conditioning I do running (speaking of which, I did a nice six miles with Sam last night in Mountain House).
But I found myself needing a little more motivation this week after the DNS for the Stockton-based half marathon. Sigh.
Motivation is inspiration.
It kind of propels me through the swim conditioning and running. This week it came in shirt form.
I came across a random running blog (sorry, I don't remember which) that included a link to the Saucony Strong campaign.
You can visit the page and add inspirational reasons why you run (or bike, or swim, etc.) and put an image on Facebook or email to yourself. You also have the option of making a shirt out of it. That's what I did. And I was surprised at how reasonable it was to buy and have shipped. It cost under $30. That's half the price of my Nike ID shirts.
Now this one isn't made out of Dri-Fit style material, but it will be a great shirt for easy workouts or after swim conditioning.
I added my reasons and inspirations for running.
My Garmin: It's my pace buddy.
My family: That's a given.
A faster mile: Always working on this.
Being a better me: This is really the bottom line why I run. It helps me be a better me and put a better me forward.
Warm-up mile: As in getting through that first mile, pushing to get to the enjoyable part of the run.
Long runs: To help clear my mind. To bond with others.
5:30 a.m. alarms: That's how early I get up for my Sunday long runs. By 9:30 a.m. we're usually done, depending on the distance.
A personal record: I don't run to achieve a PR, but it's nice when I actually do.
Running with friends: They say running with friends is cheaper than therapy. That is so true. It's my time to loosen up and be free.
Beating diabetes: I started running because I was lazy, fat and unhappy. And to beat diabetes. Every step I ran was to move closer to that goal. And I didn't stop when I achieved it.
My husband: For all the reasons I mentioned in my previous post. He's my rock.
I love this shirt and what it stands for. Saucony isn't my typical running brand (I've recently developed a love for Brooks gear, though) but I think every time I look at this shirt, I'll get motivated. And I'll remember why I run.
And, as I mentioned before, that's inspiration to keep going.