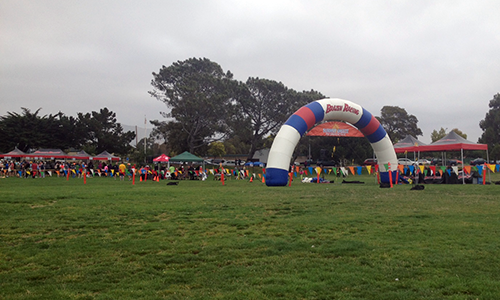 My Garmin has me only running 12.99 miles today, but I know the course is 13.1. It also has me finishing a full 11 seconds after my official time. I never start my Garmin that early. I've had some irregularities with distance lately with Gertrude the Garmin III, so I'm not sure if it's in need of calibration, but I was off the entire time today.
I also had some pretty significant stomach issues out on the course today. My abdomen was cramping up, very much like it was before my gallbladder was removed. The electrolytes didn't go down well. The Gu made feel gross. None of those things have happened since my surgery. I have been having some issues with my GI tract lately…I'm trying to get it under control again.
That was the bad news.
The good news? I still did well on the course.
In spite of myself. And my slightly Debbie Downer attitude going into the run. That's anxiety. It kicks you when you're down. Repeatedly.
I told my husband three times as he was loading his kayak up (so he could explore the bay while I ran), that I just wanted to go back to bed. Last month, I did just that and didn't do the color-themed run I was supposed to do.
The anxiety even got me at the start.

My official time is 2:19:15, which makes it my second best half marathon. (And yes, I feel guilty my Garmin didn't read that.)
I've run in the 2:20 range enough that I can truly call myself a "middle packer." I'm actually kind of proud of it. I've shown I can be consistent. Maybe my nerves will be far less the next time than they have been. Or not.
This is the last half I am currently registered for until the Rock 'n' Roll San Jose Half Marathon. I run that a week after I run 26.2 at the Half Moon Bay International Marathon. A chance for a PR? Probably not. I'm fairly comfortable with the knowledge that it takes me much longer to recover from a marathon than a half. I'm not going to push myself.
Right now, I'm just happy to be a "middle packer." Why? Because the course changes when you move through it faster. It becomes a different world completely. I'm incrementally spending less time out on the course, which may not seem like much, but it's huge to me.
I AM getting better. Now if I can only get my training and diet back to par as the school semester begins, I can probably get even better.
I can only hope, right?