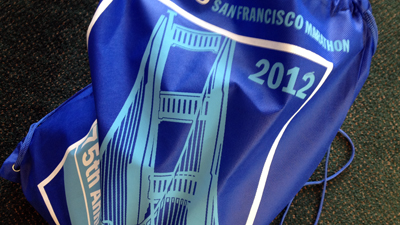 So the big news today in the running world is that organizers of the New York City Marathon have decided not to allow bag check at the beginning of the 26.2-mile journey. A bag check has always been part of the NYC Marathon, which begins at the Verrazzno-Narrows Bridge in Staten Island.
Those bags were then transported to Central Park in UPS trucks, much the same way the San Francisco Marathon transports bags to the finish line for each of its respective races.
Nearly 50,000 runners line up for the NYC Marathon each year.  If I said people were mad, it might be an understatement. They are scathing to the point of signing an online petition asking the race organizer, the New York Road Runners, to reconsider the decision.
I have to say, I have really mixed feelings about this decision. On one hand, I love to have my bag of stuff at the end of a race. It's a comfort. It also contains dry clothes, deodorant and everything else I need to feel fresh.
My husband usually brings me my bag. (Except sometimes he doesn't, because it's a magenta-colored Nike Women's Marathon bag that he hates carrying. When I purchased a silver Lululemon one earlier this year, he even decided that it wasn't man enough, apparently to carry. I've learned to make due until I get to the car.)
I don't run huge-ish races. The biggest I've done is the Rock 'n' Roll San Diego Marathon in June. I had been warned about bag check at that specific marathon. Too many people, too many bags, too many chances for something to go wrong. So I didn't bag check.
I did once at the San Francisco Marathon during the 2nd Half Marathon. I ended up waiting in a line where a guy basically disregarded me standing there for 10 minutes while he gave everyone else their bags.
At Brazen races, I frequently use bag check because it's easy and I trust the volunteers there. I also trust the other runners. No one at a Brazen race would take another person's belongings. (I feel as if it's a different kind of racer there, really.)
I've bag checked at few other races, though. Not even California International Marathon.
Why?
I don't really have anything to check.
My "race stuff" is pretty standard.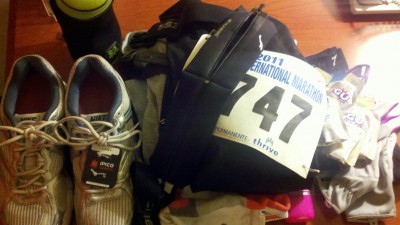 Shoes. Water bottle. Shirt. Capris. Long sleeve (in the winter). Socks. Gu (distributed between the water bottle and my iFitness belt). iFitness double belt. Timing chip.
Basically I take very little to the start. When I wear a long sleeve and strip it off, I usually tie it around my waist. The times I've used bag check is when I decide to take sandals or a warmer sweater with me.
I did so at the Big Sur 21-miler. I carried the bag, they provided, to the start with a Luna bar, an apple and a hefty sweater to the start. I didn't want to run in the sweater (it was cotton), but I also didn't care if I forgot it. Good thing, too, because I almost did.
I think what outrages me more about the option of bag check being taken away is that, for the price paid, it really seems as if a "poncho" at the finish isn't enough. Really? Replacing bag service with a poncho and a phone center? I don't think that's a solution either.
Can I live without bag check? Yes. I've learned to do so pretty well, too.
But I appreciate it, especially when signing in to a race on race day (when I'm usually handed a shirt). I also appreciate it when I know my husband won't be able to come and get me quickly (this has happened a few times).
I'm not sure I'd go as far as signing an online petition and leaving nasty Facebook comments, but I definitely understand the outage.